Fruits Home

Full List of Fruits

Guanabana fruit
Guanabana fruit
Scientific name - Annona muricata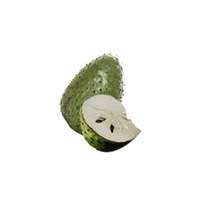 Guanabana popularly known as Soursop, is a native fruit of Central and South America. It is also grown as a commercial fruit in some parts of Africa and south East Asia. The fruit appears green in color with total mass of 6.8kg. Soursop consist white pulp that is rich in vitamin C, vitamin B1 and vitamin B2. The pulp is used to make candies, fruit drinks and ice cream flavorings.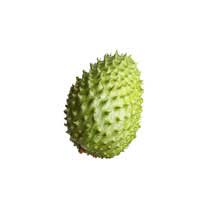 Nutritional value per 100 g (3.5 oz)
Energy
276 kJ (66 kcal)
Carbohydrates
16.84 g
Sugars
13.54 g
Dietary fiber
3.3 g
Fat
0.3 g
Protein
1 g
Vitamins
Thiamine (B1)
(6%) 0.07 mg
Riboflavin (B2)
(4%) 0.05 mg
Niacin (B3)
(6%) 0.9 mg
Pantothenic acid (B5)
(5%) 0.253 mg
Vitamin B6
(5%) 0.059 mg
Folate (B9)
(4%) 14 µg
Choline
(2%) 7.6 mg
Vitamin C
(25%) 20.6 mg
Trace metals
Calcium
(1%) 14 mg
Iron
(5%) 0.6 mg
Magnesium
(6%) 21 mg
Phosphorus
(4%) 27 mg
Potassium
(6%) 278 mg
Sodium
(1%) 14 mg
Zinc
(1%) 0.1 mg
Medicinal Uses of Guanabana fruit
Treatment for Vomiting, Head lice and Bedbugs.
Relieve from Liver Ailments and Leprosy
Cures Diarrhea, Dysentery, Fever and Indigestion
Fruitsinfo.com is a leading website for fruits and fruits related information. Our mission is to become the top information site for fruits. We have variety of fruits like tropical fruits, seasonal fruits, exotic fruits, fruits listed by country , fruit recipes, articles related to fruits and lot more. Eating fruits is a vital part of your diet, fruits have essential vitamins, minerals and lot more which helps you lead a healthy life. Health benefits and nutritional benefits of fruits are listed all over our website. If you have any feedback to leave or question regarding the fruits listed in our website please email to
info@fruitsinfo.com
.