Home
» Processed Products Of Fruits
Processing of fruits results in high amount of waste materials like peels, seeds, stones, oilseed meals etc. It creates problem that is further provoked by legal restrictions. Thus new aspects relating to the use of these wastes as by-products for additional exploitation on the production of food additives with high nutritional value have gained increasing interest since these are high-value products and may be economically attractive.

The by-products are an important source of sugars, minerals, organic acid, dietary fibre and phenolics. The by-products of citrus fruits may contribute to the maintenance of healthy vision. Apples and grapes may also contribute to the maintenance of heart health.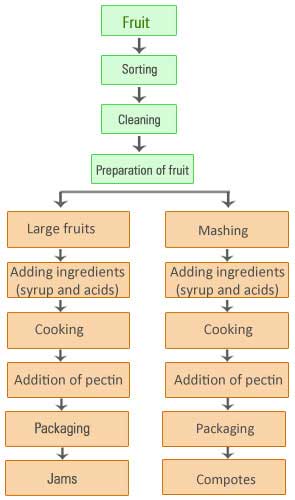 Fruitsinfo.com is a leading website for fruits and fruits related information. Our mission is to become the top information site for fruits. We have variety of fruits like tropical fruits, seasonal fruits, exotic fruits, fruits listed by country , fruit recipes, articles related to fruits and lot more. Eating fruits is a vital part of your diet, fruits have essential vitamins, minerals and lot more which helps you lead a healthy life. Health benefits and nutritional benefits of fruits are listed all over our website. If you have any feedback to leave or question regarding the fruits listed in our website please email to
info@fruitsinfo.com
.