Fruits Home

Full List of Fruits

Galia melon
Galia melon fruit
Scientific name - Cucumis melo
The Galia melon otherwise referred as Sarda is a type of F1 hybrid melon which is native to Southeast Asia. The fruit is typically round in shape and has dense rough line on the skin. It turns yellow when gets ripened and possess unique aroma and flavor. It has a very high content of total soluble solids. The fruit roughly weighs one to eight kilograms. The fruit is completely edible and has a unique sweet taste. It has to be consumed immediately once sliced else need to be refrigerated to preserve taste.
Amount Per Serving
Calories from Fat 3
Calories 36
% Daily Values*
Total Fat 0.31g
0%
Saturated Fat 0.053g
0%
Polyunsaturated Fat 0.131g
Monounsaturated Fat 0.031g
Cholesterol 0mg
0%
Sodium 100mg
4%
Potassium 214mg
Total Carbohydrate 8.7g
3%
Dietary Fiber 2.8g
11%
Sugars 6.13g
Protein 0.97g
Vitamin A 34%
Vitamin C 42%
Calcium 1%
Iron 2%
Medicinal Uses of Galia melon
Prevent from Cancer
Improve Digestive process
Protect from Heart problem and Diabetes
Reduced Blood Pressure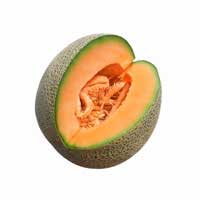 Fruitsinfo.com is a leading website for fruits and fruits related information. Our mission is to become the top information site for fruits. We have variety of fruits like tropical fruits, seasonal fruits, exotic fruits, fruits listed by country , fruit recipes, articles related to fruits and lot more. Eating fruits is a vital part of your diet, fruits have essential vitamins, minerals and lot more which helps you lead a healthy life. Health benefits and nutritional benefits of fruits are listed all over our website. If you have any feedback to leave or question regarding the fruits listed in our website please email to
info@fruitsinfo.com
.