Fruits listed region wise
The list of fruits mentioned here region wise is a very important part of a balanced and healthy diet. Having its own advantages, it takes up different climatic conditions to thrive, and will probably make up the majority of your caloric intake. The taste of these fruits can be enjoyed all year round; however, considering what fruits are in season will help you find them with ease. Whether it is fresh, frozen, dried or juiced- it all counts! Select from any of the topics below to learn about that fruit.
Home
» Fruits List
LIST OF FRUITS
The list includes the following:

Temperate Fruits

Tropical Fruits

Mediterranean
&
Sub-Tropical Fruits

Inedible Fruits

Accessory Fruits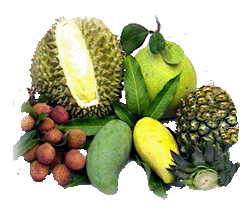 Temperate Fruits
Temperate fruits are largely made up of deciduous fruit trees. When you selecting temperate fruits it's very important to consider their pollination and chill hour requirements. As the coastal region and south east Old have such as a mild climate, care should be taken to choose deciduous fruit trees appropriate for the mild winters. The selected varieties we sell have the lowest chill factor of their groups. The most common and good temperate fruits are apples, peaches, pears, cherries, and plums. In addition, most fruits that grow on the bushes are raised mainly in the temperate Zone.

Tropical Fruits
Tropical fruits cannot stand even a light frost and are also raised mainly in the tropics. Bananas and pineapples are the best and good known tropical fruits. They are grown throughout the tropics and much of each crop is exported. Other tropical fruits also include mangoes and papayas.


Mediterranean and Sub-Tropical Fruits
Subtropical fruits need warm or mild temperatures throughout the year, but they can survive in a light frost. The most common subtropical fruits are citrus fruits: oranges, grapefruits, lemons, and limes. Oranges, the leading citrus fruit, are grown from southern Japan. In the United States, Florida is expert in producing the most oranges. Other subtropical fruits include dates, figs, olives, pomegranates, and certain types of avocados.

Inedible Fruits
Inedible fruits are very fleshy five-valved red capsules. The fruits and leaves are poisonous, containing andromedotoxin which helps lowers blood pressure and causes breathing problems, dizziness, cramps, vomiting and diarrhea. Bog Laurel occurs with and strongly resembles Labrador Tea at the Ozette Prairies.

Accessory Fruits
An accessory fruit is referred to one that has more than ovary wall as part of fruit body. The other part of the flower swells along with expanding ovary wall. Very frequently the receptacle also participates. Ovaries that are inferior or that are in perigynous flower some time have accessory tissues surrounding the true fruit. The true fruit is red and accessory is white. An actual fruit is dry achene; and the accessory is red and juicy at the time of maturity.

In other words accessory fruits are composed of material not just form the ovary but also participate to form other parts of the flower such as the receptacle. To understand even better an accessory fruit is a fruit where the fleshy part is derived not form the ovary but form some adjacent tissue.

Few very good examples of accessory fruits are strawberry, watermelon, apple etc. Most accessory fruits are simple fruits that are developed from inferior ovaries.