Fruits Home

Full List of Fruits

Tamarind

Introduction of Tamarind

Taste and texture

Nutrients and their role

Nutrition Facts

Varieties of Tamarind

Health Benefits of Tamarind

Cosmetic Benefits of Tamarind

Selection and storage

Preparation tips

Cultivation and Harvesting Details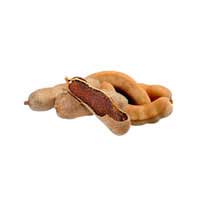 Scientific Name: Tamarindus Indica

Tamarind (Tamarindus Indica) endemic to tropical Africa, it is a leguminous tree in the family Fabaceae. The tree bears out edible pod-like fruit which are used in almost all cuisines round the globe. There are several other uses as well and it includes traditional medicine and metal polish. Attaining a maximum crown height of 12 to 18 metres (40 to 60 feet), it is a long-lived, medium-growth bushy tree with fruit that tastes sweet and sour. The fruit contains tartaric acid with rich nutritional profile.

Having the characteristics of dates, tamarinds have a gummy, sticky texture which tastes bold and commanding. There are no such subtle, subdued flavors or lingering aftertastes. Its tart flavor is similar to a sweet-and-sour candy. You can expect a puckering sensation of the same kind to eating a lemon or ornamental orange.
| | |
| --- | --- |
| Vitamin B1 | Red blood cell generation, helpful in treatment of anemia |
| Vitamin B6 | Proper function of the brain boosts immunity, controls diabetes |
| Vitamin B12 | Protects against cancer, toxins and allergens |
| Vitamin C | For a strong immune system and combats cardiovascular disease |
| Vitamin K | Helps prevent excessive bleeding by coagulating or clotting of blood |
| Potassium | For regulation of heart beat and maintaining blood pressure |
| Magnesium | For proper nerve and muscle functioning and conversion of blood sugar to energy |
| Calcium | For strong bones and teeth, regulation of blood pressure |
| Iron | Used to build red blood cells and for repairing worn out cells |
| Phosphorous | For proper bone and skeletal structure, growth and body repair |
Tamarind (Tamarindus Indica),
Nutritional value per 100 g.
(Source: USDA National Nutrient data base)



| Principle | Nutrient Value | Percentage of RDA |
| --- | --- | --- |
| Energy | 239 Kcal | 12% |
| Carbohydrates | 62.50 g | 40% |
| Protein | 2.80 g | 5% |
| Total Fat | 0.60 g | 3% |
| Cholesterol | 0 mg | 0% |
| Dietary Fiber | 5.1 g | 13% |
| Vitamins | | |
| Folates | 14 µg | 3.5% |
| Niacin | 1.938 mg | 12% |
| Pantothenic acid | 0.143 mg | 3% |
| Pyridoxine | 0.066 mg | 5% |
| Thiamin | 0.428 mg | 36% |
| Vitamin A | 30 IU | 1% |
| Vitamin C | 3.5 mg | 6% |
| Vitamin E | 0.10 mg | <1% |
| Vitamin K | 2.8 µg | 2% |
| Electrolytes | | |
| Sodium | 28 mg | 2% |
| Potassium | 628 mg | 13% |
| Minerals | | |
| Calcium | 74 mg | 7% |
| Copper | 0.86 mg | 9.5% |
| Iron | 2.80 mg | 35% |
| Magnesium | 92 mg | 23% |
| Phosphorus | 113 mg | 16% |
| Selenium | 1.3 µg | 2% |
| Zinc | 0.10 mg | 1% |
| Phyto-nutrients | | |
| Carotene-ß | 18 µg | -- |
| Crypto-xanthin-ß | 0 µg | -- |
| Lutein-zeaxanthin | 0 µg | -- |
Sweet and sour are the two varieties of tamarind.
With regards to its high sugar content, some may hesitate to eat tamarinds; however the fruit is rich in calcium, iron, thiamin, magnesium, potassium and fiber. As a matter of fact, the United States imports tens thousands kilos of tamarinds for medical studies and for pharmaceutical applications.
Traditional health benefits of tamarind include the following like:
Vitamin B content present in tamarind plays a major role in the function of the body nerve and muscle activity.




Its magnesium rich. Helps in better bone density.




It has high source of fiber that helps to overcome constipation and smooth digestion.




Its iron content, help fight against anemia.




Tamarind is a good source of niacin which lowers bad cholesterol and raise levels of good cholesterol in the body.




Helps in blood clotting




Soothes the throat




Its protein rich content can produce antibodies eradicating viruses and bacteria.




Jaundice, liver problems, cholera can also be treated




Tamarind seed extracts for skin:
the seed extracts of this knobby pod boosts skin elasticity while providing smoothness and hydration. Its hyaluronic acid helps in moisturization and skin's wrinkles and fine lines; also used as an anti-aging formula, it is used in toners, gels and masks.

Skin lightening agent:
tamarind extracts are also used as a skin lightening agent. Boil 30 Gms of tamarind in 75ml of water and make a lump less pulp. Add some turmeric to it, apply to your face and neck area. Wash after 15 minutes. Doing this thrice in a week gives flawless skin.

Tamarind and tea water
makes a great skin-hydrating toner. This mixture nourishes your skin and works great on oily skin type. Dip a cotton swab in this mix and apply all over your face to tone your skin.

Face scrub-
Mix one spoon of tamarind pulp with sea salt and add curd or milk. Apply this paste and scrub your face in circular motion to remove dead skin layers and add shine to your face.

Available in almost all super markets, it may be a bit hard to find in ordinary grocery store, depending on where you live. With their hard, brown skin, it is available in the form of whole dried pods, square/round slabs that are packed with cellophane sheets. In addition, it is also available in fresh and dry forms. Based on the usage of tamarind in your dish, you can select it. It can also be found pulped, concentrated and or as a nectar in bottles and jars. Adding sweet sour taste to your curries, they give out a tangy flavor.

The best part about these pods is that they are a low-maintenance fruit, which can stay for 1 month at room temperature. When tamarind pulp is made at home, ensure that you blend it with salt and place it in an airtight container. In dry conditions, the prepared paste can be kept for years.

Note- in humid conditions you can try the option of freezing the paste in ice cube trays and pop them out as needed. If it is a ripe tamarind, then refrigerate and consume within a few days.

For commercial use, this pod-like legume is boiled to soften the outer shell and then grounded with water and strained with the help of a sieve. However the process is same.

How to prepare Tamarind Paste?

Tamarind pastes are available ready-made in the market, but if you want fresh paste of homemade tamarind, then you need to follow the below instructions.



Remove the tamarind pods and clean it. To your utensil, add a cup of water and soak the tamarind for 2-3 hours. Let the tamarind soak well.

You will find sand/stones left behind in the water, take out the tamarind and mash it nicely with a spoon.

If you find it to be hard, cook the tamarind for few minutes and transfer the cooked tamarind to a mixer-juice-jar. Grind it using the pulse option of the mixer.

Distill the pulp with the help of a filter. Press and stir the mixture with a spatula, in order to speed up the filtering.

Transfer the thick pulp to the mixer jar and add some water to the pulp and repeat to extract all the tamarind juice from the mixture. Add water according to the consistency you want the tamarind paste to be.

Finally you can heat the pulp till it becomes thick (this is optional). Tamarind paste is now ready.

Throughout the world, in many countries, Tamarind has found its way into the cuisines because of easy cultivation and widespread habitat. Normally grown as a wild species, it takes up a period of 13-14 for full growth. The growth of the tree is active in deep and well-drained soils which are slightly acid. With seasonal rainfall, it is well-adapted to humid tropical areas, however during fruit development period, dry weather is imperative. While immature trees have need of adequate soil moisture until they turn old, mature trees do quite well without supplemental irrigation. Having said that, over watering will result in soggy soils, hence adequate amount should be known. As far as the cultivation and management practice of sweet tamarind is concerned, there are no such big changes and it is quite similar to that of regular tamarind.

Based on the methods of propagation, harvesting time of tamarind will differ. It will take a time of 3-4 years approximately when a tree is propagated by bud-grafting, on the other hand, trees propagated by seed will vary and it will take 12 years. Irrespective of the propagation method used pod yield should stabilize after a period of 15 years. There are other set of factors that impede the time for trees to bear: it includes local condition and practical management. The fruit matures in early summer and are left on the tree for a period of 6 months in order to reduce the moisture content. In general, the harvesting of tamarind takes place between the months of March to April. A matured tree yields180-225 kg of fruit per season, where sweet tamarind is harvested ripe and sour tamarind is processes into a range of value added products. Different kinds of harvesting techniques are used like: hand picking, shaking the branches or clipping with a hook mounted on a stick.