Fruits Home

Full List of Fruits

Date plum
Scientific name - Diospyros lotus

We are going to take a plunge into insightful information about the cultivation and uses of one of the 'Oldest plants in Cultivation', Date plum. Binomially known as Diospyros lotus, this fruit belongs to the Ebenaceae family. Date plums date back to the time of civilization and also holds a lot of literary references. For the matter of fact it is also believed by Historians that Homer, who was a renowned author of the Greek epic poem The Odyssey. The Chapter 4 of II part of this poem talks about how the men of the land were in awe of the honey sweet fruit ( date plum) and how the divine taste of the fruit made them forget their past and future and they were transported in trance to the land of the lotus ( here referring to the date plum) .

Apart from being mentioned by the legendary author Homer, this fruit was known as God of Fruits by the Greeks. This fruit was worshiped for its divinity and was often referred to as Wheat of Zeus, by the ancient Greeks. The word diospyros lotus literally translates to ''Divine fruit''. With all praises to this fruit one also needs to know from where it originated, how it's cultivated and what are is purposeful uses.

Nutritional Value of Date plum
| Principle | Nutrient Value | Percentage of RDA |
| --- | --- | --- |
| Energy | 46 Kcal | 2.3% |
| Carbohydrates | 11.42 g | 8% |
| Protein | 0.70 g | 1% |
| Total Fat | 0.28 g | 1% |
| Cholesterol | 0 mg | 0% |
| Dietary Fiber | 1.40 g | 3.5% |
| Vitamins | | |
| Folates | 5 µg | 1% |
| Niacin | 0.417 mg | 3% |
| Pantothenic acid | 0.135 mg | 3% |
| Pyridoxine | 0.029 mg | 2% |
| Riboflavin | 0.026 mg | 2% |
| Thiamin | 0.028 mg | 2% |
| Vitamin A | 345 IU | 11.5% |
| Vitamin C | 9.5 mg | 16% |
| Vitamin E | 0.26 mg | 2% |
| Vitamin K | 6.4 µg | 5% |
| Electrolytes | | |
| Sodium | 1 mg | 0% |
| Potassium | 157 mg | 3% |
| Minerals | | |
| Calcium | 6 mg | 0.6% |
| Copper | 0.057 mg | 6% |
| Iron | 0.17 mg | 2% |
| Magnesium | 7 mg | 2% |
| Manganese | 0.052 mg | 2% |
| Phosphorous | 16 mg | 2% |
| Selenium | 1.0 µg | 2% |
| Zinc | 0.10 mg | 1% |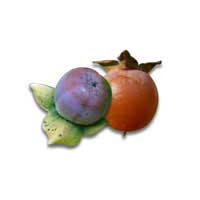 Date plums also known as natures candy are highly regarded for their flavor across the globe, they are treated as delicacies in parts of Pakistan and Afghanistan but no such royal recognition is given to it in India. It is consumed just as any other fruit and is widely found in colder regions of the country.

Apart from consuming it as a raw fruit, date plum can be added to many other dishes as a core ingredient or a catalyst to bring about a delightful taste to the pallet. Date plums can used to make jams by reducing it with help of lemon and sugar. It is also widely accepted as an ingredient to make cakes and pies in the bakery. Date plums are best paired and added in cereals, granolas or oats for morning breakfast.

Dried fruit of this plum is used to make fruit leather and the wood obtained its tree is sturdy and strong that is often used in building and construction of houses and buildings.

Date plum leaves are highly antioxidant and anti-inflammatory that helps the body in large means without any toxicity. The anti-cancerous substance present in the plant helps the body fight against brain cancer, tumors in head and neck. Apart from all the major healing properties persimmons also aids in fighting asthma and lung infections. Date plums, owing to its medicinal properties are largely used in treating fever, anxiety, stress and also diarrhea.

Health caution
On eating the unripen fruit of date plum it may cause severe health hazards, but only if consumed in large quantities on a regular basis.


Place of origin, vegetation & habitat
Date plums are one among the many Persimmons, these persimmons are native to Far East regions like China, Korea, Japan and the Himalayan regions. One special specie is native to the lands of Western Asia in countries like Pakistan and Afghanistan, Eastern Europe and majorly the Mediterranean regions. Lands of Turkey, Greece and banks of black sea region form a fertile ground for these date plums and can be seen grown in abundance in these areas in particular. These were the regions where the foot prints of date plums was first recorded. This dates back to centuries ago.

With rapid growing popularity of the fruit around the world, today date plum can be seen grown in India as well. One of the hundreds of variety of persimmons, Diospyros peregrine holds its roots in India on the fertile lands of West Bengal where it is cultivated for its infamous flavor and taste. Apart from the above mentioned variant there is another species that need to be called out as they hold not just a food crop importance but also cultural reference and relevance. Diospyrosmelanoxylon a persimmon grown on the Coromandel Coast is largely consumed by the wild tribes namely Oroan rescinding in those regions. Apart from that it is believed that the branches of this tree is used as a tool to ward off evil spirits and evil at bay, such is the magical power of the branch.

These date plums are often grown on India -Pakistan -Afghanistan borders and can be seen ripening from January through February marking the season of spring. Grown in chilly Himalayan region they are often spotted growing in thick woody forest at elevation of 2500 to 6000 feet. This tree is likely to grow in deep soil within light shade of sun. They grow best in dry warm and sheltered places, and have low tolerance to wet lands or poorly drained soils. These fruits are actually the off springs of a dioecious seed. Meaning, these plants don't depend on pollination or external factors to reproduce a flower or a fruit. This is because of the presence of both male and female parts present in the same plant.

The most common method of propagating these fruits is through the method of germination, the seedlings are germinated in the soil and often takes a period of 6 months to bud from the soil. This process is carried on during the early days of the year when the temperature is 15 degrees Celsius.