Santol
Santol fruit is round with juicy and as big as a big apple in sized. Inside the santol fruit there is a white juicy tissue approximately 3 to 5 brown seeds. The seeds are up to 2 cm long in size.
Fruits Home

Full List of Fruits

Santol Fruit
SANTOL FRUIT
The Santol fruit tissue is mostly sub-acid or sour in nature. When the fruit is unripe, this tissue is even more sour. The Filipinos like it even in sour condition and generally eaten with some salt. In the local markets of the Philippines the santol is always for sale in normal quantity. Santols are also used to make marmalade.
Taste
- The external pulp of the santol fruit can be awfully inedible and harsh when the fruit is in an unripe but miraculously transforms itself into a sweet taste and tasty ripe specimen. Average fruits are bigger than a softball shape and the flesh and seeds were incredibly sweet/tart and gravely habit forming. The youthful fruits are candied. The ripen fruits have a vinous taste.
Scientific Name
:Sandoricum koetjape

Folkloric
Decoction or mixture of Santol leaves are used for baths to reduce fever.
Also, it is used for diarrhea and as a tonic after childbirth.
Woof poultice is used for ringworm.
Sour roots, bruised with vinegar and water, are a carminative is used for diarrhea and dysentery.
The fruit roots are used as tonic.
Others
Santol creates a delicious preserve.
The wood of the tree is useful for construction, being plentiful and usually easy to work and polish.
Extracts from santol seeds have insecticidal properties

SantolTree is severely a tropical Tree and do not grow over 1000 m. It is usually cultivated in Asian countries and its fruits are abundant in local markets during the season.

Santol itself is a very elegant by appearance and fast growing tree which can attain height up to 50 m. It also makes a good shade tree with large lime to deep green leaves and offering occasional contrasting red leaves. Leaves are typically trifoliate, but sometimes the number of leaflets may be more leaflets broadly the ovate to ovate rectangle, faintly fragrant. A very creative tree, it produces between 18,000 and 24,000 fruits per year. It is harvested by clamping the ripen fruits.
Click on the below Santol you wish to find about
The various Santol are distinguished as botanical species rather than as cultivars. The following are those most utilized for food: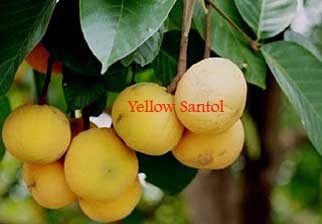 In yellow type
santol fruit
, the leaflets which are 15 cm long will turn yellow when old. The fruit has a thin peel and a typically sweet tissue, 6 -1.25 cm thick inside around the seeds. The fruit may not fall when it gets ripe.

The leaflets of the red type santol fruits are 12 - 30 cm long, with velvet like skin, turning red when old. The flowers are greenish or red or ivory borne with 12 - 30 cm long panicles. The fruit has a thicker peel. The tissue is less and tastes sour. The fruit falls when it gets ripe.

Several parts of the santol plant have anti-inflammatory properties. They are used for the treatment of diarrhea and dysentery. These are also used vinegar and mixture of water as a carminative. It is also used for tanning fishing nets. The aromatic, caustic root is also a potent remedy for diarrhea. The root is a tonic for stomachic and antispasmodic.

Fruit comparison tables. Overview of vitamin and mineral content including nutrition charts of the Santol fruits.
Nutritive value per 100 g of Santol
Principle
Nutritive value
Moisture
85.4 g
Protein
0.06 g
Carbohydrates
0
Fat
0.52 g
Fiber
1.26 g
Ash
0.39 g
Calcium
5.38 mg
Phosphorus
12.57 mg
Iron
0.86 mg
Carotene
0
Thiamine
0
Niacin
0
Ascorbic Acid
0
Pectin
14.89 mg
Ingredients
20 ripe big santol fruit (without dark spots)
1 kilo sugar
2 cup water
How to make santol in syrup:
Boil the santol fruit in enough water until loving. When the fruits are caring, remove from water, drain and let cool it again. With a sharp stainless knife, peel thinly, taking a little meat as possible. Halve each and every boiled fruit crosswise so that each makes the two equal cup-like pieces.


Remove the seed from the boiled fruit. Soak fruit meat in rice washing overnight. Remove from rice washing and wash well in clean water again, Soak again in fresh rice washing for another twelve hours. Remove from rice washing and clean well. Drop the santol in boiling water and cook for on five minutes or more. Remove from water and drain..


Make the syrup using 2 cups water and 1 kilo sugar for taste. Boil until syrup turns a thread when dropped from a spoon. Add the drained fruit and cook in syrup for about 10 minutes. Remove from fire and cool. Let it stand in syrup for another 12 hours. Remove fruit from syrup and boil syrup anew. When it boils, drop fruit and boil in syrup for about 3 minutes. Remove from fire.
A very simple, sophisticated use for the tropical fruit also known as 'La San Mateo'.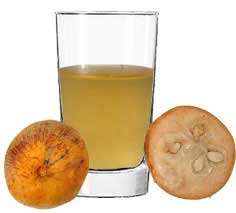 Ingredients:
4-6 pieces of big ripe santol
4 cups of drinking water
Sugar to taste
Juice of 2 pieces calamansi
How to make it
Strip the santol fruit a bit thicker that standard.
Slice the fleshy tissue like latitudes and longitudes place the tissue including the seeds in a pitcher, set that to aside
Dissolve the sugar in water and add the calamansi juice.
Pour water mixture on over the fruit.
Cover and chill for two hours to serve cold.


A strawberry is not an actual berry, but a banana is.
Special fruits for this week

Cantaloupe
Cantaloupe are served as fresh fruit or as salads or as a dessert with ice cream (Read more)

Kiwis
kiwifruit will be fairly large and plump with thin "fuzzy" brown skin (Read more)
Pineapple
Pineapple fruit is native to the Asian tropics, with a delicate and fresh fragrance (Read more)