Fruits Home

Full List of Fruits

Boysenberry
Scientific Name
:Rubus ursinus × idaeus
Boysenberry is a cross between blackberry, loganberry and raspberry. It's a very large bramble fruit with large seeds. The fruit is in deep maroon color. It turns black when it ripes.
Boysenberry is a prickly bramble of uncertain origin but ultimately derived from a western North American blackberry. The fruits are common during late May to early July season. It should be eaten within two or three days of purchase.
High in Vitamin C and fiber which helps to reduce the risk of cancer
Rich source of anthocyanins, natural antioxidants which help to maintain healthy brain cells and protect against oxidative damage
It is effective against tumors of the colon and esophagus
It helps to lower cholesterol and maintain heart problem
It's important for pregnant women to prevent neural tube defects in the unborn baby
Contain high levels of anthocyanins that work as antioxidants to help fight free radical damage in the body
| | |
| --- | --- |
| Nutrition | Nutritive value |
| Calories | 66g |
| Sodium | 1mg |
| Carbohydrate | 16g |
| Protein | 1g |
| Sugar | 9g |
| Vitamin A | 2% |
| Vitamin C | 7% |
| Calcium | 4% |
| Iron | 6% |
Chemical properties
| | |
| --- | --- |
| Nutrition | Nutritive value |
| Anthocyanins | 100g |
| Gallic Acid | 100g |
| Glucose | 2.48g |
| Fructose | 3.70g |
| Titratable Acid | 0.9 - 1.8g |
It's used for making part of jams, pies, syrups and, wine
According to Oxygen Radical Absorption Capacity (ORAC) the antioxidant level of boysenberries indicates a value of 42µmoles/TE/gramc which has a good reputation for antioxidant properties
The nutritive value of boysenberries helps to reduce weight and maintains optimum health
It is used in many yummy recipes
Ingredients
4 cups of fresh, ripened boysenberries
4 cups of granulated sugar
Large, non-reactive saucepan
Large stockpot with lid
Three ½-pint glass jars
Clean the boysenberries in cool water and then squeeze them slightly. Put them through a food mill. Place the crushed berries into a large saucepan. Boil it and add the granulated sugar to the berries. Stir constantly until it is completely dissolved and gelling point is reached. Place the saucer in the freezer and wait two to three minutes. If it has gelled, the jam is ready.
Ingredients
Vanilla ice cream 2 1/2 cup
2 oz Boysenberry
2 oz milk
Mix frozen boysenberries, vanilla ice cream and 2 oz milk in blender container and blend until it gets smooth.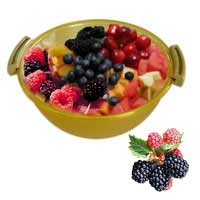 Mix olive oil, horseradish, rice vinegar, brown sugar, boysenberry jam and blend until it gets smooth. Place the spinach leaves in a large bowl and drizzle the mixture over the spinach. Toss still leaves are evenly coated. Dust boysenberries and almonds over top of the salad and enjoy the taste of salad.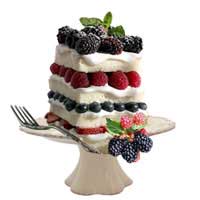 Ingredients
Vanilla ice cream 1lt
Sugar ½ cup
Boysenberries syrup, drained 425g
Chocolate chips ½ cup
Cocoa 2tablespoon
Spread half the vanilla ice cream into the base of bottom cake tin and place it in freezer. Mix the cream and icing sugar together. Spread the boysenberries cream over the base of the ice cream in the cake tin and freeze it for two more hours. Dust with cocoa and slice into wedges to serve.