Fruits Home

Full List of Fruits

Desert lime
Scientific name - Citrus glauca

The desert lime is bionomically known as Citrus glauca belonging to the Rutaceae family. This fruit holds its roots in Queensland, New South Wales, and South Australia. Having said that this fruit is Native to Australia, this fruit dates back in time when immigrants started settling in the lands of Australia. Being similar to that of usual citrus that's consumed daily they were widely hunted for in the wild by the local habitants and the early migrants.

The population of the New South Wales were under the British colonist who introduced them to the world of Jams, tarts, jellies and other mouth-watering delicacies made from wild berries and desert lime. These delicacies were mostly season and much awaited in the month of November. This was one of the best fruit of that time as it was low on sugar making it low on calorie count and high on acid and it could also be eaten as a table fruit. Desert lime was treated as a native fruit of Australia by the settlers from European countries.

Desert lime appears to be a wild shrub found in the bush land, it looks like a tangled spiny shrub growing at the range of three to five meters tall. The shrub bears leaves that are narrow oblonged shaped that grows about 1-4mm wide. The leaves are grayish green in shade and the flowers are white to greenish in shade. The flowers of the plant grow as big as the lemons and have a sweet smell to it. The early limes, the baby limes grow 1-2 cm in diameter and grow larger as they mature. These fruits make an appearance only in summer given that they have plenty or enough rainfalls during the spring season.

Desert lime is a fruit cultivated and obtained from bushfoods. Being a highly celebrated wild shrub this fruit can be mainly seen thriving in bush land area, a place where it can be commonly sighted. Having said that, desert lime is now changing its habitat from a wild bushy shrub to a more domesticated crop. The reason behind this being the afforestation and conversion of large wild bushy areas to commercial agricultural lands reaping benefits.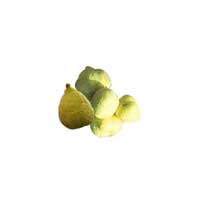 Nutritional Value of Desert lime
| | | | |
| --- | --- | --- | --- |
| Calories | 80 | Sodium | 100 mg |
| Total Fat | 0 g | Potassium | 0 mg |
| Saturated | 0 g | Total Carbs | 19 g |
| Polyunsaturated | 0 g | Dietary Fiber | 0 g |
| Monounsaturated | 0 g | Sugars | 19 g |
| Trans | 0 g | Protein | 2 g |
| Cholesterol | 0 mg | | |
| Vitamin A | 0% | Calcium | 0% |
| Vitamin C | 0% | Iron | 0% |

This fruit is popular in many delicacies made in Queensland, New South Wales and South Australia. Desert lime is used in making a wide array of edible products such as juices, chutneys, spreads, beverages, jams, dressings, slushes, ice creams and even a great fruit to be used in its raw form. Known for its strong flavor this fruit is also used as a flavoring agent in marmalades, beverages, and other delicacies. This fruit goes really well with the popular sea food of the Australian cuisine. The flavor of this fruit is so strong that even when used in minimum quantities it gives a tantalizing effect to the taste buds. What was once rarely found now is being domesticated for easier accessibility and also because of its storage value. This fruit can be stored in cold temperature for future use.

Health Benefits of Desert lime
Desert lime is rich in methoxy flavone ghycosides-limnocitrin. Glycosides is a skin healer and is used as a natural repairer of the skin. It helps in absorption of vital ingredients needed for good skin and also helps in hydrating the skin keeping it supple and soft.

Desert lime is known to be a significant provider of antioxidant and it also enables a healthy immune system. Aiding the body to resist against various diseases. The main component of the collective tissue collagen's production is also supported by the consumption of this fruit.

Another beauty benefit gained from this fruit is that being rich in furanocoumarin, this fruit consist of properties that are anti ageing, skin repairing agent also it heals wounds and aids early skin regeneration.

Desert lime is also very rich in coumarin that helps in acting as a anti fungicidal, has anti-inflammatory benefits and also acts as an anti-oxidant. They are also added in sunscreens as they help in blocking out short wave UV rays that are harmful to the skin.

Methods of planting desert lime
The ideal state of growing desert lime is in the wilds, they require clear full sun and a land that is clear of root zone of large trees. This is done to make sure better root penetration of the shrub takes place. As it is popularly found in Australia it can thrive extremely hot climate and can also withstand frost. For domestic purpose one can plant it in a pot and water it well for the start. One must ensure the soil is rich and fertile for them to prosper.