Fruits Home

Full List of Fruits

Pluot Fruit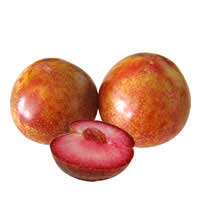 Pluot fruit
Scientific Name:Prunus Armeniaca

Pluot fruit was very juicy and sweet where kids love the pluot a lot. Pluots are available from early summer to the latter part of autumn. Nearly 25 different varieties of pluot are available in stores. The fruit has very low fat content and is sodium free.
Pluot
trees are easy to grow. Pluot fruit trees are very fast growing; evergreen landscape trees. Pluots are a 3 season plant. It exhibits showy flowers in the spring; produces tasty fruit in the summer and colorful leaves, ripen pluot fruit has a very nice fragrant.
| | |
| --- | --- |
| Nutrition | Daily value % |
| Calories 39.0 | 62% |
| Cholesterol 10.0mg | 0% |
| Sodium 23mg | 0% |
| Magnesium 17.4mg | 0% |
| Total carbohydrate 23.0g | 7% |
| Protein 0.8g | 1% |
Slice pluot fruit into chunks and sprinkle a small amount of orange and pineapple juice over the fruit and stir well. Add yogurt and sprinkle sugar. Freeze for 40-45 minutes. Add whipped cream topping. Now itís ready to be served!!
Ingredients
3/4 pounds of ripe pluots
3tablespoons honey
4teaspoons vinegar
1tablespoon lemon juice
1/2 teaspoon finely minced fresh rosemary
1/8 teaspoons kosher salt
Pinch of black pepper
2tablespoons chopped fresh chives
Take a small saucepan; add pluots fruits, honey, vinegar, lemon juice and pepper. Boil the mixture and stir it until the fruit has broken down. Keep in cool place and add chives. Now Pluot jam is ready.
Ingredients
3 cups sliced pluots
1/2 cup sugar
1/2 cup lemon juice
1tablespoon lemon juice
Pinch of salt
Keep all ingredients in a food processor. Squash until it becomes smooth. Drain the pluot, pressing to squeeze out as much juice as possible. Place the pluot puree in an ice-cream maker and make 1 quart. Add sugar and taste until you reach desired balance of sweet and tart.