Top Fruit List From 100-80
There are more than 2000 fruits, but each one has unique features and health benefits. Fruits are consumed by everyone on a daily basis. But how many of us know the health benefits of fruits? So this site provides you health benefits and characteristics of different fruits.
Fruits Home

Full List of Fruits

Top Fruit List From 100-80
100.Pepino Melon
99.Honeyberry
98.Medlar
97.Star Apple
96.Pandanus
95.Natal plum
94.Cloudberry
93.Finger lime
92.Surinam cherry
91. Bacuri
90.Breadfruit
89.Wood apple
88.Yangmei
87.Santol
86.Rose apple
85.Biriba
84.Loquat
83.Langsat
82.Cempedak
81.Baby jackfruit

Pepinos or sweet cucumbers have light yellow, polished surfaces with distinctive purple striping. It is a succulent fruit with a mixed flavor of honeydew and cucumber. Fresh pepinos are moderately a good source of potassium and vitamin C. It is a low calorie fruit with dietary fibre, minerals and vitamins. Ripe pepinos contains zeaxanthin which protects elderly people from age related macular disease. It is used in traditional medicines for its antirheumatic and anti inflammatory properties. It can be eaten raw and can be added in mixed fruit salad with drops of lemon juice.
Description
Pepino melon is a semi-dense, unarmed, short-lived, evergreen sub-shrub that grows about 1-2 meters tall. The plant is found growing in sunny or semi-shaded, frost-free location, sheltered from strong winds. The plant does best in a fertile (but not too fertile), free draining, neutral soil. It is not as tolerant of salinity as the tomato. If the soil is too fertile fruit production will suffer due to excess vegetative growth. The plant has fibrous root system.
Types/Variety
Colossal
Ecuadorian Gold
El Camino
Miski Prolific
New Yorker
Rio Bamba
Temptation
Toma
Vista
Health Benefits
Fights Cancer
Immunity booster
Diabetes
Natural energy booster
Reduces cholesterol
Regulates High Blood Pressure
Boosts liver health
Soothe away aches and pains
Digestive benefits
Strong bones
Weight Loss
Eases Anemia & Lowers Creatinine Level
Traditional Uses
Fruit is considered beneficial for diabetes and should consume as salad daily.
It helps with liver disease, lowers blood pressure, helps those that suffer from strokes to heal faster, and promotes cardiovascular health.
Pepino Melon can also help prevent cancer and diabetes, plus lower cholesterol. Fiber present in pepino melon also helps with constipation and it tends to sooth away gastric ulcers too!
Recipe
If you want to prepare tasty a pepino dish chill it then scrub off the seeds clean. Here are some ideas for a healthy meal filled with pepino nutrition:
Mix with avocado and make a tasty salad.
Poach a bit and serve as an ice-cream syrup.
Combine it with other exotic fruit in a sorbet.
Add fruit to compotes and jellies.
Drink freshly squeezed juice straight from the fruit.
Pepino Melon Smoothie
Ingredients:
1 pepino melon
1 glass of half skimmed cow milk
1 orange
2 mint leaves
Directions:
You do not have to peel of pepino's rind because it is very thin and nutritious. Slice it into quarters. Peel of orange's rind and slice it into little pieces. Put them into freezer and wait for them to freeze before you use it.
After you frosted them, put them into blender and chop them up. Add one glass of half skimmed milk and mix it again. Add two or optionally one mint leaf into the mix. Do not use the mint if you do not want it to be fresh. You can add honey if you wish.
Put some ice cubes in order to obtain a colder drink. Put it in a big glass and your pepino melon smoothie recipe is ready. You can prepare this delicious smoothie whenever you want and offer to your guests at any time of the day.
If you are suffering from liver disease, you should probably stay away from Pepino, as it might worsen the damage to your liver.
Honeyberry seems like a stretched out blueberry. It has a tender skin and fleshy fruit that melts in your mouth. The taste of honeyberries are still debatable and compared to blueberry, raspberry, blackcurrant and Juneberry. But the first harvested honeyberries tasted like a combination of raspberry and blueberry. Honeyberries are enriched with high contents of phenolic acid and antioxidants. They are a wonderful source of Vitamin A and Vitamin C than blueberries. They have anti-inflammatory properties and cardiovascular benefits. Honeyberries are used in delicious dessert recipes.


Description
The leaves of the honeyberry tree are opposite, oval, 3 to 8 centimeters long and 1 to 3 centimeters broad, greyish green, with a slightly waxy texture.The flowers of the honeyberry tree are yellowish-white, 12 to 16 millimeters long, with five equal lobes. They are produced in pairs on the shoots.The honeyberry is edible and is somewhat rectangular in shape, weighing 1.3 to 2.2 grams, and being about 1 centimeter in diameter.Honeyberry plants can take 3 to 4 years to produce an abundant harvest.he average production on a good honeyberry plant is about 3 kilograms, or 6.6 pounds, and it can maintain productivity for about 30 years.
Health Benefits
Honeyberry can tame inflammations
Honeyberry used for eyes
Honeyberry used for cancer treatment
Honeyberry used for cardiovascular benefits
Honeyberry is low in calories but high in nutrients
Honeyberry is rich in antioxidants
Honeyberry to lower the blood pressure
Honeyberry can help improve the brain function
Honeyberry possesses anti-diabetic effect
Honeyberry for urinary tract infections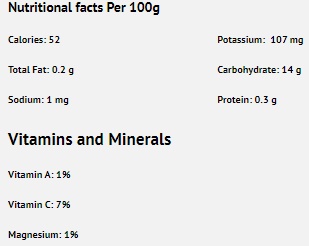 Recipe
Honeyberry Pie
Drain half the juice off frozen berries. Heat berries and remaining juice in saucepan, adding 1/8 to 1/4 cup sugar and 1 1/2 T minute tapioca per cup of berries. Cook on medium heat, stirring until thickened. Pour into prepared tart or pie shells. Top with ice cream or whipped cream!
Honeyberry Waffles
This sauce tastes superb over whole grain waffles:
1/4 cup sugar
2 Tablespoons cornstarch
1 cup water
1 cup honeyberries
1 Tablespoon butter
cream cheese, softened
In saucepan, combine sugar and cornstarch; add water. Bring to a boil over medium heat; boil 3 minutes, stirring constantly. Stir in berries; reduce heat. Simmer 8 to 10 minutes. Stir in butter until melted. Spread waffle with cream cheese and broil until warm. Serve sauce over cream cheese and waffles. Note: I did not mix any berries into the batter as berries tend to burn in my waffle maker.
The antioxidants contained in honeyberries help prevent and fight against various types of cancer. One compound honeyberries have particularly high amounts of is anthocyanin. Anthocyanins help protect the eyes, inhibit colon cancer cells, and heal varicose veins.
Medlar is a reddish brown fruit which is usually hard and acidic. They are softened after the process of bletting, which gives the appearance of rotten fruit with dark brown flesh and wrinkled texture. Medlar is said to taste like apple butter, vanilla, wine and cinnamon. Medlars have high amounts of carbohydrates, Vitamin B1 and iron. It is used to treat diarrhea and intestinal inflammation. Medlar is delightful when eaten raw, and is often used to make medlar cheese and medlar jelly.

Description
It is a large shrub or small deciduous tree, which is cultivated for its reddish brown fruit and also cultivated as an ornamental plant.The Medlar tree has short life span which lives for 30 to 50 years. The fruit of Medlar is consumed after bletting.
Health Benefits
Forms hemoglobin
Function of muscles
Brain health
Prevent Restless leg syndrome
Regulates body temperature
Treats anemia
Reduce fatigue
Metabolize energy
Cures insomnia
Enzymatic systems
Edible Uses
The fruits are used to make Medlar jelly, candied fruit, mixed jam, marmalade and syrup.
In a dessert, Medlar is eaten with cheese.
Medlar cheese can be made with eggs, fruit pulp and butter.
Medlar is used as flavouring agent in fruit wine.
Medlar could be mixed with sugar and make jellies, creams and jams.
Green fruits are used to make of tea.
The unripe fruits are pickled with sugar and vinegar.
Medlar has abundant contorted branches which forms a dense crown. Medlar of wild varieties has branches with thorns. During autumn, leaves turns to orange or red. The flowers are produced at the end of branches. The flowers have both reproductive organs and diffuse a pleasant aroma. The flower of Medlar blossoms from April to June. Self-pollination takes place. After planting, it produces fruit in 3 years. Till the fruit is half-rotten, it is inedible.

Star apple is a globose or oblate berry, with soft and jelly-like flesh. The fruit is usually purplish green and has a star shaped pulp. The skin and rind of the fruits are not edible, so scoop out the pulp to have a sweet and juicy flesh. Star apples are rich in Vitamin C, calcium and iron content.

Description
Star apple, (Chrysophyllum cainito), tropical American tree, of the sapodilla family (Sapotaceae), native to the West Indies and Central America. It is cultivated for its edible fruit, which is the size and shape of an apple and is named for the star-shaped core. The surface of the fruit is firm and smooth. Both the skin and the flesh, which is sweet and tasty, vary in colour, ranging from white to purple. The tree grows about 7.5–15 m (25–50 feet) tall and has purplish white flowers.
Variety
There are two types of star apple:
Red Apple
Green Apple
Health Benefits
Digestive Health
Rich in Vitamin C
Control Diabetes
Prevent Iron Deficiency Anemia
Lose Weight
Bones
Medicinal Drugs
Antioxidants
How to Eat
Ripe fruit is consumed fresh or preferably chilled, is cut in half and the flesh spooned out and eaten.
It is used as an ingredient of ice cream and sherbet
Skin and rind are not edible and has bitter latex.
An emulsion of the slightly bitter seed kernels is used to make an imitation of milk-of-almonds.
Reddish-brown wood is appropriate for general indoor construction purposes, such as planking, light framing, flooring, interior trim, cladding, paneling lining, shelving, balustrades and partitioning.
The pandanus or screw pine is grown in tropical coastal regions mostly in the Pacific. It takes almost twenty years to produce a fruit. Each fruit has hundreds of keys. The first key or cones needs to be removed with a hammer and the rest can be removed by hand. The inner part of the key is the yellow part which tastes like sweet juice of sugarcane and mango. It has the texture of thick nectar which can be used to make jams, desserts and sauce. It is a good source of beta carotene which helps to treat vitamin A deficiency diseases.

Health Benefits
Lowers blood pressure
Controls Blood Sugar Levels
Remedy for Pains and Cramps
Alleviates Gout
Rich in Nourishing Essential Oils
Good for Skin and Hair Health
Boosts and Increases Appetite
Enhances Body Stamina
Suppresses Anxiety ,Stress,headaches and relieves Insomania
Treating Skin Fungal Infections
Detoxifies Your Liver and Body
Recipe
Pandan Leaf Tea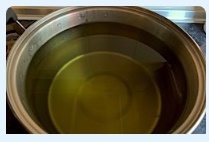 Wash thoroughly 3 to 4 small- or medium-length pandan leaves, gather and tie them into a knot.
Bring a small pot of water to boil and add the leaves to the boiling water.
Optional: You may add a small piece of ginger to the mix if you wish.
Allow the leaves to remain in the boiling water for 5 minutes.
Simmer the mixture for another 10 minutes until the leaves soften and the water turns green (the more leaves used, the darker green the tea will be).
Remove the leaves from the water.
Drink the tea when it is cool.
The sunrise papaya fruit matures after 9 month after the transplantation and hence it is pear in shape. This kind of fruit grows an average of 22 to 26 ounces depending on the location.The skin of this fruit is smooth, flesh firm and reddish-orange in color. This kind of fruit is sweet containing high sugar content. Plant of this fruit grows at a height of about 3 feet. The sunset papaya also in the shape of small to medium-sized, pear-shaped fruit. The Sunset papaya is a slightly smaller variety similar to the Sunrise, but with firmer flesh.
Description
Natal Plum is a hardy, evergreen, spiny and indigenous shrub that grows as high as 7 feet (about 2 meters) and as wide as 10 feet (about 3 meters).The plant thrives well throughout the tropical and subtropical climates and grows wild on the poorest and rockiest soils and is grown as a hedge plant in dry, sandy or rocky soils. It is most fruitful on deep, fertile, well-drained soil but if the soil is too wet, there will be excessive vegetative growth and lower fruit production. It has many branch, spiny twings; laterx milky. Stems are generally thorny with forked spines.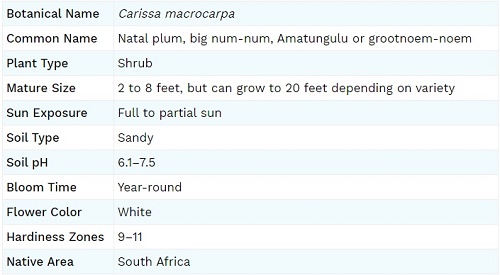 Health benefits
It prevents excessive secretion of bile by liver and prevents biliousness.
It regulates and optimizes the heart functions to avoid heart disease.Reduces anxiety
It is favorable in reducing the blood sugar level and aids in curing Diabetes.
Root is used as a bitter stomachic and vermifuge and it is an ingredient in a remedy for itches.
Roots contain salycylic acid and cardiac glycosides causing a slight decrease in blood pressure.
Recipe
Carrisa salad
1 pound Carissa
1 cup water
1 cup sugar
4 teaspoons gelatin
½ cup cold water
½ cup chopped celery
½ cup diced apples
½ cup pecans
Cook Carissa in one of cup water until tender, strain and add sugar. Moisten gelatin in cold water. Add to sugar and Carissa. Stir until dissolved, and then add celery, apples and nuts. Chill in the refrigerator and serve on lettuce.
Cloudberry is not a berry, but a cluster of small fruits. Cloudberries reach a golden color when they are fully ripe which are appealing to our eyes. Cloudberries give you a mix of freshness acidity and have a natural sweetness to balance that. Fresh cloudberries have a peculiar tart taste that
many people find appealing and when over ripe, they have a creamy texture. It is often used in desserts and to add flavor to the beer. Cloudberry contains Vitamin C four times as much as an orange and also contains zinc., magnesium and beta carotene. It improves immunity and has benefits to reverse heart disease.

Description
Cloudberry is a small plant with 5-20 cm high stem and is measuring of 3-7 cm long and 2-5 cm across. Stems are erect, simple and woody with pubscent leaves that have sparse and short glandular hairs. The alternate leaves have 3-6 cm petiole which are pubescent and possess short and glandular hairs in young. Leaves are pubescent, oblong, 5-10 Χ 4-7 mm in size and are brownish in color. It has orbicular or reniform, abaxially pubscent and is 4 to 9 cm in diameter. The inflorescences are terminal, one flowered and 3.5-6 cm pedicle. It has unisexual flowers measuring 2-3 cm in diameter having staminate larger than pistillate. The abaxially pubscent calyx and 1.5-2 mm tube. It has 4 or 5 sepals, erect, oblong and is 0.8–1.2 cm Χ 4–6 mm in size. The stamens are shorter in comparison to petals. Fruit is orange to red that becomes yellowish brown. It is glabrous, subglobose, 1 cm in diameter.
Health Benefits
Strengthen immune system
Promotes circulation
Prevent heart problems
Eliminate toxins
Antioxidant activity
Supports digestion
Bone ailments
Uses
Leaves are used for the preparation of herbal tea.
It is used to the treatment of urinary tract infections.
The fruits are believed to treat hypo-vitaminosis C.
Due to rich content of Vitamin C and Vitamin A, it helps to maintain immune system as it promotes white blood cells.
It slows down aging and prevents the breakdown of eyes and skin.
It also promotes the circulation of blood as well as red blood cells production.
It promotes urination with the elimination of toxins.
It assist in alleviation of cramping, constipation, bloating and digestive conditions such as gastric.
It is used for the prevention of osteoporosis.
Roots are also used for treating fevers and coughs.
Precautions
Some people may be allergic to this.In that case discontinue using and consult med immediately.
How to eat
It could be made into juice, jams, liqueurs and tarts. Also used as cake toppings.
Used to make a liquor
It is also used in preserves and pies.
The leaves are used as a substitute for tea.
It is consumed as a fresh fruit.
Finger lines are in the shape of a finger with a juice filled bead, resembling caviar is also known as lime caviar. They are available in different colors including green, pink and purple. They taste similar to the common round lime with refreshing aroma. The beads make finger lime a popular garnish and can also be used in dressings, cocktails, sauces and pickle. Finger limes are enriched with Vitamin E, Vitamin C, folate, and potassium. It keeps your skin young and beautiful. It improves your eye health and vision.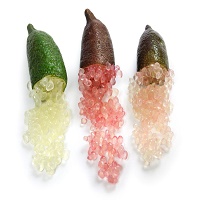 Description
Finger limes are small in size, averaging seven centimeters in length, and are oblong, slender, and elongated in shape with slight tapering at both ends. The thin skin is semi-smooth with a leathery, pebbled texture, and can range in color from purple, red-orange, dark green, light green, to black. The flesh contains many small vesicles, also known as pearls or globular pulp, that are firm, juicy, pink, pale green, to white, and burst with a tart flavor when consumed.
Health Benefits
Increased Immunity to Infections
Delayed Aging of the Skin
Healthy Teeth and Gums
Boosted Eye Health and Vision
Defense against Age-Related Diseases
Lowered Blood Pressure
Reduced Risk of Iron-Deficiency Anemia
Recipe
Grilled salmon stuffed avocado with finger limes
Ingredients:
1 lb Wild Sockeye Salmon
3 teaspoons Williams Sonoma Potlatch Season Rub
2 large Avocados, halved with seed removed
1/2 lime, juiced
1 tablespoon olive oil
2 teaspoons rice wine vinegar
1 teaspoon pure raw honey
3 tablespoon Shallot, finely diced
1/4 cup cilantro , chopped
Citrus beads from 6 Finger Limes
salt and pepper to taste
Method:
Prepare grill for medium high direct heat
Season the salmon with the potlatch seasoning
Place salmon on the grill and cook 4 minutes per side. Remove from grill and set aside.
While the salmon is resting drizzle the Avocado halves with olive oil, lime juice and a pinch of salt. Place on the grill flesh side down. Cook 5-7 minutes until charred but not too mushy. Remove Avocados from the grill and set aside
Whisk lime juice, olive oil, rice wine vinegar, honey, shallot, and cilantro together. Add a pinch of salt.
Remove the citrus beads from the finger limes into a small bowl
Stuff the Avocado halves with flaked salmon and top with the cilantro and shallot mixture.
Top with a teaspoon of the finger lime citrus bead and serve.
Surinam cherry is completely different from Cherry's taste and appearance. Surinam cherry ranges from sour to sweet. The orange Green fruits are sour, with a touch of resin. The shiny red to black completely ripe fruits are sweet and produce high quality flesh. Surinam cherry is rich in Vitamin A and Vitamin C. It is extensively used to treat stomach diseases.


Description
Surinam Cherry is an evergreen, multi-branched shrub or small tree reaching 10 m (30 ft.) in height. The leaves are opposite, simple, pinnate, ovate or elliptic to ovate, shiny dark green and 2.5-8 cm (1-3 inch) long. The flowers have four white petals, thin, obovate, fugacious, fragrant and 13 mm (0.5 inch) across. The fruit is depressed to globose; 4 cm (1.5 inch) wide and 1 inch diameter. The fruit flesh is orange to red. Fruit possess 2 or 3 small seeds and light brown.
Health benefits
Heart ailments
Treats cancer
Eye ailments
Treats common cold
Skin health
Prevent acne
Immune power
Produces RBC
Regulates growth and production of hair,nails and skin
Traditional Uses
The infusion is an aid for influenza, head colds, coughs, chest colds and fevers.
The crushed plant is steeped in the boiling water which is used as a wash to ease irritated skin.
The fruits help to reduce blood pressure.
The infusion made from leaves helps to treat fever, stomach diseases, rheumatism and digestive tract disorders, yellow fever, hypertension and gout.
Its leaves help to reduce blood cholesterol and uric acid levels.
Precautions
The bruised branches and leaves possess a spicy resinous fragrance which can lead to respiratory discomfort.
The seeds are not consumed.
The people who are allergic to Surinam Cherry should avoid its use.


Recipe
Surinam Cherry Chiffon Pie





Rinse the cherries and remove stems and flowery ends. Using quick pulses, process a few times then pick the seeds out. The flecks of cherry throughout the pie makes for a pretty presentation when cut and served.

Ingredients :

1 pie crust, 9-10 inch diameter, baked and cooled
1 tablespoon unflavored gelatin powder
Ό cup cold water
4 large eggs, separated
1 cup granulated sugar
3/4 cup surinam cherry pulp (about 1½ cup fruit)
1 cup whipping cream, sweetened with powdered sugar and whipped to soft peaks


Method :
Soften the gelatin in 1/4 cup water.
Beat the yolks together with HALF of the sugar and add the fruit pulp.
Cook over medium heat until thick, stirring constantly.
Add the softened gelatin and stir until dissolved. Cool and set aside.
Whip the egg whites until frothy then gradually add the remaining amount of sugar, beating until peaks begin to hold their shape.
Fold beaten whites into cherry mixture and fill pie shell. Chill until firm.
Top with prepared whipped topping just before serving. Serves 8-10.
Bacuri is a round or oval shaped fruit with a thick yellow rind that appears like papaya. The white pulp of the fruits are sticky with a combination of sweet and sour flavor with tempting aroma. It is said to be one of the tastiest and healthiest fruits, so it is used as a flavoring agent. Bacuri fruits are used to treat ear pain and skin problems. Bacuri butter is used to treat problems associated with skin. It cures snake and spider bites. Bacuri is rich in vitamins, minerals and tryptophan amino acids. Bacuri is used to produce creams, sorbets, jams and juices.


Important Facts
It is a fruit native to the Amazon region and there are two species that have this name: Phalerata Scheelea, Arecaceae, when it is also called 'aricuri acuri or uricury and insignis Platonia, Clusiaceae, when it is also called landirana. All the fruits that are known as bacuri are edible and used by regional populations in the wild, to make sweets and ice creams. One of the bacuri fruits from the Amazon, the Platonia insignis species, is produced on a large leafy tree that can reach up to 40 meters in height and 2 meters in diameter in the trunk. Its fruit is slightly larger than an orange, with thick lemon-yellow skin. The bacurizeiro is a tree of noble wood, with various applications in the manufacture of furniture, caibros, slats, stakes, sleepers, heavy packaging, and cleats. This is a fruit rich in phosphorus.
Medicinal use of Bacuri
Bacuri seeds are rich in oil and this prepares home medicine for skin diseases and in folk medicine, it is also indicated as a digestive, diuretic and healing. The resin of the bacurizeiro's shell is also widely used as a veterinary medicine.
Types of home medicine
Bacuri oil: Treatment of skin problems and ear pain, eczema and spider bites. It is also indicated as a cure and anti-inflammatory for the treatment of herpes, rheumatism, arthritis and leishmaniasis.



Breadfruit is green with thorny skin that looks like a mini jackfruit. Breadfruit is used as fruit as well as vegetable. Breadfruits have a sweet and creamy texture when fully matured. The early stage of the fruit is often a substitute of potato, which can be eaten raw, boiled, fried and roasted. Breadfruit is a good source of antioxidants, calcium, omega 3, omega 6, carotenoids. Breadfruits are used in the treatment of rheumatic and muscular pain. It lowers cholesterol level and regulates blood pressure.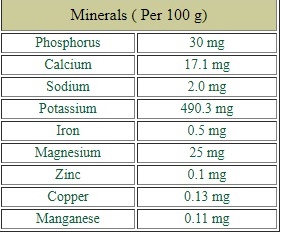 Breadfruit Facts
1) Breadfruit is a tropical tree which is mainly related to Jackfruit family.
2) Plants bestow demeanor fruits from 2-3 years after planting and remains productive for decades.
3) Breadfruit can also be used like a vegetable. It can be baked, boiled, fried, or roasted.
4) Breadfruit has been an important crop in the Pacific for more than 3,000 years.
5) They also provide construction materials, medicines, fabric, glue, insect repellent, animal feed, and more.
6) There are two varieties of breadfruit, one is the seeded variety known as the breadnut, scientific name - Artocarpus camansi and the other one is the seedless one.
7) The seeds are boiled, steamed, roasted over fire and eaten with salt. Sometimes they are made in the form of a puree.
8) Breadfruits play a vital role in animal feeding.
Breadfruit arrests major diseases
The reason why breadfruit is considered as cholestrol controller is because it is a rich source of fiber. The kind of fiber in breadfruit actually lowers the LDL levels (the "bad" cholesterol) while raising the levels of the HDL (the "good" cholesterol) which protect the arteries.
Breadfruit protects the body from heart diseases and heart attacks, Other than this the fiber present in breadfruit help those with diabetes to control the disease to some extent by reducing the absorption of glucose from the in taken food. Consuming breadfruit on a regular basis can reduce the risk of developing colon cancer. Breadfruit leaf is believed to lower blood pressure and is also believed to reduce asthma. Toasted flowers of the breadfruit tree are also rubbed on the gums as a cure for tooth ache.
Wood apple is in a round shape with a hard shell and a weird smell arouses our curiosity. The brownish pulp looks like a smooth pudding with a sweet tamarind taste with traces of acidic substance. Wood apple has a crunchy and edible seed. Sugar is added to wood apples to make it less acidic. Wood apple is a great source of thiamine and riboflavin which helps to detoxify our body. Wood apple benefits your digestive and respiratory system. It helps to cure liver diseases and prevents scurvy.


Origin and Cultivation
The bael tree is in fact indigenous of India. The narration of the tree goes back to Vedic period- 2000 BC – 800 BC. The fruit have been pointed out in Yajur Veda. The tree has got huge legendary significance and it's also present in large quantity all around temples. Bael fruit is in fact held holy by the Hindus and in accordance with several Hindu customs; the foliage is typically utilized as holy offering to Lord Shiva, who's likely to live beneath bael tree. The fruit is produced all over India in addition to Bangladesh, Thailand, Pakistan Sri Lanka and Burma .
How to consume woodapple
The flesh of the fruit can be eaten as it is. But if the flesh is sour, a bit of jaggery/ honey can be mixed. The pulp must be blended with jaggery in a food processor. A bit of water can be added. Then, pepper and cardamom powder can be added to make a refreshing drink. In some parts of the subcontinent, the pulp is mixed well with sugar, salt and chillies to make a tasty snack. This is a popular street food recipe. Apart from the above, wood apple pulp can be used to make chutneys and jams.
Precautions


Excessive intake of Wood Apple causes flatulence in abdomen so the people with gastric problems should be careful while using it.
Try a small amount in order to check how the body reacts.
It should not be consumed regularly.
Consuming this fruit without a break causes lack of normal flexibility, atony of intestines and major flatulence.
Excessive consumption causes heavy sensation in stomach.
Avoid by the pregnant women and lactating mothers.
Thyroid patients and people who are allergic should avoid it.
Yangmei or Chinese bayberry is grown primarily in China. Yangmei is a purplish cherry sized sphere with a juicy pulp with a taste of strawberry and has a bumpy surface. The fruit is expensive as it needs to be refrigerated immediately after harvesting. The bright red yangmei is used to make a fruit flavoured alcohol. Yangmei is rich in Vitamin C, riboflavin, thiamine and multiple organic acids. It contains Oligomeric ProanthoCyanidins, an antioxidant believed to benefit every metabolism in the body.


Extra Facts
Myrica rubra, also called yangmei Chinese Bayberry, Japanese Bayberry, Red Bayberry,Yumberry, or Chinese strawberry tree (and often mistranslated from Chinese as arbutus) is a subtropical tree grown for its sweet, crimson to dark purple-red, edible fruit.The tree is used as ornaments for parks and streets. It is also a traditional tree used in composing Classical East Asian Gardens.
Uses
bottled pasteurized juice or juice blends
dye prepared from the bark
yogurt flavoring
blended jam and preserves

This healthy fruit is high in antioxidants, ellagic acid,vitamins, and minerals, including vitamin-C, thiamine,riboflavin and carotene.
Santol fruits are similar to mangosteen with a different skin color with a mild tangy flavor. Santol is in yellowish brown color with fuzzy, thick and wrinkle skin. It has cotton like spongy white translucent pulp. The fleshy fruits have sweet to sour flavor, according to the ripening level. The sweetest santol fruits have a candy like taste with a hint of apple and peach flavor. Santol fruits are a good source of iron, calcium, phosphorus and Vitamin C. It delays the process of aging, providing firm and wrinkle free skin. Santol is used to treat skin allergies and acts as insect repellent.


Description/Taste
Santol fruits are round to ovate, averaging 4 to 7 centimeters in diameter, and have a slightly flattened shape. The skin is leathery, somewhat fuzzy, and wrinkled, ripening from green to golden yellow, and is sometimes covered in a red blush. Underneath the surface, the thickness of the peel will vary, depending on the variety, and can be thin and fibrous to thick and spongy. Santol fruits also have a translucent to white pulp that encases 3 to 5 inedible seeds. The pulp has a cotton-like consistency and is juicy, slippery, and soft. Santol fruits range in flavor from sour to very sweet, depending on maturity and variety. The sweetest Santol fruits have a candy-like taste with mild peach and apple notes, while in the sour varieties, a strong umami aftertaste may linger on the palate.
Nutritional Value
Santol fruits are a good source of iron, which is a mineral that can help move oxygen in the blood and fiber, which can help regulate digestion. The fruits also contain calcium, phosphorus, and vitamin C.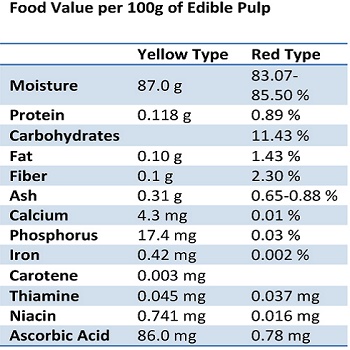 Applications
Santol fruits are best suited for raw applications as their sweet and sour flavor is showcased when consumed fresh, out-of-hand. To eat raw, the flesh can be sucked from the seeds, but caution should be taken not to swallow the seeds as they are inedible. The flesh can also be sprinkled with salt and spices, consumed as a snack, or it can be soaked in fruit juices and blended into a beverage. In addition to raw applications, Santol fruits can be cooked into jellies, jams, and syrups, canned for extended use, cooked into chutney, or candied as a sweet treat. The rind and flesh are also used in cooking to add a slightly bitter flavor in curries, sauces, and soups. In Filipino cuisine, Santol is grated and cooked in coconut milk in a dish known as Sinantolan. Santol fruits pair well with flavors like coconut, citrus, lemon, lime, ginger, sugar, and tamarind. The fruits will keep up to three weeks when stored whole at room temperature.
Rose apple is a bell shaped fruit with waxy skin. The fruit might be in green, yellow or red in color. Rose apple does not resemble apple as the name suggests. Rose apple is crisp from outside and has its unique texture, fragrance and sweet-sour flavor. Rose apple can be eaten raw like apple and can be used to prepare exotic desserts. Rose apple has a lavish amount of nutrients like protein, fiber, calcium, iron, Vitamin A and Vitamin C. It helps in digestion and very effective against diabetes.


Health Benefits
Fights Free Radical Damage
Reduced Risk of Stroke
Boost good HDL Cholesterol
Prevent Diabetes
Prevent Constipation
Prevent muscle cramping
Skin Health
Traditional Uses
A decoration made from astringent bark is used in folkloric medicine of Malaysia to treat thrush.
In the childbirth ceremony, it is served as a salad.
In India, it is used to boost the liver and brain functions.
Rose Apple is undoubtedly a stimulant for the brain and liver in India.
The sweetened prepared from the flowers used to reduce fever.
The sore eyes and rheumatism is cured with the decoction made from the leaves.
Dysentery, diarrhea and catarrh are treated with the seeds.
The infusion of roasted and powdered seeds is used to treat diabetes in Nicaragua.
Rose Apple is believed to contain the pain-killer properties in Colombia.
Epilepsy is treated with the use of root by the Cuban people.
How to eat
It could be eaten raw.
People preserve Rose Apples in the form of jellies and jams.
It is also added to the desserts.
It is used in the preparation of sauce or fruit syrup.
Precautions
The rose Apple preparations possess high risk of toxicity.
The roots and seeds are also poisonous.
Hydrocyanic acid (cyanide or prussic acid) is present in the stems, leaves and roots in the numerous amounts which could be harmful to the body.
Other Facts
Rose apples highly perishable and easily bruised.
It is non-climacteric.
The trees of Rose Apple bloom as well as fruit less in summer.
2 kg (5 lbs.) fruit is yield by the matured rose apple tree.
Rose Apple enhances the liver and brain.
The fruit acts as a stimulant for the liver and brain.
The fruit infusion performs as a diuretic.
This fruit is rich in polyphenols, potassium, vitamin C and dietary fiber.
Biriba is large, conical or oblate shaped fruit that looks like a large custard apple. It is green when unripe and ripening to yellow. Pulp has whitish creamy pulp ,with tropical sweet sour flavor. The surface has a soft spiky protuberance which gets damaged easily while handling. Biriba is high in calcium, phosphorus, iron and Vitamin C. It also contains proteins, carbohydrates and amino acids like lysine, methionine, threonine and tryptophan. Biriba is used to make refreshment drinks, ice creams and raw desserts.


Facts
Thought to originate in northern Brazil, near the Amazon, Biriba is a fast growing tree that grows up to 15 m high with large glossy leaves and white flowers. The fruits are round or heart shaped and 5-15 cm around, green to yellowish, with prominent bumps. The pulp is white, with a creamy texture with somewhat sour to sweet taste. It contains numerous brown, shiny seeds about 1.3 cm long and elliptical in shape.
Food Value Per 100 g of Edible Portion*
Uses
The fruit are eaten raw or cooked in deserts. The fruit overripen quickly and should be eaten soon after harvest. In Brazil, a drink is made by blending the fruit with milk. The seeds are used as beads and are ground up as an insecticide. The wood is used in boat building.
Cultivation
Elevation –

up to ˜ 900 m (150-600 m in Puerto Rico; 91-914 m in Hawaii)

Rainfall –

requires regular rainfall; tolerates periodic flooding but not drought

Soil Types –

prefers fertile, well-drained soil high in organic matter

Temperature Range –

good for hot, humid areas; intolerant of frost

Day Length Sensitivity –

n/a

Light –

prefers full sun but tolerates some shade
It is often used in deserts or juiced, but is usually eaten out-of-hand. Good source of vitamin C, calcium, and phosphorus.
Loquat seems like an apricot with oval or pear shaped fruit with edible yellow flesh. Loquat grows in clusters and the color varies from yellow to red. Loquat has the succulent pulp of sweet to subacid or acid flavor. The fruit has a thin skin which can be removed to eat fresh raw fruit. Loquat are made into syrup, jam and jelly. Loquats are low calorie nutritious fruits with various vitamins and minerals. Loquat acts as a sedative and it is eaten to quench the thirst. It promotes heart health and metabolic health.


Description
A tree of moderate size, the loquat may reach 20 to 30 ft (6-9 in), has a rounded crown, short trunk, and woolly new twigs. The evergreen leaves, mostly whorled at the branch tips, are elliptical-lanceolate to obovate lanceolate, 5 to 12 in (12.5-30 cm) long and 3 to 4 in (7.5-10 cm) wide; dark-green and glossy on the upper surface, whitish-or rusty-hairy beneath, thick, stiff, with conspicuous parallel, oblique veins, each usually terminating at the margin in a short, prickly point. Sweetly fragrant flowers, borne in rusty-hairy, terminal panicles of 30 to 100 blooms, are white, 5-petalled, 1/2 to 3/4 in (1.25-2 cm) wide. The fruits, in clusters of 4 to 30, are oval, rounded or pear-shaped, 1 to 2 in (2.5-5 cm) long, with smooth or downy, yellow to orange, sometimes red-blushed, skin, and white, yellow or orange, succulent pulp, of sweet to subacid or acid flavor. There may be 1 to 10 seeds, though, ordinarily, only 3 to 5, dark-brown or light-brown, angular -ellipsoid, about 5/8 in (1.5 cm) long and 5/16 in (8 mm) thick.
Pollination
The loquat is normally pollinated by bees. Some cultivars such as 'Golden Yellow' are not self-fertile. 'Pale Yellow', 'Advance', and 'Tanaka' are partially self-fertile. In India, it has been observed that cross-pollination generally results in 10-17 % increased production over self-pollination. 'Tanaka' pollinated by 'Pale Yellow' has a lower yield than when self-pollinated, indicating a degree of cross-incompatibility. Whereas, when pollinated by 'Advance', the normal yield of 'Tanaka' is nearly doubled. When cross-pollinating for the purpose of hybridizing, only flowers of the second flush should be used, as early and late flushes have abnormal stamens, very little viable pollen, and result in poor setting and undersized fruits.
Food Uses
The skin of the loquat is easily removed. Peeled and seeded fruits are eaten fresh, sometimes combined with sliced banana, orange sections and grated coconut. They are delicious simply stewed with a little sugar added. The fruits are also used in gelatin desserts or as pie-filling, or are chopped and cooked as a sauce. Loquats canned in sirup are exported from Taiwan. Some people prepare spiced loquats (with cloves, cinnamon, lemon and vinegar) in glass jars. The fruit is also made into jam and, when slightly underripe, has enough pectin to make jelly. The jelly was formerly manufactured commercially in California on a small scale.
Precautions
A 5-year-old girl in Florida ate 4 unripe loquats, fell asleep and was difficult to awaken and seemed dazed. After about 2 hours, she was back to normal. There have been instances of poisoning in poultry from ingestion of loquat seeds. The seeds contain amygdalin (which is converted into HCN); also the lipids, sterol, b-sitosterol, triglyceride, sterolester, diglyceride and compound lipids; and fatty acids, mainly linoleic, palmitic, linolenic and oleic. There is amygdalin also in the fruit peel. The leaves possess a mixture of triterpenes, also tannin, vitamin B and ascorbic acid; in addition, there are traces of arsenic. Young leaves contain saponin. Some individuals suffer headache when too close to a loquat tree in bloom, The emanation from the flowers is sweet and penetrating.
Other Uses
Wood: The wood is pink, hard, close-grained, medium-heavy. It has been used instead of pear wood in making rulers and other drawing instruments.
Animal feed: The young branches have been lopped for fodder.
Perfume: In the 1950's, the flowers attracted the interest of the perfume industry in France and Spain and some experimental work was done in extraction of the essential oil from the flowers or leaves. The product was appealing but the yield was very small.
Medicinal Uses: The fruit is said to act as a sedative and is eaten to halt vomiting and thirst.
The flowers are regarded as having expectorant properties. An infusion of the leaves, or the dried, powdered leaves, may be taken to relieve diarrhea and depression and to counteract intoxication from consumption of alcoholic beverages. Leaf poultices are applied on swellings.
Langsat is oval shaped fruit measuring 2 to 7 cm long with fuzzy and yellow brown skin. The outer surface of langsat gives resemblance to baby potatoes. The inner part is white translucent pulp that gives a flavor of grapefruit with a hint of bitterness. The juicy flesh contains sucrose, fructose and glucose. There are two types of langsat, thick and thin skinned langsat but both taste good. The skin of the langsat has a nice aroma which is dried and burned as incense. The resin of the langsat is used to treat diarrhea and intestinal spasms.


Description
Langsat or Lanzones are trees from the Mahogany family, scientifically known as Lansium parasiticum. Langsat is a plant that bears small edible fruits. These fruits are similar to potatoes on their outer appearance and inside they have a white flesh containing inedible, bitter seeds. Langsat originated in the Southeast Asian regions.The larger size variety of langsat is known as Duku. Langsat grows in clusters and is widely cultivated in Malaysia, Indonesia, Thailand and Sumatra. In India, it grows in the southern hills of Nilgiri from April to September.These fruits have a tangy, sour and sweet combination of flavors, and tastes a lot like grapes. Some people find its taste similar to that of pomelo. Its aril is juicy and translucent when ripe. Once ripe, the taste of langsat is really refreshing and exotic. Only the fresh langsat tastes the best because if kept for days after plucking, it may lose its taste and become bland.
Health Benefits
Riboflavin Enhances RBC Formation: Langsat is rich in vitamins like riboflavin and thiamine. Riboflavin is important for the production of red blood cells and overall body growth. Consuming langsat enhances the production of RBCs in the blood and also helps in the break down of carbohydrates to provide energy to the body.
Vitamin A Maintains Proper Body Function: Vitamin A is an essential co-factor for many vital body functions. It is necessary for maintaining healthy skin, eyes, teeth and tissues. Langsat being high in vitamin A, keeps eyes, skin, skeletal tissues and mucous membranes healthy.
Seeds are Proven Anti-Malarial: Many studies are in progress to prove the ability of its seeds as potential anti-malarial therapeutic. Also, its skin and leaves are shown to possess anti-pathogenic nature against Plasmodium falciparum, a malaria-causing parasite. They contain such chemical compounds that interrupt the life cycle of the pathogen and kill them.
Its Bark and Skin Cures Diarrhea: Langsat fruit helps in curing digestive tract problems. It being rich in fiber is good for gut health. The bark of the tree, when made into astringent has been proven to exhibit anti-spasmodic properties and can be efficiently used to treat dysentery and diarrhea. Also, the peel of langsat fruit contains oleoresin that helps in curing diarrhea and its symptoms.
Cures Fever: Langsat fruit is helpful in treating fever and cold. It contains vitamin C, which helps in reducing flu and cold symptoms. Crushed seeds of langsat help lower the body temperature.
Treat Inflammation: The bark and seed resins of langsat helps in reducing inflammation. The bark resin can be used to treat gastrointestinal colic, swellings, ulcers and flatulence. The powder from the bark can also be applied to scorpion stings to cure its allergic reaction and inflammation.
Burning the peel of langsat keeps mosquitoes at bay and emits aromatic fragrance.
Eliminate Skin Problems: The rind of langsat is used to treat various skin problems like rashes, acne, itching etc. Rubbing its rind over the affected area can reduce the redness, inflammation and itching.
Juice Recipe
Ingredients:
Fresh langsat juice 1 cup
Fresh lychee juice 1 cup
Fresh pomegranate juice ½ cup
Lemon juice 1-2 tsp
Sugar, if desired
Crushed ice
Method:
In a mocktail glass, pour langsat juice and lychee juice
Add sugar and lemon juice to it
Add crushed ice and shake it well
Now, add pomegranate juice and mix.
Serve chilled
The langsat fruit is mainly eaten fresh and raw and can also be made into candies while Duku is good for making pickles. It can be bottled into juices and syrups or cooked along with some other fruits and vegetables.
Cempedak is similar to jackfruit in appearance and taste .Cempedak has a thick outer layer with spiky or raised surface, not as sharp. Cempedak is said to be the ugly cousin of jackfruit. The inner pulp is bell shaped, less fibrous yellow flesh the same as jackfruit and with a hint of durian. The smell of cempedak can be sensed from quite some distance away. Cempedak has a good amount of Vitamin A, Vitamin and Potassium. Cempedak prevents the risk of stroke and lowers the cholesterol level. They are used to improve the health of the heart and eyes.


Description
Cempedak fruit is an evergreen, medium–sized, mid-canopy, branched, monoecious tree that grows about 10–30 m tall. The plant is found growing in secondary forests and locally abundant in primary lowland rainforest, often on wet hillsides. The plant thrives on humus-enriched, loamy, acidic and well-drained soils, but prefers a fairly high water table. However, it does best in deep alluvial soils of open texture. It can also survive periodic water-logging. Stem has white sap; brown stiff, reflexed hairs 3 mm long cover the twigs, stipules and leaves.
Health Benefits
1. Heart health
Antioxidants, dietary fiber and vitamin C present in cempedak help in maintaining heart health. High potassium content helps in lowering blood pressure. It decreases cholesterol levels and reduces hypertension that makes the cardiac system healthier.
2. Healthy eyes
Cempedak fruit consists of good amount of Vitamin A which helps to increase health in our eyes. There are many fruits and vegetables that contain Vitamin A but Cempedak fruit becomes one of the sweetest and delicious fruits to be consumed as a supplier of Vitamin A in the body.
3. Maintain digestion
Cempedak fruit is also able to help and keep the digestive in our body running smoothly. Vitamin C content in this fruit is able to avoid us from constipation or difficult to defecate.
4. Prevent the risk of stroke
Stroke disease becomes a disease that mostly suffered by people who continue to use. But not a few of them are still young age of these disease even children. Cempedak fruit also provides benefits in this regard by preventing the risk of stroke.
5. Lower cholesterol in the blood
Cempedak fruit also has benefits for our body in terms of lowering cholesterol levels. Vitamin C content can repel bad cholesterol to prevent blood flow and help good cholesterol to flow smoothly. Bad cholesterol can cause many serious illnesses like heart disease.
6. Relieve tumor
There are many health experts who say that Cempedak fruit is able to help treat tumor diseases. But until now there has been no definite thing about it. Seeing from its content such as bioflavonoid most likely can indeed help relieve tumors.
7. Slimming body
Consuming Cempedak fruit will give a sense of satiety. This makes Cempedak fruit suitable for their food ingredients or you are committed on slimming. The nutritional content is enough to give a sense of satiety as well as forming the body.
8. Malaria treatment
Several compounds like artioindonesianidin and heteriflavon C present in the bark and fruit of cempedak help in prevention and treatment of malaria. It can eliminate the malarial parasites to complete extent.
9. Expel the parasite
In the body, we can roam many parasites that can disturb the work of organs. In addition, these parasites can also cause unexpected diseases, Cempedak fruit has benefits to expel parasites – parasites that are not needed by our bodies.
Traditional uses and benefits of Cempedak fruit
In traditional folkloric medicine, the Iban in Sarawak apply a paste of the inner bark to heal wounds and prevent infection.
Juice of the roots has been used for fever in Peninsular Malaysia.
Ash from burnt leaves, maize and coconut shell has been used to treat ulcers.
An infusion of the root ash is mixed with Selaginella ash and prescribed as a protective medicine after childbirth.
Bark is used in poultices for painful feet, hands and for ulcers.
Leaves are heated and applied to wounds in Philippines.
Pith has been reported to cause abortion and the wood is sedative.
Unripe fruit is astringent and ripe fruit laxative.
Jackfruit intake prevents Obesity and Heart Diseases.
It regulates the cholesterol level and reduces high cholesterol or bad cholesterol in the body.
It contains good amount of potassium and treats high blood pressure and maintains the Blood Pressure level in the Body.
It prevents digestive disorders and treats indigestion and constipation.
It boosts the immune system and aids in the production of Red Blood cells.
It helps in reducing the high blood sugar level in diabetic person.
It strengthens the bones and prevents osteoporosis.
It combats skin diseases. It hydrates dry skin.
It slows the aging process.
It combats against cold, cough, flu, piles, weak eyesight and asthma.


Recipe
Goreng Cempedak
Ingredients
1 Cempedak
3 tbsp. Self Raising Flour
2 tbsp. Corn flour
1 tbsp. Rice Flour
1 tbsp. Wheat Flour
Salt as required
1 cup of Water
Direction
Combine all the flour and salt in a bowl.
Also add water to it and combine into a batter.
Cover cempedak in batter and deep fry in hot oil until crispy and golden brown.
Remove and serve.
Other Facts
In Kerala and Bengal in India, the leaves are used as fodder.
Ripe fruit is fed to cattle and the fruit, leaves and bark are used to feed elephants.
Bark can be used to make rope and the resinous latex for the preparation of bird- lime and vanishing material.
Bark is also rich in tannin.
Dark yellow to brown wood is strong and durable and is used for building construction, furniture, boats cabinet-work, brush-handles.
Wood is used for musical instruments, furniture, cabinet-work and tool-handles in Philippines.
The wood also makes a good fuel-wood.
Buddhist used the timber for construction of sacred buildings on account of its yellow color in Indo China.
With alum, the extract of heartwood provides a yellow dye that is moderately fast on silk.
Yellow dye is used in coloring the saffron-colored robes of Buddhist monks in Indo-China.
Tree has been planted in conjunction with cash crops such as Carica papaya, in reforestation systems.
Tree has been used as shade tree for coffee but was found to be not ideal.
Bark yields a fiber that is used in making ropes.
Resin can also be obtained from the tree and it is used as a varnishing material.
Each fruit can weigh from 600 – 3,500 g.
All parts of the tree contain milky latex when cut.
Trees begin to bear fruit at 3-6 years for trees planted by seed and at 2-4 years for clonal trees.
Total edible portion (perianths + seeds) is 25-50% of fresh fruit weight.
Tree is well suited for reforestation projects in association with other species.
Latex obtained from the plant can be used for making lime.
Precautions
Avoid use during pregnancy as it may cause abortion.
It may cause allergic reaction in people suffering from birch pollen allergies.
It may increase blood coagulation.
Cempedak fruit contain much ascorbic Acid is recommended not to consumed in excess amounts as it can make gas in the stomach.
Gac is green in color in early stages and turns to orangey red when it is matured. Gac is a bright orange fruit covered with spines on the thick skin that looks like a baby jackfruit. It has a fleshy and oily sac with mild taste. It is harvested for only two months, making it a rare food. It is used on special or festive occasions. Gac is rich carbohydrates and fibre which is used to treat cardiovascular and eye diseases.


Benefits of Baby Jackfruit
Helps in controlling cholesterol levels
Blood Pressure
Supports Heart Health
Enhances Immunity
May Improve Sleep
Cancer
Strengthens Bones
Lowers Risk of Type 2 Diabetes
Blood sugar levels
Wound healing
Digestive health






How to eat Baby Jackfruit

Many specialty supermarkets and Asian food stores sell fresh, canned, or frozen jackfruit. Canned jackfruit may contain syrup or brine. The flesh of unripe jackfruit is green, and it changes to yellow as it ripens. A person can eat the flesh of fresh, ripe jackfruit on its own or use it in a range of recipes, including desserts. Also, many people use fresh, unripe jackfruit as a meat substitute in curries, pies, stir-fries, wraps, and other dishes.




To prepare fresh, unripe jackfruit:



Cut the fruit into halves, then into smaller chunks, without removing the skin.
Boil the chunks until the flesh is soft and has a stringy texture similar to pulled pork or chicken. This may take 30–60 minutes.
Peel off the skin and remove the seeds and their pods.

Baby Jackfruit is a good source of vitamin C, potassium, dietary fiber, and other important vitamins and minerals.