Fruits Home

Full List of Fruits

Yew fruit
Scientific name - Taxus baccata
Yew is a medium-sized evergreen tree that's indigenous to western, central and southern Europe, northwest Africa, northern Iran and southwest Asia. Commonly known as Taxus baccata, it is a small to medium-sized conifer that grows 10-20 meters (exceptionally up to 28 meters (92 ft)) tall, and it has a trunk that grows up to 2 meters (6 ft 7 in) (exceptionally 4 meters (13 ft)) diameter. Having a highly modified seed cones, each cone contains a seed that is 4-7 millimeters long. Encircled by a modified scale, it develops into a soft, bright red berry-like structure which is known as aril and they are long and wide open at the end. Subsequent to pollination, the aril matures within 6 to 9 months. Having a jelly-like consistency, the aril is not poisonous and they are very sweet to taste. With 3-6 millimeters (0.12-0.24 in) diameter, the male cones are globose in shape and discard their pollen during the early spring itself. In general, it is typically dioecious; nevertheless sporadic individuals can be variably monoecious or change sex with time.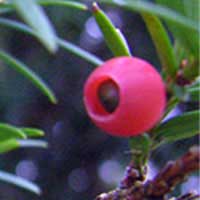 Nutritional Value of Yew fruit
| | |
| --- | --- |
| Amount Per Serving | % Daily Value |
| Calories | 691.4 |
| Calories from Fat 269 | 39% |
| Total Fat 29.9 g | 46% |
| Saturated Fat 4.7 g | 23% |
| Cholesterol 288.2 mg | 96% |
| Sodium 2240.9 mg | 93% |
| Total Carbohydrate 75.3 g | 25% |
| Dietary Fiber 2.7 g | 11% |
| Sugars 6.8 g | 27% |
| Protein 28.6 g | 57% |


Aids abortion



Cold rheumatic fever



Arthritis



Menstrual stimulation



Breast cancer



Ovarian cancer



Lung cancer



Snake bites



Blood clots



Rabies



Wound related diseases

Apart from the above said ailments, it has seen visible success in treating breast and ovarian cancer. With that said, the properties present have been widely accepted and are being used in treating people for several other ailments as well.

With regards to cultivation, this is a very easy to grow plant and they are highly cold and heat tolerant. They can sustain both sunny and shady positions, wet and dry soils, exposure and any pH, however they are said to thrive in heavy clay soils. Sensitive to soil compaction by roads, they are highly shade tolerant and can even stand urban pollution. Having great tolerance towards exposure, though plants are damaged by severe maritime exposure, they can tolerate temperature down to about -25°c; it is a very cold hardy plant when dormant. At the same time, the fresh and young shoots during the season of spring can be damaged by frosts. In general, the plants are dioecious, though they sometimes change sex, on the other hand, monoecious trees are sometimes found as well. If fruits and seeds are required, male and female trees must be grown. As a matter of fact, the fruit is mainly produced on the undersides of one-year old branches. Sources say that it is one of the very long lived trees and there are reports online stating that a tree in Perthshire is 1500 years old, making it the oldest plant in Britain.

Another report says that the tree can be up to 4000 years old. To reach a height of 4.5 meters, it takes just about 20 years and is found slow growing. For young plants it may take a year to grow 30cm, but this soon tapers off and no height increase is to be had after 100 years. Considered very ornamental, they are resistant to honey fungus, but susceptible to phytopthera root rot. Having a very soft bark, the branches or even the whole tree can be killed if the bark is removed by constant friction. Producing a very little stringy root, they should be planted in their closing positions when still small. With all that said, the fruit is greatly relished by thrushes.

It takes up a period of 2 or more years for the seed to germinate and is best sown as it is ripe. With regards to stored seeds, it may take up 2 or more years to take root. For a reduced germination time, 4 months warm followed by 4 months cold stratification may help. Seeing that the inhibiting factors develop before its stipulated period, harvesting the seed green and then sowing it right away has not been found to trim down the germination time. Once they are large enough to handle, pricking out the seedlings and growing them on in pots in a cold frame is recommended. Requiring a period of 2 years of pot cultivation, the seedlings are very slow-growing and planting out should be done in late spring or early summer, subsequent to the last expected frosts.