Home
»
Fruit Recipes
» Fruit Desserts Recipes
Ingredients
1 recipe pastry for a 9 inch double crust pie
1/2 cup unsalted butter
3 tablespoons all-purpose flour
1/4 cup water
1/2 cup white sugar
1/2 cup packed brown sugar
8 Granny Smith apples - peeled, cored and sliced
Procedure
1. Preheat oven to 425 degrees F (220 degrees C). Melt the butter in a saucepan. Stir in flour to form a paste. Add water, white sugar and brown sugar, and allow it to boil. Reduce temperature and let simmer.

2. Place the bottom crust in your pan. Fill with apples, mounded slightly. Cover with a lattice work of crust. Gently pour the sugar and butter liquid over the crust. Pour slowly so that it does not run off.

3. Bake 15 minutes in the preheated oven. Reduce the temperature to 350 degrees F (175 degrees C). Continue baking for 35 to 45 minutes, until apples are soft.
Calories: 512 | Total Fat: 26.7g | Cholesterol: 31mg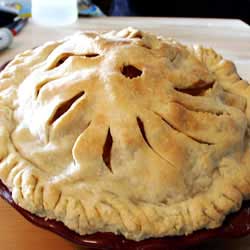 Ingredients
4 cups fresh peaches - peeled, pitted and sliced
1 cup fresh raspberries
3/4 cup white sugar
3 tablespoons all-purpose flour
1 teaspoon ground cinnamon
2 (9 inch) pie crusts
2 tablespoons butter, softened and cut into pieces
1 tablespoon coarse granulated sugar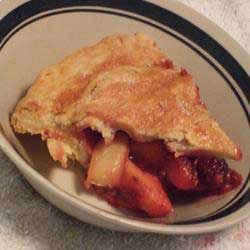 Procedure
Preheat oven to 400 degrees F (200 degrees C).
Place peaches and berries in a colander for about 15 minutes to drain any excess fluid , then transfer to a large bowl. Gently toss with sugar, flour, and cinnamon. Transfer to a pie crust. Dot with butter, and top with remaining crust. Cut vents in top crust, and sprinkle with coarse sugar.
Bake 45 minutes in the preheated oven, until crust is golden brown.
Ingredients
1 pastry for a 9 inch double crust pie
1 cup white sugar
4 teaspoons tapioca
1/2 teaspoon ground cinnamon
2 cups fresh blackberries
2 cups apples - peeled, cored and sliced
2 tablespoons butter, cut into small pieces
Procedure
Preheat oven to 375 degrees F (190 degrees C). On a lightly floured surface, roll out one crust, and place in a 9 inch pie plate. Roll out top crust, and set aside.
In a large bowl, mix together the sugar, tapioca, and cinnamon. Add blackberries and apple slices. Toss gently to coat without mashing the berries. Let stand for 20 minutes.
Spoon filling into pastry lined pan. Dot with butter. Moisten the edge of the pastry with water. Cover with top crust; trim and crimp edge. Cut a few slits in the top to allow steam to escape during baking. Cover edge with foil to prevent over-browning.
Bake in preheated oven for 25 minutes. Remove foil, and continue baking for 20 to 25 minutes, or until crust is golden brown. Cool on wire rack.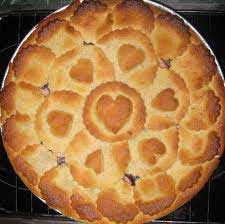 Ingredients
1 1/2 cups all-purpose flour
1/2 cup vegetable oil
2 tablespoons cold milk
1 1/2 teaspoons white sugar
1 teaspoon salt
6 Fuji apples, cored and sliced
3/4 cup white sugar
3 tablespoons all-purpose flour
3/4 teaspoon ground cinnamon
1/2 teaspoon ground nutmeg
1/2 cup all-purpose flour
1/2 cup white sugar
1/2 cup butter
Procedure
Preheat oven to 350 degrees F (175 degrees C).
To Make Crust: In a large bowl, mix together 1 1/2 cups flour, oil, milk, 1 1/2 teaspoons sugar and salt until evenly blended. Pat mixture into a 9 inch pie pan, spreading the dough evenly over the bottom and up sides. Crimp edges of the dough around the perimeter.
To Make Filling: Mix together 3/4 cup sugar, 3 tablespoons flour, cinnamon, and nutmeg. Sprinkle over apples and toss to coat. Spread evenly in unbaked pie shell.
To Make Topping: Using a pastry cutter, mix together 1/2 cup flour, 1/2 cup sugar and butter until evenly distributed and crumbly in texture. Sprinkle over apples.
Put pie in the oven on a cookie sheet to catch the juices that may spill over. Bake 45 minutes.
Fruitsinfo.com is a leading website for fruits and fruits related information. Our mission is to become the top information site for fruits. We have variety of fruits like tropical fruits, seasonal fruits, exotic fruits, fruits listed by country , fruit recipes, articles related to fruits and lot more. Eating fruits is a vital part of your diet, fruits have essential vitamins, minerals and lot more which helps you lead a healthy life. Health benefits and nutritional benefits of fruits are listed all over our website. If you have any feedback to leave or question regarding the fruits listed in our website please email to
info@fruitsinfo.com
.