Home
» Fruit Recipe
Ingredients
1 cup sifted all-purpose flour
1 teaspoon baking powder
1/4 teaspoon salt
1/4 teaspoon ground cinnamon
1/4 cup butter or margarine, melted
1/2 cup packed brown sugar
1/2 cup white sugar
1 egg
1 teaspoon vanilla extract
1/2 cup chopped apple
1/2 cup finely chopped walnuts
2 tablespoons white sugar
2 teaspoons ground cinnamon
Procedure
1. Preheat oven to 350 degrees F (175 degrees C). Grease a 9x9 inch pan. Sift together flour, baking powder, salt, and 1/4 teaspoon of cinnamon; set aside.
2. In a large bowl, mix together melted butter, brown sugar, and 1/2 cup of white sugar with a wooden spoon until smooth. Stir in the egg and vanilla. Blend in the flour mixture until just combined, then stir in the apples and walnuts. Spread the mixture evenly into the prepared pan. In a cup or small bowl, stir together the remaining cinnamon and sugar; sprinkle over the top of the bars.
3. Bake for 25 to 30 minutes in preheated oven; finished bars should spring back when lightly touched. Cool in the pan, and cut into squares.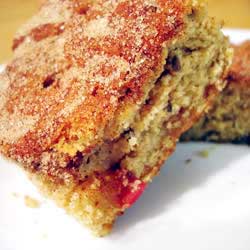 Ingredients
1 3/4 cups raisin bran cereal
1 1/4 cups all-purpose flour
3/4 cup sugar
1 1/4 teaspoons baking soda
1 teaspoon ground cinnamon
1/4 teaspoon salt
1 egg
3/4 cup buttermilk
1/4 cup canola oil
3/4 cup finely chopped peeled tart apple
3/4 cup grated carrots
1/4 cup chopped walnuts
Procedure
1. In a bowl, put together the first six ingredients. In a small bowl, beat the egg, buttermilk and oil. Stir into dry ingredients just until moistened. Fold in apple, carrots and walnuts.
2. Fill paper-lined muffin cups or cups coated with nonstick cooking spray three-fourths full. Bake at 400 degrees F for 20-23 minutes or until a toothpick comes out clean. Cool for 5 minutes before removing from pan to a wire rack. Serve warm.
Nutritional Analysis: One muffin equals 199 calories, 7 g fat (1 g saturated fat), 18 mg cholesterol, 256 mg sodium, 32 g carbohydrate, 2 g fiber, 4 g protein. Diabetic Exchanges: 2 starch, 1/2 fat.

Tomato And Strawberry
Ingredients
1 pint cherry tomatoes
1 large honeydew melon (about 4 1/2 pounds)
1 large cantaloupe (about 3 pounds)
1/4 cup red currant or apple jelly
1 teaspoon salt
1 teaspoon coarsely ground black pepper
1 bunch spinach
Procedure
With fingers, slip cherry tomatoes from their skins one at a time; place in colander to drain off excess liquid. Cut each melon in half; discard seeds. With melon baller, scoop melons into balls; reserve any remaining melon for use another day. Place melon balls in bowl with cherry tomatoes. Cover and refrigerate melon-ball mixture if not serving right away.Amount of calories based on individual serving,
Calories: 125 Total Fat: 1 g Cholesterol: 0 mg Sodium: 340 mg

Ingredients
1 avocado - peeled, pitted and diced
1 lime, juiced
1 mango - peeled, seeded and diced
1 small red onion, chopped
1 habanero pepper, seeded and chopped
1 tablespoon chopped fresh cilantro
salt to taste
Procedure
Place the avocado in a serving bowl, and mix with the lime juice. Mix in the mango, onion, habanero pepper, cilantro and salt.

Ingredients
1 lg Crushed pineapple
2 tb Flour
3 Eggs
1/4 Stick oleo
3 sl Bread
Procedure
Beat eggs and flour, then pineapple. Pour into greased casserole. Melt oleo; add bread that has been cubed. Pour on crest of pineapple. Bake for 45 minutes at 350 degrees. Serve hot with animal protein.

Ingredients
1 mango - peeled, seeded and diced
1 avocado - peeled, pitted, and diced
4 medium tomatoes, diced
1 jalapeno pepper, seeded and minced
1/2 cup chopped fresh cilantro
3 cloves garlic, minced
1 teaspoon salt
2 tablespoons fresh lime juice
1/4 cup chopped red onion
3 tablespoons olive oil
Procedure
In a medium bowl, combine the mango, avocado, tomatoes, jalapeno, cilantro, and garlic.
Stir in the salt, lime juice, red onion, and olive oil. To blend the flavors, refrigerate for about 30 minutes before serving.
Ingredients
3 cups baby spinach
1/2 cup sliced strawberries
1/4 cup almonds
1 tsp cider vinegar
1 tsp honey
1 1/2 tsp sugar
Procedure
1. Take a large bowl; combine the spinach, strawberries and almonds together.
2. Use jar with tight-fitting lid and combine the vinegar, honey and sugar and shake it well in it.
3. Now serve immediately.

Ingredients
1/2 kg bananas
150g dates
1c ghee or oil
150g apples
150g green grapes
1 pomegranate
sugar to taste
1/2 tsp pineapple essence
50g raisins
50g cashew nut
50g almonds
Procedure
1. Pure Maida in big bowl and add water to it. Then add food color to this Maida and leave a side.
2. Add the mixture with sugar syrup and keep it to stir for 6-8 min until it gets thick. At the same time heat the ghee nicely and add the ghee to the Maida and sugar syrup mixture and keep stirring well.
3. Then add dry fruits, nutmeg powder and mix it well and make them to cool.
4. Now transfer it to a plate and make it flat with a spoon and cut in to pieces. This will stay for 15 days.
5. When ever you want to serve remove from the fridge and keep it in the microwave for 5 sec. and serve.
Ingredients
1 cup sliced bananas
1 cup seedless grapes
2 cups rava
1 cup sliced pineapple
2 cups sugar
6 cups water
1 tsp cardamom powder
1 cup ghee
1/2 tsp yellow/orange powder
1/4 cup cashews
Procedure
1. First wash out the hands neatly. Then take a pan and heat the amount of ghee that you have taken.
2. Now slowly roast the rawai with the medium heat for about 8 to 10 minutes.
3. Heat another tablespoon of ghee and in that roast the cashews to a light brown color.
4. Then heat the fruits until they become soft using another tablespoon of ghee in the pan.
5. Now add the required water and sugar and boil it in a sim mode for about10 minutes.
6. Add the roasted rava slowly and stir it until it becomes a nice halwa consistency.
7. Add the food color and ghee and stir it nicely.
8. Now add roasted cashews and cardamom powder with it.
9. Also add saffron soaked in warm milk and pour the rest of the ghee on top and stir once.