Home
»
Fruit Recipes
» Fruit Kids Recipes
Here is the recipe for kids to cook by themselves. Cooking with kids is fun and simple. Have some fun with the kids in the kitchen. We help kids learn to make their own recipes.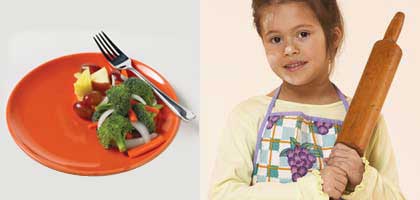 Ingredients
6 slices of plain bread, sprinkled with sugar cinnamon
6 slices cheddar cheese
21oz apple pie filling, drained
Procedure
1. Place cinnamon bread on a baking sheet and equally toast under the broiler for atleast 1 to 2 minute.

2. Remove the baking sheet from the broiler. Top each slice of toast with an equal amount of apple pie filling and a cheese slice.

3. Broil 2 to 3 minutes until the cheese melts and serve it.

Ingredients
2 small packages orange Jell-O
¼ cup boiling water
1 pint orange sherbet
1 cup mandarin oranges
1 cup crushed pineapple
1 cup nuts
1 Cool Whip
Procedure
1. Dissolve orange Jell-O in boiling water.

2. Stir in sherbet and other ingredients too. Pour the mixture into a pan.

3. Refrigerate overnight. A beautiful dish was ready.

Ingredients
1 packet gelatine
400ml apple juice
15-18 ripe strawberries
Whipped cream, for decoration
Procedure
1.Add 6teaspoon water into a jug. Dust on the gelatin and beat carefully until it gets dissolves.

2. Pour the ingredients in the juice and whisk and make sure all the ingredients mixed in.

3. Use a knife to cut the strawberry into slices. Put some pieces of strawberry into 6 0r 7 glasses. Pour the juice into the glasses, to fill them almost at top.

4. Keep them on a plate in the fridge to set. When the jellies are set, decorate them with whipped cream.