Fruits Home

Full List of Fruits

African Mango
Scientific name - Irvingia gabonensis

Irvingia Gabonensis, is generally known as African mango. It is also labeled as bush mango or wild mango. This tree is generally cultivated in the humid forests of West Africa. It has a sweet, tart flavor similar to a mango, but with a unique, fibrous texture. The fruit has a thick, dark brown skin and a soft, white flesh. It is high in dietary fiber, vitamins A and C, iron, and magnesium.

When it comes to the size of its fruit, it is spherical and glaring green when it is ripe. It also has a deep orange pulp that tastes somewhat spicy. They also contain an antioxidant compound called oleanolic acid, which may help reduce inflammation and improve overall health.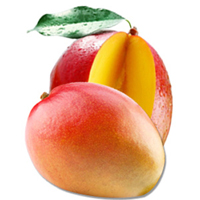 The fruit will make you think about the traditional mango. It is the seeds of this fruit that makes it shine in the crowd. The seeds are dried and can be consumed like any other nut. Well, the scope of the seeds does not stop with this. It is learnt that in Africa, the seeds are used to make butter and also even made into bread.


African mango,produces a small, yellowish-brown fruit that is packed with nutrients and has been used by indigenous cultures for centuries as a source of food and medicine. African mango is rich in vitamins, minerals, and dietary fiber, and it is believed to have a number of health benefits. In recent years, it has become popular as a weight-loss supplement due to its ability to boost metabolism and suppress appetite. African mango is a rich source of vitamins and minerals, including vitamins A, C, E, and K, as well as magnesium, calcium, phosphorus, zinc, and iron. It also provides a good amount of dietary fiber, which is beneficial for digestive health.The most active ingredient in African mango is a type of dietary fiber known as soluble fiber, which has been shown to help reduce cholesterol levels and regulate blood sugar levels. African mango is often used to promote weight loss because it helps to boost metabolism, suppress appetite, and reduce the body's ability to store fat. Studies have shown that taking African mango extract can help to reduce body weight, body fat, and waist circumference. As with any supplement, it is important to speak to your doctor before taking African mango, as it can interact with certain medications and cause side effects.

Nutritional Value of African Mango fruit
| Principle | Nutrient Value | Percentage of RDA |
| --- | --- | --- |
| Energy | 70 Kcal | 3.5% |
| Carbohydrates | 17 g | 13% |
| Protein | 0.5g | 1% |
| Total Fat | 0.27 g | 1% |
| Cholesterol | 0 mg | 0% |
| Dietary Fiber | 1.80 g | 4.5% |
| Vitamins | | |
| Folates | 14 µg | 3.5% |
| Niacin | 0.584 mg | 3.5% |
| Pantothenic acid | 0.160 mg | 1% |
| Pyridoxine | 0.134 mg | 10% |
| Riboflavin | 0.057 mg | 4% |
| Thiamin | 0.058 mg | 5% |
| Vitamin A | 765 IU | 25.5% |
| Vitamin C | 27.7 mg | 46% |
| Vitamin E | 1.12 mg | 7.5% |
| Vitamin K | 4.2 µg | 3.5% |
| Electrolytes | | |
| Sodium | 2 mg | 0% |
| Potassium | 156 mg | 3% |
| Minerals | | |
| Calcium | 10 mg | 1% |
| Copper | 0.110 mg | 12% |
| Iron | 0.13 mg | 1.5% |
| Magnesium | 9 mg | 2% |
| Manganese | 0.027 mg | 1% |
| Zinc | 0.04 mg | 0% |
| Phyto-nutrients | | |
| Carotene-ß | 445 µg | -- |
| Carotene-a | 17 µg | -- |
| Crypto-xanthin-ß | 11 µg | -- |
| Lutein-zeaxanthin | 0 µg | -- |
| Lycopene | 0 µg | -- |

Health Benefits of African Mango fruit

Also being labeled as oil seeds, the African mango seeds consist of great amount of important fatty acids and proteins. But the main benefit of African mango seeds that is so hyped is the weight loss factor. A study around a decade ago revealed that African mango seeds may influence weight. It may also useful in controlling diabetes, as per other researches. So, one can understand that this becomes part of a healthy diet.

African Mango is also known as wild mango, bush mango, or dika. It is a highly nutritious food and has been used for centuries by the indigenous people of West Africa as a source of sustenance.The fruit itself has a unique blend of antioxidants, minerals, vitamins, dietary fibers, and fatty acids that work together to promote weight loss.This can help to reduce cravings and overeating, as well as reducing overall calorie consumption.The African Mango also contains a compound called Leptin, which is known to affect metabolism, energy levels, and fat storage in the body. Leptin is produced by fat cells, and when present in the body, helps to regulate appetite, energy expenditure, and fat storage. By increasing the amount of Leptin in the body, the African Mango can help to reduce fat storage and promote weight loss. The African Mango also contains fatty acids, which are essential for healthy cell function. The antioxidants present in the African Mango can help to protect the body from oxidative damage, and may even help to reduce the risk of certain types of cancer.

1. Araza Fruit Smoothie
Ingredients:
2 cups araza fruit, peeled, seeded, and diced
1 cup pineapple juice
1/2 cup coconut milk
1 banana, peeled and diced
1/2 teaspoon vanilla extract
Honey (to taste)
Instructions:
Place all ingredients in a blender.
Blend until you obtain a smooth consistency.
Taste for sweetness and add honey if desired.
Serve immediately.
2. Araza Fruit Salad
Ingredients:
4 cups araza fruit, peeled, seeded and diced
1/2 cup pineapple chunks
1/2 cup mango chunks
1/2 cup papaya chunks
2 tablespoons fresh lime juice
2 tablespoons honey
2 tablespoons chopped fresh mint leaves
Instructions:
In a large bowl, combine the araza fruit, pineapple, mango, and papaya.
In a small bowl, whisk together the lime juice, honey, and mint leaves.
Pour the dressing over the fruit and gently toss to combine.
Serve immediately.