Persimmon
A Persimmon is a fruit belongs to number of species of trees of the group Diospyros in the ebony woodland family. The word persimmon is resulting from putchamin or pasiminan from Powhatan, an Algonquian language of the eastern United States, it is called as "a dry fruit".
Fruits Home

Full List of Fruits

Persimmon Fruit

The American Persimmon (Diospyros virginiana) is native to the eastern United States and is higher in nutrients like vitamin C and calcium than the Japanese Persimmon.Its fruit is traditionally eaten in a special steamed pudding in the Midwest and sometimes its timber is used as a substitute for ebony (e.g. in instruments).
The Black Persimmon or Black Sapote (Diospyros digyna) is native to Mexico. Its fruit has green skin and white flesh, which turns black when ripe.
The Mabolo or Velvet-apple(Diospyros discolor) is native to the Philippines. It is bright red when ripe. It is also native to China, where it is known as shizi. It is also known as Korean Mango.There are many other species of Diospyros that are inedible to humans, and thus have little or no commercial value for their fruit.

Scientific Name:Diospyros virginiana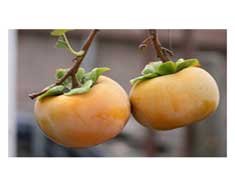 'Fuyu', also known as Fuyugaki, the most popular non-astringent tree in Florida .
This fruit is smaller,sweeter and similar in color, but looking like a squashed tomato,and is edible while still firm.
The fruit is seedless and is excellent for fresh eating or cooking.
The Fuyu ripens in November and is as sweet and crisp as an apple.
They are well-known by their "flat" bottoms and squat shape structure.
It ripes only after picked from the tree, so buying rock-hard fuyus and allowing them to ripen at home can be a good strategy.
Commonly eaten as raw, used in salad and have a mild pumpkin flavor.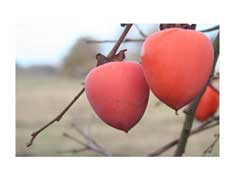 Hachiya persimmons fruits are mouth-puckeringly sharp unless absolutely, mature.
Ripe Hachiyas are extremely soft - and are frequently liquefied as a silky smooth pulp inside.
They are stretched out and in oval shape. It will ripen once picked, so you can keep on the kitchen counter to use.
This type of persimmon makes up approximately 90 percent of the available fruit.
It is identifiable by its acorn like shape.
This persimmon is tart until it becomes soft ripe.

Among(Yemon) persimmon fruits in the season between the month of september to november.
This fruit is oblate in structure on four sides.
Among(Yemon) persimmon fruit ranges 2 1/4 in (5.7 cm) in long and 3 1/4 in (8.25 cm) in wide .
The fruit becomes sweet after ,when it becomes soften.
The fruit may be seedless or with few seeds and are dark in color around the seeds.
Among(Yemon) persimmon fruit needs a subtropical to mild-temperate climate to grow.

Chocolate Persimmons - it is Japanese variety with a bright red orange colored skin, which is sometimes diamond shaped with a small black patch at the top.
Small amount of alcohol exude from the seeds causes tannins in the flesh to clump together and lower the astringency.
This fruit turns the pulp into brown color by giving the nickname called "chocolate".
The flesh is red and brown in color,pretains sweet texture and spicy, rich and delicate when its ripes.

Maru Persimmons are pretty, rounded and oval in shape with reddish orange skin and containing cinnamon colored flesh and it also looks like an Orange fruit.
This fruit can be eaten when texture approximatly ripen..
This kind of fruit is light and crispy texture when compared to the tsurunoko fruit.
Juicy, with a spicy flavor that hints of coffee and cinnamon.
It is used as a fixed Chinese remedy for hiccups. Its good for staying Young and healthy.
Persimmon cake is also used as a conventional medicine for diarrhea, hemorrhoids, lung infections and asthma. To make persimmon cake the fruit must be plucked when the skin starts turning yellow in color.
Astringent taste of persimmon can help stop diarrhea, reduces sweating, and slows or stops bleeding.
Persimmons can help to prevent cancer due to high content of vitamin A.
Persimmon is good for skin. It makes for an excellent facial mask.
Persimmon fruits contain healthy amounts of minerals like potassium, manganese, copper and phosphorus. These are believed to be powerful free radical scavengers and boost the production of blood cells.

Ingredients:
12 persimmons
6 lemons
½ cup oil
1½ cups sugar
1 tsp chilli sauce or powder
2 tblsp chopped raw ginger
3 cloves chopped garlic
2 cups cider vinegar
Procedure:
Cut some pieces of lemons and soak in vinegar overnight.
Boil it in water for 5 minutes with Persimmon fruits, then peel and dice.
Add the lemons with all other ingredients and boil well.
Continue boiling for 40 minutes or until the mixture starts to congeal. Down from the stove and cool for some minutes to serve it to all

Procedure:
Grease and flour a bundt cake pan. Preheat oven to 350.
Blend 2 tsp baking soda into 3 cups of chopped firm Fuyus. Set aside.
In a large bowl, beat 1/2 cup soft butter with 1 2/3 cups sugar.
Add 2 eggs, 2 tsp lemon juice, and 2 tsp vanilla and beat until fluffy.
Stir in Fuyu mix.
Sift together 2 cups flour, 1 tsp baking powder, 1 tsp salt, 1 tsp ground cloves, 1 tsp cinnamon, and 1/2 tsp nutmeg.Stir flour into Fuyu mixture just until blended.
Add 1 cup chopped walnuts and 3/4 cup raisins.
Pour into prepared bundt pan. Bake it for 55 - 60 minutes until toothpick tests clean.
Cool in pan 15 minutes.