Damson fruit
Common name: damson plum, damson and damask plum, prunus Domestica, Jambul
Genus : prunus Family : rosaceae
Fruits Home

Full List of Fruits

Damson Fruit
The fruit is identified by its oval shape and it has a yellow flesh with its skin looks in blue or indigo. Some fruits have purple or red skin. The fruit has a sour or sweet taste
It is a decidious tree which flowers in April and ripens from July- November. The flowers have both male and female organs and pollinated by insects and the plant is self fertile. It requires well drained soil and grows in heavy clay soil and it grows in semi shade or without shade and requires moist soil. The tree blossoms with small white flowers.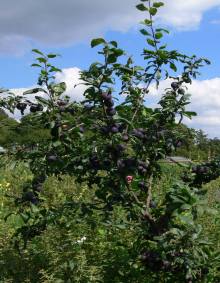 Damson merryweather
This fruit looks in blue-black skin, juicy and has yellow flesh. It's valued for its culinary use and requires minimum pruning and it grows in a fertile soil. It looks like a small plum.
It is a late ripening fruit that is large and it has a blue-black skin and its flesh is fine textured and looks in yellow. It is a last plum ripens in the season and looks in oval shape and has sweet flavor.
It is a blue-black fruit that is picked up at early September and has a good strong flavor.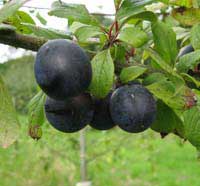 It has a blue-black bloomy skin and has a firm green flesh. It is good for culinary use and it is a splendid fruit for jam.
It is a purple fruit with astringent flavor when it is fresh and water delicious after cooking. The fruits are quite small and the taste cannot be forgotten once tasted.

It is used for making jam
It is used to prepare wine
It is used for making slivovitz

The below table represents the nutritional value of damson fruit per 100 gm
| | |
| --- | --- |
| PRINCIPAL | NUTRITION VALUE IN gm/ mg |
| Vitamin c | 9.5 mg |
| Water | 70% |
| Fiber | 1.4 gmc |
| Protein | 0.70 gm |
| Phosphorous | 16 mg |
| Potassium | 157 mg |

1. Damson cheese recipe
Ingredients
2.8 kg damson
300ml water
Sugar
A teaspoon of ground all spice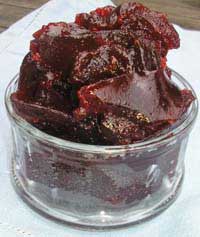 How to make
Wash the damson and put it in a large cup of water
Boil it and reduce the heat until the damson become tender
Pour the mixture in a bowl and press it using the back of a wooden spoon
Measure the fruit puree and bring it to the pan and add sugar and ground allspice
Boil it again and continue cooking and stir it until it becomes very thick
Pour into a small jar or moulds and cover it
2. Damson Pie Recipe
Ingredients
Butter
Flour
Egg yolks
Sugar
Vanilla extract
Damson plum
Egg white
Unbaked pie shell
How to make
Preheat the oven to 350 degree and mix the first four ingredients into a bowl
Mix milk and vanilla and stir it
Bet egg white into a mixture and fold into preserver mixture
Pour the pie shell and bake it for 25 to 30 minutes