Aprium Fruit
An aprium is a hybrid fruit of plums and apricots. Apriums are available in United States during the period of June. The fruit is dry and less juicy and extremely sweet with orange flavor. The taste of ripe apriums is an apricot taste.
Fruits Home

Full List of Fruits

Aprium fruit
The fruit was a light yellow colored fruit and has a fuzzy, apricotlike skin. It contains 75% apricot and 25% plum. Aprium is a climacteric fruit; it will continue to ripen after harvest. It makes an excellent addition to pies, salads, and preserves.

Scientific Name:Prunus armeniaca x domestica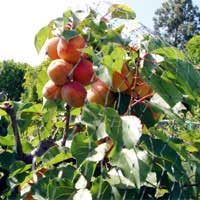 Aprium trees do finest if planted on well drained soil out of strong winds. They self-pollinating or self fertile and more fruit will be achieved only by pollinating with any other apricot tree.
Preheat oven to 425 ºF and lightly cover about 9 muffin cups with nonstick spray. In a bowl, mix muffin and juice until it gets moistened. Stir in apriums and raisins. Bake it until a toothpick inserted in center comes out clean. Remove muffins from pan and cool it.