Fruits Home

Full List of Fruits

Kundong fruit

Introduction of Kundong fruit

Description of Kundong fruit

Ecology of Kundong fruit

Uses of Kundong fruit

Cultivation and Propagation
Scientific name - Garcinia parvifolia

Referred by several common names like Brunei cherry in English and Asam aur aur in Malay and as Entelang, Ete, Gandis, Kandis, Kedundong, Kumanjing, Kundong in Borneo, Garcinia parvifolia is a cherry sized fruit which has red to yellow skin thatís juicy. Resembling mangosteen in appearance, this small to medium sized tree bears fruit that tastes tart.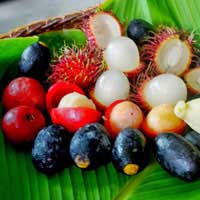 Covering a very large area, they are classified under the category of Sub-canopy tree that grows upto 33metre tall and 23 cm dbh-diameter at breast height. The shoot of the tree has yellow to white latex with leaves having no trichomes, simple, venation inconspicuous of pinnately arranged leaf veins. The flowers - 9 mm diameter, white-yellow, placed in leaf axils. Fruits- 17 mm diameter, yellow-orange-red, fleshy berry, seeds with white aril.


They are mostly spotted in hillsides and ridges, but are not limited to just that, they can also be seen on alluvial sites and along rivers; with an 800m altitude, they are a lightly disturbed and undisturbed mixed dipterocarp and swamp forests.

The wood of Kundong is used for multipurpose and they are good source of Resin. In general, the plant is sometimes used as a rhizome for the mangosteen. With a sour flavor, the fruits are suitable for eating and the young sprouts and leaves are used as a vegetable. Apart from being eaten fresh out of hand or dried, they are also used for flavoring other foods.


Inspite of the towering demand, most of the fruits are still collected widely in the tropical rain forest area. With regards to cultivation, the tree best suits for tropical climate- humid. This fast-growing tree has the ability to start producing as little as four years. Though specific information on this species is unavailable, seed of most members of the species can be slow to take root hence it is believed that it takes just about 6 months or more, even if sown fresh.