Fruits Home

Full List of Fruits

Araza fruit
Introduction of Araza fruit
Nutritional Value of Araza fruit
Uses of Araza fruit
Health Benefits of Araza fruit
Scientific name - Eugenia stipitata

Originating in western part of Amazonia, Araza is an exotic fruit which is traditionally consumed as juice. It is a good source of vitamins and minerals and contains high level of nitrogen and potassium! Having said that, it is very high in vitamin C content, i.e. double the amount of an average orange. Containing high level of acidity, the best part about the fruit is that its averaging pH 2.4 for the juice confers it as a good quality for processing.

Nutritional Value of Araza fruit

With the omission of vitamin C content, Araza and oranges share the same nutritional value, but with Araza the vitamin C content is double. It comes under the category of a less known and underutilized crop and following is the nutritional rundown of Araza and it includes:


11.9% of proteins


49.2% of sugars (glucose 3.1%, fructose 33.9%, sucrose 17.2%)


4% of ash


39% of total dietary fibers


High levels of nitrogen and potassium

With that said, the fruit is known for containing a high level of acidity, averaging pH 2.4 for the pulpy juice, and that gives to it a good quality for processing.
| | |
| --- | --- |
| Protein | 8-10.75% |
| fiber | 5-6.5% |
| carbohydrates | 69-72% |
| calcium | 0.16-0.21 |
| zinc | 10-12 ppm |
| vitamin A | 7.75 mg |
| vitamin B | 1 9.84 mg |
| vitamin C | 7.68 mg |


Araza is a wonder from the Amazonas and it has several uses. At present, it is cultivated on small properties throughout the basin of the Solimoes, as part of the complex mosaic of crops, but not as a commercial crop. Given the fact that, the fruit is very high in acidic for direct consumption, it can be processed into other forms like marmalades, juices, jellies, nectars and syrups to have an exotic and refreshing taste. They are also consumed as smoothies and it plays a vital role in ornamental purpose as well. Since it has a tart flavor, you can add sweet fruits like mango or banana while making smoothies. Yogurt and honey are other options available to you.

Health Benefits of Araza fruit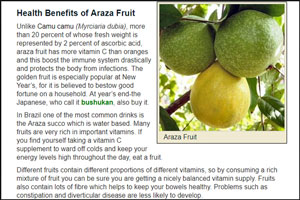 Control blood pressure.




Prevent from cancer.