Fruit facial mask - 'C'
Carrot & Cucumber facial mask
Carrot Facial mask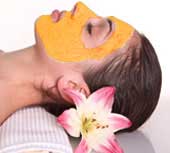 Ingredients:
1 medium sized carrot
Half a cup honey
Mashed papaya or banana
Fuller's earth
Procedure:
Blend the carrot in a blender along with honey, and papaya or banana. Add fuller's earth to make a thick paste. Apply all over face for around 20 n minutes. Wash with lukewarm water. Your face willth instantly glow.
Cucumber Facial mask
Ingredients:
Cucumber
Sandalwood powder
Rose water
Curd
Procedure:
Take half a cucumber and blend it with sandalwood powder and curd using a blender. Add few drops of rose water. Refrigerate for 10 minutes and then apply. It will help relieve sun burns and will even reduce your sun tan.
Citrus Fruit Facial Mask
Ingredients:
Lime
Grapefruit
Lemon
Orange
2 tsp. of wheat flour
Procedure:
In order to achieve the desired result with your skin care session, you can make use of all the nutritive citrus fruits like lime, grapefruit, lemon and orange. You can either take 2 spoons of juice of all these fruits or restrict the use only to one of the fruits. If you have chosen just one fruit, then make sure you take at least 4-5 tbsp of juice and mix it with 2 tsp. of wheat flour. Now control the texture of the paste so that it can be applied without any difficulties. Leave it for 15-20 minutes on your face and then wash it off with lukewarm water.
Cherry Facial Mask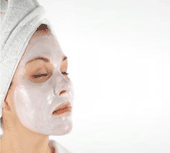 Ingredients:
5 Fresh pitted cherries
1 teaspoon of honey
Little amount of pure water
Procedure:
Mash cherries. Add honey and pure water, mix thoroughly and grind to a paste. Apply evenly on face and neck and leave it for 15 minutes. Take care to avoid the eyes and lips. Clean with cold water. This facial mask has a good bleaching effect and is suitable for all skin types.