Fruits Home

Full List of Fruits

Japanese Persimmon

Introduction of Japanese Persimmon

About fruit

Nutritional Value of Japanese Persimmon

Health Benefits of Japanese Persimmon

Introduction of Japanese Persimmon
Scientific name - Diospyros kaki

Japanese persimmon is otherwise known as Diospyros kaki or Asian persimmon. The species is densely cultivated in China. The species is one of the oldest cultivated plants which were found to be existed more than 2000 years ago. Huge Chinese communities see this fruits as of great mystical power as the fruit could heal headaches, back pains and foot ache.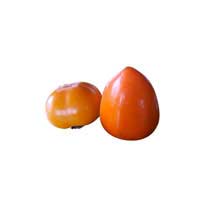 The fruit appears in both spherical and oval shape and weighs up to 500 grams. It possesses smooth and shiny outer skin with ranging shades from yellow to red-orange. Each fruit contains maximum of eight seed and it tends to softer when turns ripe. It has unique astringent taste with bitter traces much like pear and apricot flavors. Kaki has rich content of carotenoids, beta-cryptoxanthin, beta-carotene, zeaxanthin, lutein and alpha-carotene components which makes the fruit far more valuable.


Nutritional Value of Japanese Persimmon
Calories
118
% Daily Value*
Total Fat
0.3 g
5 %
Saturated Fat
0 g
0%
Polyunsaturated fat
0.1 g
Monounsaturated fat
0.1 g
Cholesterol
0 mg
0 %
Sodium
2 mg
0%
Potassium
270 mg
7%
Total Carbohydrate
31 g
10%
Dietary Fiber
6 g
24%
Sugars
21 g
Protein
1 g
2%
Vitamin A
54%
Vitamin C
21%
Calcium
1%
Iron
1%
Vitamin D
0%
Vitamin B-6
10%
Vitamin B-12
0%
Magnesium
3%


Health Benefits of Japanese Persimmon

Helps in weight loss

The fruit contains only 31 grams of carbohydrates with hardly any traces of fat in it. These two factors help people on their weight loss journey.



Rich source of phytochemicals

It has high content of phytochemicals – catechins and polyphenolic antioxidants. Catechin is a powerful anti-inflammatory and anti-infective agent which could aid against unwanted inflammatory infections.



Natural anti-hemorrhoid

The fruit possess anti-hemorrhagic properties which could effectively act as a coagulant.



For a healthy digestive system

On taking the fruit regular in diet helps improve bowel movements. The tannins present in the fruit gives relief against diarrhea and regulate the intestinal movement. It helps in nourishing the digestive system in a healthy way.



Good for diabetics and hypertension

The fruit is rich in fibers and sodium and hence it can control hunger cravings that is being caused by diabetics. It maintains balanced low-sodium diet that in-turn regulates consistent sodium level in the body.



Helps fight cancer

The fruit has rich antioxidants which help in limiting the free radicals. The traces of shibuol and betulinic acid present in the fruit helps fight against the cancer cells.



Other supplementary benefits

Japanese persimmon is used for treating hiccups, improving the production of red blood cells and enhancing the vision.