Fruits Home

Full List of Fruits

Karkalla Fruit

Introduction of Karkalla Fruit

Description of Karkalla Fruit

Nutritional Value of Karkalla Fruit

Uses of Karkalla Fruit

Health benefits of Karkalla Fruit

Cultivation

Propagation

Introduction of Karkalla Fruit
Scientific name - Carpobrotus rossii
Native to Southern Australia, Carpobrotus rossii, generally known as karkalla is a succulent coastal plant that covers a large area of ground. Because of their striking and unusual appearance, they are also grown as ornamental plants in gardens. Equipped with the attribute of being succulent, the leaves of karkalla are 3.5-10 cm (1.4-3.9 in) long and 1 cm (0.4 in) wide, and curved or rarely straight. Light purple in color, the flowers are 6 cm (2.4 in) wide. It bears bulbous purplish red fruit that is just about 2.5 cm (1 in) long and 1.5 cm (0.6 in) wide.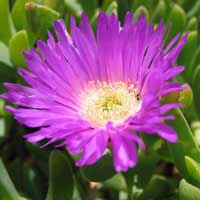 Classified under the category of plumpy perennial plant, karkalla is spreading and bears out a purple flower that paves way to a fleshy red fruit. Also known as Pig face, it has great tolerance capacity towards salt winds and to hot situation. It is because of the shape of the fruit, it has got such a name. It is an excellent forested soil binder. Similar to jelly beans, they are an excellent roof garden plant. The best part is that they require very less maintenance and water care. Not common in cultivation they are perfect for coastal locations.


Nutritional Value of Karkalla Fruit
| | |
| --- | --- |
| Vitamins | value |
| Total Fat 0.9g | 1% |
| Saturated Fat -1g | -5% |
| Cholesterol -1mg | -0% |
| Sodium 231mg | 10% |
| Total Carb 8.7g | 3% |
| Dietary Fiber 11g | 44% |
| Sugars -1g | |
| Protein 2.4g | 5% |
| Vitamin A -0% | Vitamin C -2% |
| Calcium 17% | Iron 15% |


They are an excellent, fast-spreading groundcover, highly functional for covering and stabilizing embankments with high amount of medicinal properties. The fruits of karkalla were consumed raw or dried. Adding unique flavor to meat dishes, older plants were used as a medicine to treat bites and cuts. On the other hand, juicy fruits were consumed raw or dried. It is also said that, the dried fruit was made into cakes.



Health benefits of Karkalla Fruit
Used for treating skin conditions, they can be applied to the skin as an emergency treatment for jellyfish stings; it can be used for stings of the same type as well. The juice of the leaf can be used as a mild astringent. Apart from that, when mixed with some amount of water, they act as a great medicine for diarrhea and stomach cramps. They are good for sore throat as well and it also includes laryngitis, and mild bacterial infections of the mouth.


In general, it occurs inland and is usually found on sands. Best grows in a wide range of well drained soils and tolerates either full or partial sun. In addition, it endures dappled shade plus frost and drought.


Carpobrotus rossii can be proliferated or propagated from seeds, cuttings or dissection of layered stems.