Fruits Home

Full List of Fruits

Lablab Fruit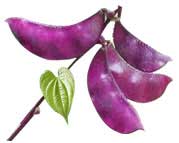 Common name
-
H
yacinth bean, Lablab bean, Field bean are some of the common names for Lablab fruit.
Ethnic names
- Tonga bean (English), pois nourrice (Spanish), banner bean (Caribbean).
Scientific name
-
Dolichos lablab (Lablab purpureus)
.
Origin -
They are known to originate in Africa, India and Indonesia.
Appearance
- These are Domesticated types and are mostly summer growing annuals or occasionally short-lived perennials. They are vigorously trailing, twining herbaceous plant. Stems are robust and trailing to upright to 3-6 m in length and leaves were trifoliate; leaflets broad ovate-rhomboid and are 7.5-15 cm long, thin, acute at apex, almost smooth above and short haired underneath. Petioles were long and slender.
---
Hyacinth Bean, White Flower
This variety grows beautiful white flowers and thin pods. Young pods are harvested for vegetable use. Plants are vigorous and are often grown along trellis and fences in the Orient. It is almost necessary to harvest young pods every day during the actively growing season in the summer time.
Hyacinth Bean, Purple Flower
This variety is widely grown in subtropical regions in Southern Asia and China. Plants grow beautiful purple flowers and vines, ideal for backyard fence and patio growing. Young deep purple pots are picked for vegetable use.
Hyacinth Bean, Asia Purple
This variety grows beautiful purple-red flowers on light green stems and is one the most popular varieties for growing as decorative plants as well as vegetable plants. The plant produces lots of young edible light green pods during summer season. Plants are highly resistant to heat and drought conditions. Black seed with white stripe.
Hyacinth Bean,Asia White
This variety is a tall, indeterminate type plant. Plants are insensitive to day length and will start to produce flowers and beans 40-45 days after sowing. Young pods and seeds are very tender and delicious. This bean grows vigorously in warm climates and produce beans for a long time, more than 3-4 months in subtropical areas.

---
With a protein range between 21% and 28%, Lablab is a high quality choice for summer food plots during a time when antler and fawn development are critical. Lablab is an excellent source of iron and magnesium and a good source of phosphorus, zinc, copper, and thiamin.
Vitamins (Per 100 g)
Vitamin A
5.000 mg
Niacin
0.521 mg
Folate
62.00 mcg
Vitamin C
0.028 mg
Minerals ( Per 100 g)
Carbohydrate
9.193 g
Calcium
50.000 mg
Iron
0.740 mg
Protein
2.100 g
Fat
0.201 g
Note: The content given in the table is fixed according to our calculation, hence it may not be accurate.

---