Blood limes
An Informative website that tells you everything about fruits.
Blood limes are hybrid citrus fruit, a cross between the red finger lime and the Ellendale Mandarin.
Fruits Home

Full List of Fruits

Blood Lime
The skin, flesh and juice of blood limes are blood red in color. It is an attractive fruit with a very acidic taste. The fruits are lime shaped, 20-30mm wide.

Juice squeezed from the fruit has a sharp, crisp and clean flavor with pH approx 3.4.

The blood limes flesh is unable to cut into segments, as 'finger lime'. Since the citrus has vesicles breaking up when pressured.
The fruit can be as an attractive garnish for sweet and savory dishes.
The fruits are used in a range of value-added products likely marmalades, preserves, syrups, juices, beverages and sauces.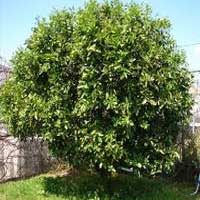 The tree produces deep blood-red colored fruit, on an attractive, dense and upright shrub to small tree, 2m to 3 m high and 2m wide.


The leaves are oval shaped with approximately 25 to 35mm long by 15mm wide.


The trees have dark, glossy-green foliage and purple-red growth flushes.


Slender spines are present in the leaf axils which damage the fruit. The tree can also be planted as an ornamental tree.


The crop is carried on long weeping shoots, which covered later by a dense canopy growth.


Pruning and nutrition management may be necessary to reduce this growth. It helps to minimize fruit damage and make harvesting easier.