Fruits Home

Full List of Fruits

Pears
Pears
Pears
or Pyrus communis are a
pome fruit
belongs to the family
apple
. One of the reports comes from Homer's suggesting this fruit as "Gifts from the Gods." Pears ranks second place to the apple as the most popular fruit. They can be eaten and used in the same way as the apple. The diverse feature of the pear fruit is soft in texture. This soft skin in result of the starch converts into sugar after being picked from a tree to ripen. In US it is produced by the states in the Northwest, New York, Pennsylvania, Michigan, and California. The different shape of a pear says of its luscious nature. Pears of all sizes and colors are available all around the year. When it is ripen and ready to eat, the pear has a honeyed flavor and with a great smell. Anjou, Bartlett, Bose, Comice, Forelle, and Seckel are the main varieties. Pears are available in various colors including green, golden yellow and red.
Scientific Name for Pears:Pyrus Communis
Nutrition Information of Pears
| | | |
| --- | --- | --- |
| Principle | Nutrient Value | Percentage of RDA |
| Energy | 58 Kcal | 3% |
| Carbohydrates | 13.81 g | 11% |
| Protein | 0.38 g | <1% |
| Total Fat | 0.12 g | 0.5% |
| Cholesterol | 0 mg | 0% |
| Dietary Fiber | 3.10 g | 8% |
| Vitamins | | |
| Folates | 7 µg | 2% |
| Niacin | 0.157 mg | 1% |
| Pantothenic acid | 0.048 mg | 1% |
| Pyridoxine | 0.028 mg | 2% |
| Riboflavin | 0.025 mg | 2% |
| Thiamin | 0.012 mg | 1% |
| Vitamin A | 23 IU | 1% |
| Vitamin C | 4.2 mg | 7% |
| Vitamin E | 0.12 mg | 1% |
| Vitamin K | 4.5 µg | 4% |
| Electrolytes | | |
| Sodium | 1 mg | 0% |
| Potassium | 119 mg | 2.5% |
| Minerals | | |
| Calcium | 9 mg | 1% |
| Copper | 0.082 mg | 9% |
| Iron | 0.17 mg | 2% |
| Magnesium | 7 mg | 2% |
| Manganese | | 2% |
| Phosphorus | 11 mg | 2% |
| Zinc | 0.10 mg | 1% |
Bosc pears is long-necked shape. Bosc pear will be medium-sized or larger contain no bruises and has only a few minor scuff marks. This fruit is available in month of September through April. The Bosc has a firm, dense, yet tender flesh with brown skin that hides a deliciously, sweet and spicy flavor. Its dense flesh makes it ideal for baking and cooking. Color doesn't change as it ripens, excellent for baking. Its mild, not-too-sweet flavor is great for microwave recipes, salads, and snacks.

Seckel pears are considered as the smallest pear when compared to other pear varities. This fruit is available in month of August through February Tiny pears with ultra-sweet flavor, so sweet in fact they are called "sugar pears." Maroon and olive green in color, with no color change when ripened. They are an excellent choice for children's snacks, pickling, or as a garnish. As it is too small it can be eaten without cooking.

Forelle pear body is, often bell-shaped with a short neck. The Forelle pear is a white, melting, juicy flesh, and absence of grit cells, make a culinary favorite. Forelle is a small pear, and it is most difficult to produce. Their skin turn a bright yellow, with flecks of crimson when fully ripened. This fruit is available in the month of September through February. This fruit is slightly larger than a Seckel, with freckled skin and a red blush. They're an excellent snack or lunch-box pear sweet, juicy, and crisp.

Comice is widely considered to have the best flavour of any pear. Their body is like rotund shape with a very short neck. They are most often green in color, and sometimes have a red blush that covers the skin surface. This fruit is available in month of August through March. This fruit is hard and rounder than a Bartlett, but similar in flavor and texture. This fruit is considered as the largest, sweetest and juiciest varieties. This can be used freshly in salads, served as an elegant dessert pear, or as an excellent accompaniment with cheese.

Red d'Anjou pears originated in the early 1950's. This fruit is available in the month of October through MayYellow Bartlett has the same flavor and texture as green Anjou. They have a unique egg shaped appearance which makes easy to differentiate from other varieties. Red Anjous are generally dark maroon in color which shows no or little change in color when ripe. Red d'Anjou pears are excellent for fresh eating, poaching, cooking and all types of baking. Red Anjous show only slight change in color as they ripen.

Green Anjou pear are mostly available in the United States and this were first brought by Col. Marshall P. Wilder around 1842. This pear fruit is also called as green d'Anjou, because it ripes in green in color but its interior ripens over time into a sweet, juicy and flavorful pear. Green Anjou is best when eaten fresh. Its best for baking when slightly ripe. But once it ripens, its sweet, mellow flavor and abundant juice make it an excellent choice for salads and snacks.

Red Bartlett pears were first discovered in 1938 near Zillah, Washingtonas, when a bud sport growing on a Bartlett pear. This fruit is available in the month of August through september. The Red Bartlett has a very bright red skin with bell-shaped over a green background, sweet and juicy flavor when it's in ripe condition. The flavor and texture is the same as yellow Bartlett except that Red Bartlett's are bit smaller. They play the role of wonderful color accent in fresh fruit-salads or desserts. The Red Bartlett when it ripens it changes from a dark red to a brilliant red in color.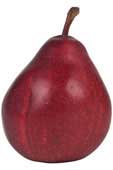 Bartletts are extremely aromatic pears, and have essential "pear flavor." This kind of fruit is available in the month of August through December. One of the most common and popular thing is this pear is large, bell-shaped and has a yellow skin sometimes blushed with pale red. Apart from color, there is only a slight differences in flavor between the two Bartlett pears. It is very sweet, juicy, aromatic and perfect for salads, eating fresh, and excellent for canning or cooking. It holds its shape and flavor in baking and cooking. When it ripes it will be in yellow in color.