Fruits Home

Full List of Fruits

Olive Fruit
Introduction of Olive Fruit
Nutritional Value of Olive Fruit
Uses of Olive Fruit
Health Benefits of Olive Fruit
Cultivation
Pruning
Propagation
Harvesting
Scientific name - Olea Europaea

Having its roots in the family Oleaceae, Olea Europea is a species of small tree found commonly in the region of Africa. Cultivated in many places, they are considered naturalized in Italy, France, Greece Lebanon and several other places. This evergreen tree very rarely exceeds 8–15 m (26–49 ft) in height and is indigenous to the Mediterranean, Asia and Africa. Short and squat, it contains silvery green leaves that are oblong and the trunk is characteristically contorted or twisted. It measures 4–10 cm (1.6–3.9 in) long and 1–3 cm (0.39–1.18 in) wide.

The fruit features a small drupe just about 1–2.5 cm (0.39–0.98 in) long, thin-fleshed and smaller in wild plants than orchard cultivars. Canned black olives, on the other hand, may contain chemicals (ferrous sulfate) that unnaturally turn them black; however, olives are harvested at its green to purple color changing stage. It contains a seed that is commonly referred to as a pit or a rock in American English and as a stone in British English.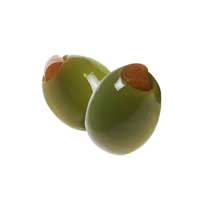 Nutritional Value of Olive Fruit
Nutritional value per 100 g (3.5 oz)
Energy
609 kJ (146 kcal)
Carbohydrates
3.84 g
Sugars
0.54 g
Dietary fiber
3.3 g
Fat
15.32 g
Saturated
2.029 g
Monounsaturated
11.314 g
Polyunsaturated
1.307 g
Protein
1.03 g
Vitamins
Vitamin A equiv. beta-carotene lutein zeaxanthin
(3%) 20 µg (2%) 231 µg 510 µg
Thiamine (B1)
(2%) 0.021 mg
Riboflavin (B2)
(1%) 0.007 mg
Niacin (B3)
(2%) 0.237 mg
Vitamin B6
(2%) 0.031 mg
Folate (B9)
(1%) 3 µg
Choline
(3%) 14.2 mg
Vitamin E
(25%) 3.81 mg
Vitamin K
(1%) 1.4 µg
Trace metals
Calcium
(5%) 52 mg
Iron
(4%) 0.49 mg
Magnesium
(3%) 11 mg
Phosphorus
(1%) 4 mg
Potassium
(1%) 42 mg
Sodium
(104%) 1556 mg

The main reason behind the cultivation of Olea europaea is to enjoy its produces like olive oil, olive fruit, fine wood and olive leaf. The commercial importance of olive fruit is very high and seeing that the size of the tree is relatively small, olive wood and its products are quite expensive. The wood is used as decorative items, kitchen utensils, carved wooden bowls, cutting boards and fine furniture. With 90% of all yielded olives are turned into oil, only 10% are used as table olives. Having said all that, the olive wood is very hard and is valued for its durability, color, high combustion temperature and interesting grain patterns.

Health Benefits of Olive Fruit
Seeing that, olives contain significant amounts of plant-derived anti-oxidants, minerals, phyto-sterols, and vitamins, it helps in prevention of coronary artery disease and strokes by supporting healthy blood lipid profile. Mediterranean diet that includes usage of olive and its oil may be accountable in part for the lower incidences of coronary artery disease.

Cultivated in almost all regions of the world, they are quite widespread in South Africa, Chile, Peru, Australia, and California and in areas with temperate climates such as New Zealand. In addition, they are also grown in the Córdoba Province, Argentina; and generally it is believed that the Argentina's climate can change the external characteristics of the plant, but the fruit keeps its original features.

In view of the fact that, olives grow very slowly, not much pruning is required, in case if its needed during the late spring or early summer time, the diseased or dying branches are removed. It is always good to keep away from pruning too hard for the reason that this will end up in the over-production of non-fruiting water shoots.

Even though olives are propagated by various methods, cuttings and layers are the preferred ways. In favorable soil, it is said to take roots very easily and throws up suckers from the stump when cut down. On the other hand, yields from trees grown from suckers or seeds are poor; for them to do well; they must be budded or grafted onto other specimens.

In general, autumn and winter are the periods, olive is harvested. In the northern hemisphere, olives that are green in color are picked at the end of September to middle of November. When taken Southern Europe, in winter, harvesting is done for several weeks; however the time varies in each country, season and cultivar.