Fruits Home

Full List of Fruits

Cape Gooseberry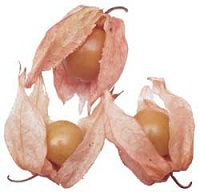 Common name - Cape Gooseberry, Goldenberry, Husk Cherry, Peruvian Ground Cherry, Poha, Poha Berry are some of the common names in which Cape Gooseberry is known by.

Ethnic names - Jam fruit, Peruvian cherry, Uchuva.

Scientific name - Physalis peruviana was derived from the Greek word physa meaning bladder, for the calyx covering the fruit and peruviana meaning of Peru.

Origin -They are known to originate from Brazil.

Appearance- Cape Gooseberry is a berry which looks like a marble with a small round shape. The fruit consists of numerous small yellow seeds. The fruit looks orange or yellowish in color and becomes bright yellow and sweet when ripe. The fruit is covered by wrinkled leaves, which form a Chinese lantern.


---
Nutrients in Cape Gooseberry
Rich in vitamins A, C and B-complex namely (thiamine, niacin, and vitamin B,21). The fruit also contains higher amount of vitamin C than the orange, the riper the fruit, the higher the concentration of beta carotene. Cape gooseberries are a good source of vitamin C and provide dietary fiber.
Vitamins (Per 100 g)
Vitamin A
3,000 I.U. Of carotene
Vitamin B1
(thiamine)
0.01 mg
Niacin
0.80 mg
Vitamin B2
(Riboflavin)
0.17 mg
Vitamin C
(Ascorbic Acid)
20.01 mg
Minerals ( Per 100 g)
Carbohydrate
12.01 g
Calcium
11.5 mg
Phosphorous
21 mg
Iron
1.70 mg
Calories
72 [kcal]
Protein
2.01 g
Fat
1.1 g
Fiber
0.41 g

---
1) Cape Gooseberries are available the year around.
2) The fruit can be unwrapped and eaten as is or can be dipped in melted chocolate.
3) The fruit is said to be a cross between a gooseberry and a cherry tomato.
4) Tomatillos or cherry tomatoes can be used as a substitute for Cape Gooseberries.
5) The unripe fruit is said to be poisonous to some people.
6) The fruit is mainly used in making jams; traditional medicine and can also be consumed.
7) This is a soft-wooded, perennial plant usually reaches up to 2 to 3 ft. in height.

---
Cape Gooseberries are well known for its blood purifying capacity. They are also known for other medicinal qualities which is being a source of provitamin A, Vitamin B & C. In India scientists have isolated physalolactone C from the leaves, a minor steroidal constituent.
---
This is an Ornamental plant whose calyx gets enlarge into a kind of membranous cage, after flowering it is being surrounded by a large berry. It has a fairly sweet taste and can be eaten raw or cooked. It is very pleasing to the eye when the five petals of the calyx are opened around the fruit. They have a slight sweet-sour taste. Gooseberries are bitter, even though it is used in sweet preparations.
These piquant fruit turns out from a pale green to an amber or gold color as they get ripen and offer a flavor similar to a gooseberry or a tart green grape. Cape gooseberry supplies are imported from Colombia and South America, the places where they grow wild and are gathered. The fruit matches well with meat and savory foods.
Under good conditions it may reach 6 ft. The purplish, spreading branches are covered with fine hairs. As the fruits ripen, they begin to drop to the ground, but will continue to mature. Sometimes the stored fruit can be adversely affected by Penicillium and Botrytis molds.
Look for: For immediate use, select bright golden color fruits.
Avoid : Avoid buying fruits in green color which are not ripe.
How to prepare: Peel back the parchment like husk and rinse.
How to buy: Its outer covering should not be torn and must be in good condition also it should keep its shape.
How to Store: The fruit can be kept more than 6 months in a ventilated spot by prolonging the ripening when it is being protected by its calyx.

---
1. Cape Gooseberry Upside Down Cake
Ingredients:
40 large Cape gooseberries or 2 cups of Cape gooseberry
1/2 cup softened butter
2 tablespoons jaggery bits as required
1/2 cup powdered sugar
1½ cups of flour (maida)
1½ tsp of baking powder
1/2 cup semolina (sooji)
Pinch of salt
3 eggs
1½ tablespoons of milk
3-4 drops of vanilla essence
2 tablespoons whipping cream if needed
Method:
With a paring knife carefully tear each gooseberry across till the stem but keep both halves attached.
In a pan simmer the gooseberries over a very low fire till some of the juice is released and the berries become soft still keeping their shape and not pulpy.
Take it off from the fire, pour off the juice and keep it aside.
Melt some butter and pour it into the cake tin.
Arrange the gooseberries on the base of the tin and sprinkle the jaggery bits on the top.
Heat the oven to 350 degrees for 10 minutes.
Cream the rest of the butter and sugar together till it becomes light and fluffy.
In a bowl mix the flour and baking powder.
Add the sooji and a pinch of salt.
Beat the two eggs and add 1½ tablespoons of the juice obtained from the cooked gooseberries and 1½ tablespoons of milk to the mixture.
Add the vanilla essence as well.
Now mix the flour mixture into the butter mixture in three parts alternating with the egg mixture.
When well mixed spoon the mixture over the gooseberries in a cake tin.
Place in the oven and cook till done, about 30 minutes.
Let it cool and turn out on to a serving plate.
Top with whipping cream.
Decorate it with some nutritious nuts and serve.

---
2. Cape Gooseberry Chutney
Ingredients:
1 cup of Cape gooseberries
25ml of vegetable oil
1/4 tsp mustard seeds
1/4 tsp cumin seeds
Chopped onion as required
1 tsp chopped ginger
Chopped green chilli as required
Salt as required
1/4 tsp red chilli powder
1/4 tsp cumin powder
1/4 tsp coriander powder
Method:
Take a pan, heat around two tbsps of oil.
Once oil gets heated add the mustard and cumin seeds to it.
After the mustard splutters, add the chopped onion to the pan.
Cook until it becomes transparent, then add the chopped chilli and ginger to the mixture.
Cook for 2-3 minutes, add the powdered spices and salt.
Cook in a low flame, then add the sliced gooseberries and sugar(optional).
Gently saute over a low flame for a few minutes.

---
3. Cape Gooseberry and apple crumble
Ingredients:
1 kg of dessert apples
4-5 tbsp dried blueberries
4 tbsp of orange juice
1 cup of cape gooseberries
Sugar as required
100 g Plain flour
100 g unsalted butter, diced
55 g of caster sugar
100 g rolled oats
50 g or walnuts or cashew or almonds
Grated zest of 1 orange
Custard
Method:
Preheat the oven to 200°C.
Peel the apples, cut them into thick wedges and remove the core.
Place them in a saucepan with the blueberries and orange juice.
Cover the pan and cook over a low heat for till the apples start to soften and release their juices.
Discard the papery skins from the gooseberry.
Add the whole cape gooseberries and sugar to the apple mixture and stir.
Transfer the fruit filling to a baking dish.
In a mixing bowl, rub the flour and butter together until the mixture resembles fine breadcrumbs.
Stir in the sugar, oats, walnuts and orange zest.
Then mix in about 1 tbsp water to give a very rough, crumbly mixture.
Spread the crumble topping gently and evenly over the fruit without pressing it.
Bake for 20-25 minutes till the topping becomes golden brown and the fruit juice is bubbling up round the edges.
Serve hot, with custard.

---
Ingredients:
Cape Gooseberries as required
Orange, Pineapple(all fruits you wish)
Sugar as required.
Water as required.
Method:
Take equal weights of all fruits.
Wash all the fruit and bring it to boil.
Add 500 g sugar and 250 ml water per kilogram of fruits we added.
Reduce the heat and let simmer for a few minutes.
Place the fruit into the syrup, return to the boil and allow it to cook for more than 25 minutes.
Check the thickness of the jam, if it's ok, then remove it from heat and seal it in an air tight container.

---
Ingredients:
1 kg Cape gooseberry
1 ½ cups brown sugar
Chopped onions 4
1 tsp ground ginger
Salt as required
Cayenne pepper as required.
Method:
Wash and drain peeled gooseberry.
Take a saucepan, melt some butter in it.
Add gooseberry , onions and sugar into the saucepan.
Cook until the berries get soften, continue to simmer by stirring occasionally until sauce thickens slightly.
If needed you can strain the sauce.


---