Fruits Home

Full List of Fruits

Melon Pear Fruit
PEPINO MELON
"TROPICAL FRUIT"
Scientific Name:Solanum muricatum
Melon pear / Pepino melon is a fruit that having a small shrub from the Solanaceae family, that bears edible fruits. This fruit is native to South America, and more exactly to Peru and Chile. While it is not really a new fruit as this fruit plant has been grown in warmest parts of the United States.

The melon pear fruit is a small shrub that can be reaching 3 ft tall in height. It has been evergreen plants.Flowers of the melon pear fruits are white and purple, and that are similar to other plants from the Solanacae family, like the potato vegetable flowers.

The melon pear, or pepino is another name, is a fruit with a variable in shape and size. It is more or less rounded or rectangle, and can be up to about 6 in long. When the fruit get ripe, the melon pear has a yellow-cream skin, with dark purple stripes. The flesh is succulent and moderately sweet, and has the same texture as a melon pear. Taste of fruit is quite similar to a cantaloupe. The fruit quality is changeable and that are depends on the variety.

The flesh of Melon pear has a similar flavor, smell and texture to a melon, with a slightly harsh after the taste. Flesh colors are pale pink, like many small melons varieties.The flowers of the fruit are extremely similar in color and shape to that of a potato structure of nature purple petals are with yellow centre. There are it seems that two types of pepino some are shaped like a coveted, others are like a beefsteak tomato.The melon pear not very frost hardy. However, it can be withstand that negative temperatures are down to about 28F in the room temperature. In colder climates are, it can be grown in containers of the place.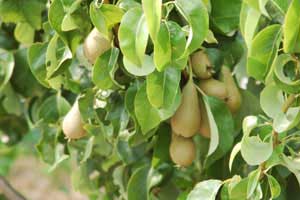 Melon Pear plant -This is finest fruit of recent introduction in all places. In places with no ice it has becomes a small shrub bearing an in abundance all the year around. In other places it assumes that the characteristics of a soft wooded plant, like the red pepper or Common Egg plant. It ripens when fruit in 3 to 4 months after planting in the land. The fruit is about the size of a fowl or duck egg, and it is yellow with a small violet stripes. It has neither seed nor rough skin, and it like a resembles in some respects an egg plant. In taste it resembles like a melon, but has an abundance of a fine acid odor which in hot weather is very pleasant.

It is eaten fresh fruit. It stands on shipment to the East. It will grow in a cool climatic region, but if an exposed to too much of heat the fruit will be lesser. This fruit has during the last year matured in many places in California, and several large plantations of melon pear plant have been started, with a view to supply the market.

Melon Pear is the source material for the isolation of the MAP30 proteins. MAP30 is effective things against tumors, AIDS, and other viruses.
MAP30 found in the bitter melon can be used by patients also with herpes. MAP30 reserved the reproduction of the virus, as well as plummeting it is ability to form sign.
Melon pear is reported to help in the treatment of diabetes. Melon pear contains compounds that are significantly lower the body's blood sugar level.
These include a mixture of steroidal saponins known as charantin, insulin-like peptides, and alkaloids. Melon inhibits are the activity of guanylate cyclase, an enzymes that are involved in psoriasis.
Melon is used to treat the low dry coughs, bronchitis, and throat cancers. The seeds are used totopically for skin swellings caused by sprains and fractures, and for sores that are slow to heal.

Pear is a extremely delicious fruit that are quite intimately related to the apples and quinces. The skin of the fruit has been yellow, green, brown or red in color, or even a mixture of two or more of these co-ordinate colors. The inside flesh of pear, on the other hand, is white to creamy color and is very succulent and sweet.

The flesh are surrounds a core that comprises of seeds. Pears have a large, round bottom, which are narrows down as we move to towards its topmost portion. The fruits are comes in large number of varieties pear, differing in terms of size, shape, structure, color, taste and storage qualities.

Fruit comparison tables. Overview of vitamin and mineral content including nutrition charts of the Melon Pear fruits.
Nutritive value per 100 g of Melon Pear
Principle
Nutritive value
Calories
96
Protein
0.38 g
Carbohydrates
15.46 g
Vitamin B6
0.028 mg
Vitamin C
4.2 mg
Zinc
0.10 mg
Potassium
119 mg
Calcium
9 mg
Magnesium
7 mg
Phosphorus
11 mg

1.Gala Fruit Melon
Ingredients:
1 lg. watermelon
1 cantaloupe
1 lb. seedless grapes
1 qt. fresh strawberries
2 cans mandarin oranges
1 ripe pineapple
3/4 c. honey
1/8 c. lemon juice
Method:
Lengthwise cut off top 1/3 of watermelon. Scoop out the fruit from the watermelon into balls and scallop edge of melon. Cut melon into balls. Prepare remaining fruit as for fruit cup, reserving some of the best berries for garnish. Combine cut up fruit into a large bowl and add honey and lemon juice. Chill the melon and the cut up fruit separately, covered with foil. Fill shell with fruit and garnish with mint leaves.
2.Chocolate Pear Martini
Directions:
Combine pear vodka, chocolate liqueur and cream in a shaker filled with ice cubes, and shake until very cold. Strain into a chilled cocktail glass. Garnish with a chocolate curl.