Fruits Home

Full List of Fruits

Breadfruit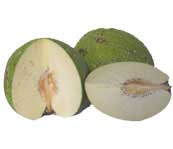 Common name
- Sa-ke(Thai), Sukun(Malay) these are some of the common names in which bread fruit is known by.
Scientific name
- Artocarpus altilis (Greek) meaning artos = bread and karpos = fruit.
Origin-
They are known to originate from Mexico.
Appearance
- Breadfruit looks green in color, when matured little sap will be leaked out which makes the fruit to appear more yellow in color when ripe. The fruit has a starchy texture and fragrance that tends to remain about the fresh baked bread. The nutritious fruit and the seeds are edible. A fully ripe breadfruit is usually soft and fragrant and its flesh is creamy yellow like coloured and pasty with irregular oval seeds. In the centre of this seedless fruit, there found a cylindrical core, in some species which is fully covered with hairs and small seeds. The breadfruit's flesh will be sweet and the fruit haves a nice fragrant smell are different by
breadfruit varieties
.

Breadfruit is low in Saturated Fat, Cholesterol and Sodium and very high in Vitamin C, Dietary Fiber and Potassium. The nutritional value of breadfruit helps you to maintain optimum health. Breadfruit has been considered as a nutritionally beneficial fruit. A large amount of nutrients and useful calories can be obtained by eating breadfruit. Other than the contents given in the table, the fruit also consists of 70.9 g of water content and 1.2 g of Protein content in it.
Vitamins (Per 100 g)
Pantothenic Acid
0.5 mg
Vitamin B1 (thiamine)
0.2 mg
Niacin
0.9 mg
Vitamin B6
0.1 mg
Choline
9.81 mg
Vitamin C
29.1 mg
Vitamin E
0.1 mg
Minerals ( Per 100 g)
Phosphorus
30 mg
Calcium
17.1 mg
Sodium
2.0 mg
Potassium
490.3 mg
Iron
0.5 mg
Magnesium
25 mg
Zinc
0.1 mg
Copper
0.13 mg
Manganese
0.11 mg