Fruits Home

Full List of Fruits

Breadfruit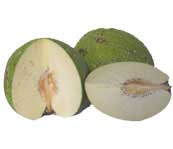 Common name
- Sa-ke(Thai), Sukun(Malay) these are some of the common names in which bread fruit is known by.
Scientific name
- Artocarpus altilis (Greek) meaning artos = bread and karpos = fruit.
Origin-
They are known to originate from Mexico.
Appearance
- Breadfruit looks green in color, when matured little sap will be leaked out which makes the fruit to appear more yellow in color when ripe. The fruit has a starchy texture and fragrance that tends to remain about the fresh baked bread. The nutritious fruit and the seeds are edible. A fully ripe breadfruit is usually soft and fragrant and its flesh is creamy yellow like coloured and pasty with irregular oval seeds. In the centre of this seedless fruit, there found a cylindrical core, in some species which is fully covered with hairs and small seeds. The breadfruit's flesh will be sweet and the fruit haves a nice fragrant smell are different by
breadfruit varieties
.
Breadfruit is low in Saturated Fat, Cholesterol and Sodium and very high in Vitamin C, Dietary Fiber and Potassium. The nutritional value of breadfruit helps you to maintain optimum health. Breadfruit has been considered as a nutritionally beneficial fruit. A large amount of nutrients and useful calories can be obtained by eating breadfruit. Other than the contents given in the table, the fruit also consists of 70.9 g of water content and 1.2 g of Protein content in it.
Vitamins (Per 100 g)
Pantothenic Acid
0.5 mg
Vitamin B1 (thiamine)
0.2 mg
Niacin
0.9 mg
Vitamin B6
0.1 mg
Choline
9.81 mg
Vitamin C
29.1 mg
Vitamin E
0.1 mg
Minerals ( Per 100 g)
Phosphorus
30 mg
Calcium
17.1 mg
Sodium
2.0 mg
Potassium
490.3 mg
Iron
0.5 mg
Magnesium
25 mg
Zinc
0.1 mg
Copper
0.13 mg
Manganese
0.11 mg
1) Breadfruit is a tropical tree which is mainly related to Jackfruit family.
2) Plants bestow demeanor fruits from 2-3 years after planting and remains productive for decades.
3) Breadfruit can also be used like a vegetable. It can be baked, boiled, fried, or roasted.
4) Breadfruit has been an important crop in the Pacific for more than 3,000 years.
5) They also provide construction materials, medicines, fabric, glue, insect repellent, animal feed, and more.
6) There are two varieties of breadfruit, one is the seeded variety known as the breadnut, scientific name - Artocarpus camansi and the other one is the seedless one.
7) The seeds are boiled, steamed, roasted over fire and eaten with salt. Sometimes they are made in the form of a puree.
8) Breadfruits play a vital role in animal feeding.

The reason why breadfruit is considered as cholestrol controller is because it is a rich source of fiber. The kind of fiber in breadfruit actually lowers the LDL levels (the "bad" cholesterol) while raising the levels of the HDL (the "good" cholesterol) which protect the arteries.
Breadfruit protects the body from heart diseases and heart attacks, Other than this the fiber present in breadfruit help those with diabetes to control the disease to some extent by reducing the absorption of glucose from the in taken food. Consuming breadfruit on a regular basis can reduce the risk of developing colon cancer. Breadfruit leaf is believed to lower blood pressure and is also believed to reduce asthma. Toasted flowers of the breadfruit tree are also rubbed on the gums as a cure for tooth ache.

1. Breadfruit Masala
Ingredients:
1 medium sized breadfruit
6 no.s of shallots
Garlic if needed
1/2 tbsp Fennel
Cloves if needed
1/2 cup of Grated coconut
2 numbers of onions chopped
Curry leaves as required
1/4 tsp of turmeric powder
3-4 tsp of Coriander powder
Chilli powder as required
Pepper if needed
1 full cup of Water
Salt as required
Oil as required(1 tsp is enough, if needed can add more)
1/2 tsp of Mustard seeds
Red chillies as required
Method:
Heat up a pan, dry roast the coconut, add shallots, fennel, cloves, garlic and pepper to the coconut and fry till the mixture turns golden brown.
Add chilly powder and coriander powder.
Grind the mixture prepared into a paste by adding correct proportion of water to it.
Now clean the breadfruit and cut it into small pieces.
Boil the fruit with turmeric powder and 3/4 cup of water, till tender.
Heat oil in a pan, add mustard seeds, red chillies, chopped onions, curry leaves and fry till the onion turns golden brown.
Add the masala paste and fry it for 2 mins.
Add the boiled breadfruit, salt and allow it to mix for 2 - 3 mins.
Add 1/4 cup of water to the mixture cover it with a lid and cook, till its well cooked and the ingredients have blended well. Add tomatoes, if you like.
Yummy breadfruit masala is now ready.
Decorate it with some nutritious nuts and serve.

2. Breadfruit Cheese Soup
Ingredients:
1 full onion
Garlic if needed
Butter as required
Peeled and sliced breadfruit
Stalk celery chopped
2 cups of vegetable
1 cup of milk
Cheese as required
Heat up a pan, fry onion and garlic in butter for about 2 minutes.
Add vegetable stock, breadfruit and celery to the mixture.
Boil it by covering it and simmer it for 20 minutes.
Remove it from heat.
Puree mixture in blender in small batches, return the pureed mixture to medium heat, add milk, half the cheese and reheat(do not boil).
Garnish it with the remaining cheese.
Hot and yummy soup is now ready to serve.

3. Breadfruit Fish Cakes
Ingredients:
2 cups of cooked mashed breadfruit
1 onion chopped
2 cups of cooked flaked fish
2 stalk celery chopped
Butter as required
2 teaspoons lime juice(to flavour)
Salt as required
Pepper as required
Egg whites minimum two
Oil as required.
Take a bowl, add flaked fish and crushed breadfruit into the bowl.
Add the chopped onions and celery, sautÚ it in butter until it gets softened.
Add sautÚd mixture, lime juice, salt and pepper to the breadfruit mixture prepared on step1.
Beat the mixture well with a beater or blender, also beat the egg whites until it becomes hard.
Fold the egg white into breadfruit/fish mixture.
Heat oil in a frying pan.
Dip the mixture into breadcrumbs and shape as desired.
Fry in heated oil turning to brown on all sides, check whether the outer layer is crispy.
Drain fried fish cakes on absorbent paper inorder to extract the oil out of it.
Hot fish cakes are ready.

4. Breadfruit Chips
Ingredients:
Breadfruit as required
Salt as required
Oil as required.
Cut the breadfruit into very thin slices.
Soak the fruit in water until all the excess starch is removed from the fruit.
Heat the pan with oil, fry slices in the hot oil until they are crisp on the outside and slightly brown.
Drain them on paper towels and then place them on a tray in a warm oven until the whole batch is cooked.
Stacking the fries on top of each other in the oven, makes them go soft, hence try to avoid stacking. Remove from the oven and sprinkle with salt, pepper, chilli powder.