Fruits Home

Full List of Fruits

Lingonberry Fruit
Introduction of Lingonberry Fruit
Nutritional Value of Lingonberry Fruit
Uses of Lingonberry Fruit
Health Benefits of Lingonberry Fruit
Selection and Storage
Introduction of Lingonberry Fruit
Scientific name - Vaccinium vitis-idaea
Inhabitant to boreal forest and Arctic tundra throughout the Northern hemisphere from Eurasia to North America, Vaccinium vitis-idaea is an ever-green shrub. Commonly known as Lingonberry or cowberry they grow upto 0.3 m (1ft) by 1 m (3ft 3in) at a medium rate. Having its roots from Heath, it bears out an edible fruit that are a staple in Northern Scandinavia. Produced during the early summer, the flowers of the tree are bell-shaped with a color combination of white to pale pink and are 3-8 mm (0.1-0.3 in) long. Coming to the fruit, they are like a red berry 6-10 mm (0.2-0.4 in) across, with an acidic taste. The fruit ripens in late summer to autumn and is mainly used to accompany a variety of dishes.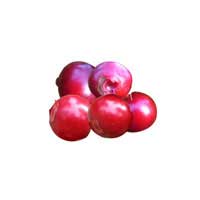 Nutritional Value of Lingonberry Fruit
| | |
| --- | --- |
| Serving Size 100g | Lingonberry |
| Calories (kcal) | 53 |
| Protein (g) | 0.8 |
| Total Fat (g) | 1.2 |
| Total Carbs (g) | 11.5 |
| Dietary Fiber (g) | 3.7 |
| Vitamins | **** |
| Vitamin C (mg) | 11 |
| Thiamin (mg) | 0.05 |
| Riboflavin (mg) | 0.04 |
| Niacin (mg) | 0.5 |
| Panto. Acid (mg) | 2.4 |
| Vitamin B6 (mg) | 0.01 |
| Folate (mcg) | 2 |
| Vitamin B12 (mcg) | 0.12 |
| Vitamin E (mg) | 0 |
| Minerals | **** |
| Calcium (mg) | 20 |
| Iron (mg) | 0.4 |
| Magnesium (mg) | 9 |
| Phosphorus (mg) | 16 |
| Potassium (mg) | 89 |
| Sodium (mg) | 2 |
| Zinc (mg) | 0.18 |
| Copper (mg) | 0.07 |
| Manganese (mg) | 3.2 |

Consumed either raw or cooked, they are pleasant to eat. Considered more superior than cranberries, they are used as preserves for certain dishes. The fruit is said to exude a great taste after a frost. In order to take out the tartness of the berries, they are combined with sugar and are commonly packaged as jams. Adding punch to breakfast items, they are used on toast, pancakes and crepes. The jam is also used to spice up heavy meat and liver dishes. The tart and sweet flavor of the fruit helps to cut through the rich flavor of meat. Meatballs served with Lingonberry sauce is a very popular dish in Sweden.

Health Benefits of Lingonberry Fruit
Lingonberries have been used as both food and medicine for centuries. Compared to any other berries, they are of no less value and it fights against the effects of a high-fat diet and blocking weight gain. Spaced out from that, they fight against diabetes and obesity as well. Coming to the nutritional profile of these berries, whole Lingonberries or the juices of it have been recognized to have certain beneficial compounds like Quercetin and proanthocyanidin which is also abundant in cranberries. In addition, the leaves of Lingonberry have been shown to be full of bioactive compounds like arbutin- a phytochemical. In traditional Austrian medication the fruits have been managed internally as jelly or syrup for healing of disorders of the gastrointestinal tract, kidneys and urinary tract, and fever.





In view of the fact that, there are only a few growers of these fruits, fresh Lingonberries are not easy to find. When you do find one, it is highly suggested that you treat them as you how you would treat cranberries. First wash them and thrust aside soft or browned ones. The juice and preserves of Lingonberry are available only at selective locations in Washington and Oregon.

Seeing that, Lingonberries contains high levels of benzoic acid, they come a long way with respect to refrigerated shelf life. All sorts of Lingonberry products should be kept in the refrigerator once itís opened.