Fruits Home

Full List of Fruits

Marionberry
Marionberry fruit
Marionberry is a cross between the Chehalem and Olallieberries. It's the most common blackberry cultivar. The marionberry's are glossy with many blackberries.
Scientific Name
:Chehalem Olallie blackberries
Marionberry's growing conditions are completely adapted to maritime Oregon climate, with its mild rains and warm summers. The marionberry's get ripened throughout late spring and early summer. The harvesting season is between July 10 and August 10, whereas a single acre produces up to six tons in a harvest.
It appears black on the plant but turns a deep, dark purple when frozen. The fruits are medium sized, sweeter, juicier and has tart flavor.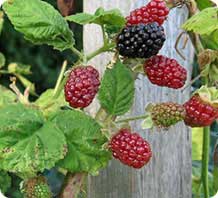 Marionberries plants were grown quite quickly.
To cultivate the plant, you need a location that must receive abundance of sunlight.
Do not plant marionberries where other berries are planted previously as disease can transfer from the area if previous plants were infected.
Plant the trees 1 inch up the base of the plant and stiff the moist soil around it.
A steady supply of water is the best method to get the plants established.

The fruit contains high levels of anthocyanins that protect against cancer, heart and circulatory diseases.
It contains high levels of strong antioxidants like Vitamin C, Gallic acid and rutin that help promote circulatory health and fight against cancer.

| | |
| --- | --- |
| Nutrition | Nutritive value |
| Calories | 75.00 |
| Total fat | 1.00 g |
| Fats | 1.00 g |
| Protein | 0 g |
| Dietary Fiber | 7.60 g |
| Vitamin A | 238.00IU |
| Vitamin C | 30.00mg |
| Calcium | 46.00mg |
| Cholesterol | 0.00 |

1.Marionberry pie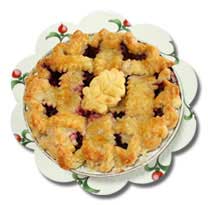 Ingredients
1 baked pie shell
5 cups ice-covered marionberries
4 tablespoons cornstarch
1 cup refined sugar
2 tablespoons lemon juice
How to prepare?
Squash 2 1/2 cups of marionberries with a fork and stir in corn starch, refined sugar and lemon juice. Place the remaining berries to freeze. Cook the mixture over medium high heat and stir constantly until mixture is clear. Cool the mixture completely in refrigerator. Gently fold the remaining berries into cooked, cooled berries. Refrigerate the mixture until it gets completely chilled.