Fruits Home

Full List of Fruits

Mountain pepper
Introduction of Mountain pepper
Nutritional Value of Mountain pepper
Uses of Mountain pepper
Health Benefits of Mountain pepper
Culture
Cultivation
Introduction of Mountain pepper
Scientific name - Tasmannia lanceolata

Commonly known as mountain pepper or Cornish pepper leaf, Tasmannia lanceolata is a shrub that is inhabitant to woodlands and cool temperate rainforests of South-eastern Australia. The roots i.e. it is from the family of Winteraceae that are magnoliids. Having said that, they are coupled with the humid Antarctic flora of the Southern Hemisphere! In general, the members of the family have bark and leaves that are sweet-smelling, more importantly the extraction of it are used as an essential oil. The fruit of T. lanceolate is berry-like produce that is of 5-8 mm in diameter. Containing just about 10-18 seeds, they are shiny dark red in color and become black when fully ripe.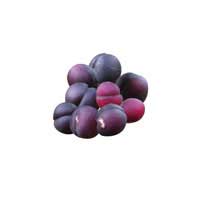 Nutritional Value of Mountain pepper
| | |
| --- | --- |
| Energy | 1630kJ / 100gm |
| H2O | <8 % |
| Protein | 9 gm / 100 gm |
| Fat | 8.5gm / 100 gm |
| Carbohydrates | 68.4 gm / 100 gm |
| Total Sugar | 4.7gm / 100 gm |
| Fibre | N/A |
| Na | 47.35µg |
| K | 1107µg |
| Mg | 142.2µg |
| Ca | 147.8µg |
| Fe | 5.22µg |
| Zn | 3.5µg |

Characteristically referred to as Drimys lanceolata or T. aromatic, colonial Australians used it as the original pepperbush and introduced into cultivation in Cornwall, UK. Later it was associated with Cornish Cuisine. They are high in antioxidants. With a strong peppery flavor, Dorrigo pepper is safrole free which is also sold as a spice. More to the point, it was the original pepperbush used in specialty native food restaurants in the 1980s.

Health Benefits of Mountain pepper

Pepper-berry is known for its anti-inflammatory properties; traditionally it has been used by medical practitioners for arthritis problems. This is because of the "polygodial" compound present in it, which is also thought to have several other beneficial properties as well as the stomach lining and anti-pain activity together being anti-asthmatic. Highly useful for diabetes patients, it also prevents the types of mutation of genetic material.


Consumed as a spice and as a medicine by Aboriginal tribes along the east coast, Mountain pepper was used on roasted meats to spice up the dish. On the other hand, the leaves of it were used in cooking pits to pass on their peppery zest onto the food.


Easily grown from seed or cuttings, as far as cutting is concerned, the sex of plants, the cuttings are taken from should be determined such that, a separate set of process is followed for it to thrive. It takes a period of 12 months for rooting. Seeing that, its viability degrades rapidly, it is good to sow the seed as soon as it is ripe. Seeds that are stored at room temperature will remain viable only for a year or so. Prior to storing and/or sowing, the flesh needs to be removed from the seeds.