Fruits Home

Full List of Fruits

Oil Palm Fruit

Introduction of Oil Palm Fruit

Nutritional Value of Oil Palm Fruit

Health Benefits of Oil Palm Fruit

Cultivation

Harvesting

Introduction of Oil Palm Fruit
Scientific name - Elaeis guineensis
Elaeis is a Greek word which means "oil" is a species of palms containing two varieties, called oil palms. In commercial agriculture they are commonly used in the production of palm oil. Elaeis guineensis is the principal source of palm oil, guineensis refers to its country of origin and it is indigenous to west and southwest Africa, up between Angola and Gambia. Used locally for oil production, the American oil palm Elaeis oleifera is native to tropical Central and South America. The English word oleifera means "oil-producing".

From procreation to maturity, it takes just about five to six months for the palm fruit to mature. As with appearance, it looks just like a large plum, reddish in color and grows in large bunches. With a single seed, the palm fruit is made up of an oily, plump exterior layer, the palm kernel which is rich in oil. Each bunch of fruit weighs40-50 kg (88-110 lb) when ripe.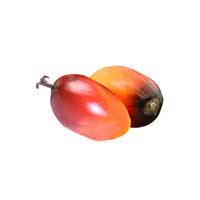 Nutritional Value of Oil Palm Fruit
| | |
| --- | --- |
| Calories | 120.2 |
| Total Fat | 13.6 g |
| Saturated Fat | 6.7 g |
| Polyunsaturated Fat | 1.3 g |
| Monounsaturated Fat | 5.0 g |


Health Benefits of Oil Palm Fruit
The vasodilative, phytoestrogenic and bone mass enhancing properties present in the oil palm is recommended as good for postmenopausal women; by up-regulating the LDL receptors, the oil palm is said to help modulate the antioxidative defense enzymes and reduce blood Low Density Lipoprotein (LDL)- studies say.

Seeing that seed germination and seedling establishment are complicated, in general, oil palms are propagated by seed. Temperature of 35° C stimulates the process of germination in lean covered types; on the other hand, it takes up thick-walled varieties for higher temperatures. When the period reaches a month of 18, the seedlings are out planted. With plantation culture proving to be worthwhile, seeds are harvested from the wild in some places. Harvested ripe seeds should only be used for propagation and as far as breeding from selected plants is concerned, it is important to maintain controlled pollination. It may take just about 64-146 days for the seed to germinate, however in warm climates, 50% germination can be expected in 8 weeks.

After planting in the field, first fruit bunches ripens in 3-4 years, however these may be small and of poor quality. Removal of the early female inflorescences is said to get rid of the concern. In view of the fact that, under-ripe fruits have low oil concentration and over-ripe fruits have high fatty acid content, it is important to harvest the fruit bunches at its correct stage of ripeness. With the help of cutlass, bunches of semi-wild trees are harvested and tall palms are climbed over with the help of ladder and ropes and harvested in Africa; having said that, harvesting is usually done once a week. Bunches are cut with the help of a steel chisel for the first few years and thereafter, an axe comes into play. Approximately 100-150 bunches are harvested per day. The fruit bunches are then carried to the mill for oil extraction.