Fruits Home

Full List of Fruits

Oregon grape

Introduction of Oregon grape

Description of Oregon grape

Uses of Oregon grape

Health Benefits of Oregon grape

Oregon grape Interesting Facts

Cultivation
Scientific name - Mahonia aquifolium

Indigenous to western North America, Mahonia aquifolium which is commonly called as the Oregon grape having its roots in the family Berberidaceae is an evergreen shrub. This species of flowering plant grows to 1 m (3 ft) tall by 1.5 m (5 ft) wide. The main distinguishing facet of this species is that they consist of spiny leaflets with pinnate leaves together with thick clusters of yellow flowers during the early spring followed by dark bluish-black berries. The word aquifolium means "holly-leaved" which refers to the spiny foliage.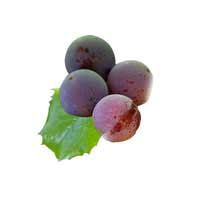 Known by several different names such as Oregon holly grape, Oregon grape holly or Oregon grape, the stems and twigs have a corky and chunky appearance. Purplish black in color, the fruit looks like a berry and has a large seed and is important for a bitter flavor.

The purplish black fruits are part of the aboriginal population of the Pacific Northwest, also used in jelly making; it is often mixed or served with other sweeter fruits in order to enhance the flavor. The juice extracted can be fermented and used in wine preparation, even though the amount of sugar needed for this is high.

Garden uses
With regards to garden they are best in small groupings in shady areas.


Health Benefits of Oregon grape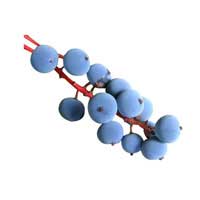 The grape is known for its anti-inflammatory, antibacterial, and antifungal properties and its extracts have been used to treat physical complaints like dysentery, jaundice, peptic ulcers and a variety of skin conditions as well. In addition, the extract is highly beneficial for psoriasis, eczema, athlete's foot, acne and other fungal infections. It also eases inflammation, itching and irritation. As already said, it cures diarrhea, larger dosages are beneficial in the form of effective laxative. The flow of bile can rev up; and herbalists used it for treating gallbladder pain, gallstones, hepatitis and jaundice. They are highly helpful in the treatment of



Hemorrhoids


Kidney disease


Urinary tract disorders


Gout


Rheumatism


Arthritis


Lumbago and


Malaria.


Oregon grape Interesting Facts
Also referred as Mahonia, Oregon grape is the state flower of Oregon. The scientific or botanic name aquifolium points out that the leaves of the plant are holly-like. They are derived from the Roman word aquifolium which means 'prickly leaved'.

Known for its striking shrubbery and flowers, it is a popular subject in shady or woodland plantings. They are summer resistant and their berry attracts birds.