Fruits Home

Full List of Fruits

Tangelo Fruit
Tangelo fruit
Tangelo is a hybrid variety of tangerine and a pomelo or a grapefruit. The fruit of tangelo and mandarin looks similar. Tangelo fruit start to ripen from late autumn through to late winter. It ranges usually from the size of a standard sweet orange to the size of a grapefruit.
Scientific Name:Citrus × tangelo

The pulp of Tangelo is colorful and very juicy. It produces excellent and plentiful juice. The fruits should be eaten when fully ripen.

Tangelos are an excellent source of vitamin C, vitamin A and flavonoids that helps in preventing common cold and throat infections
It helps to prevents premature aging and protect against many cancer and viral infections
Tangelo fruit had a good source of dietary fiber that helps to relieve from constipation
Tangelos are good source of B vitamins, carotenes, pectin, potassium, and folic acid

| | |
| --- | --- |
| Nutrition | Nutritive value |
| Calories | 109g |
| Vitamin A | 0% |
| Vitamin C | 60% |
| Calcium | 3% |
| Iron | 0% |
| Dietary Fiber | 6% |
| Sugar | 2% |
| Protein | 0% |

Tangelo fruit holds on the tree for two to three months. The trees of Tangelo fruit grow to a large size which resembles like Clementine tangerine and it should be easily recognized by their cup-shaped leaves. The trees were large and cold-tolerant.

1.Tangelo Fruit Salad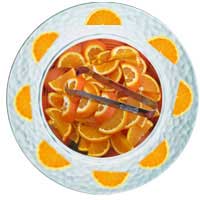 Ingredients
2 medium tangelos, oranges and pears peeled
60 ml lime juice and passion fruit pulp
250 ml pineapple juice
1 tablespoon ginger and caster sugar

Mix pineapple, lime juice, lemon grass, ginger, vanilla and sugar in a saucepan. Heat for 10 minutes and allow chilling for 40 minutes. Filter the syrup into a glass. Mix the tangelos, oranges and pears then top the salad with the yoghurt and the passion fruit pulp.
2.Tangelo And Poppy Seed Cake Recipe

Ingredients
250g unsalted butter
4 tangelos
5 eggs
1½ cups sugar
2 cups plain flour
1 teaspoon vanilla essence
2 teaspoons baking powder
3/4 cup buttermilk
½ cup poppy seeds

Squeeze and zest the tangelos. Add butter, sugar, tangelo zest and vanilla essence together until it gets creamy. Add eggs and sift through flour and baking powder with the buttermilk and fold through poppy seeds. Pour into the prepared pan and bake for 1 hour.

Place tangelo juice and sugar in a small saucepan and stir over low heat until sugar gets dissolves. When cake is cooked, slice it with a wooden skewer and pour over the syrup. Allow to stand for 10 minutes before turning out. And Serve it.
Wash tangelo fruit with water
Cut all of your tangelo fruit with a good kitchen knife
Press and squeeze each half of fruit on to the citrus juicer
Pour all of your juice into serving pitcher
Serve chilled fruit juice in small juice glasses