Fruits Home

Full List of Fruits

Wineberry fruit
Introduction of Wineberry fruit
Scientific name - Rubus phoenicolasius

Indigenous to northern china, Rubus phoenicolasius is a species of raspberry that is also famous in Japan and Korea. It is during the late spring the flowers are produced on short or very bristly racemes on the tips of these side shoots, each flower 6–10 mm diameter with five purplish red to pink petals and a bristly calyx. Coming to the fruit, they are red or orange in color and are about 1 cm diameter. Produced during the summer or early autumn, they are edible and with regards to botanical terminology, it is not a berry at all, but an aggregate fruit of numerous drupelets around a central core. Ripening of the fruit takes place from early summer. The canes come with red glandular hairs and it is this that gives the species its scientific name from the Latin phoenicus meaning red.

The color of these berries range from green to yellow to orange-red, they are bright and shiny when matured. Ripening usually takes place from late June through July. The calyx protects the fruit as it develops- a residue of the flower- that is covered with the same gland-tipped red hairs as established on the canes, each of which gives off tiny drops of sticky fluid. When it reaches maturity, the calyx folds back. Clammy to certain extent, ripe fruit will be lustrous and bright red with a yellowish-white receptacle – more good spotting out characteristics.

Nutritional Value of Wineberry fruit
| | |
| --- | --- |
| Amount per Serving | % Daily Value |
| Calories 727.2 | |
| Calories from Fat 363 | 49% |
| Total Fat 40.3 g | 62% |
| Saturated Fat 15.5 g | 77% |
| Cholesterol 129.2 mg | 43% |
| Sodium 235.0 mg | 9% |
| Total Carbohydrate 34.5 g | 11% |
| Dietary Fiber 0.6 g | 2% |
| Sugars 20.3 g | 81% |
| Protein 33.4 g | 66% |

Resembling the flavorful raspberries in taste, they are succulent, but a bit sourer and contain similar health benefits to that of a raspberry. They are a good source of vitamin C, antioxidants, minerals, and fiber. Having great freezing capacity, the berries are highly fragile and can last only a few days even when kept in refrigerator. The fruit can either be eaten raw or used in desserts, fruit salads, and sauces. They can also be processed into jams and are good in wine, too. They are also made into pies.

Health Benefits of Wineberry fruit
Wine made from wine berry is well-known to accelerate the fat burning process and similarly it helps in reducing weight to a great extent. Besides, they are also known for its unique antioxidants that protects against cell damage and also perform tissue repairmen. Said to prevent the occurrence of cancer especially skin and breast cancer, they also acts as a protective agent to both heart and liver. It's immune boosting enzymes together with Vitamin C and Vitamin E helps in cutting down the inflammatory process and gives a performance boost to immune system.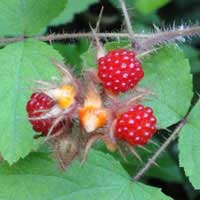 Rubus phoenicolasius is a vigorous grower that has fugitive cultivation and it can inflate to form dense thickets, crowding out local plants in natural ecosystems. In many states including Pennsylvania they are considered as an invasive weed. They are commonly found in forests, fields, stream and wetland edges, open woods, and roadsides and prefer moist soils in sun or light shade.