Fruits Home

Full List of Fruits

Wongi fruit
Scientific name - Manilkara kauki

Manilkara kauki commonly known as Wongi is a plant in the subfamily Sapotoideae which has its roots in the Sapotaceae family. Having a dense crown, the tree reaches to a height of 30 m. In the axils of the leaves, the flowers are yellowish-white in color. On the upper leaf face, the leaves are stiff, less sharp and are dark green and pale in color and silky below. On the top of branchlets, the leaves are crammed full. On top, they are shining dark green in color and grey beneath. Very sweet to taste, the orange-red fruit is edible and is 3-4 cm long, traditionally they are eaten by Torres Strait Islanders, who travel from island to island to harvest the crop. Containing 1 to 6 long lustrous seeds, the fruits are small and reddish-brown in color, ovoid-ellipsoid in shape. As a matter of fact, North Queensland varieties are orange-red in color and rather sweet when fully ripe. Calyx persistent at the base, the seeds is just about 20 x 19 mm and fruits are about 25 x 23 mm.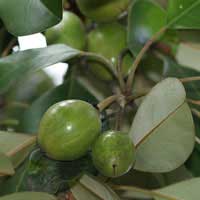 Nutritional Value of Wongi fruit
| | |
| --- | --- |
| Calories | 380 |
| Fat | 17g |
| Carbs | 40g |
| Protein | 15g |

Timber of the tree is highly functional in several ways; in Indonesia the wood has a good reputation for usage of furniture and fine carving. With the reddish lines, the heartwood is brown, dark brown or reddish brown in color and the sapwood is light brown. Functional in heavy construction, they are also used for turnery and mills. Fine carvings made from this wood is prized high and sold on a fairly small scale in markets and shops in Indonesia. With that said, the wood is also used to make charcoal.

Successive in subtropical areas, it is a plant of the lowland tropics that is usually found in drier regions and less elevations of 500 meters. Having the tolerance capacity of light frosts together with a wide range of soils, it best thrives in sandy loam soils. It can flower and fruit all year round given in some specific areas.

Processed and clean seed do not have dormancy and requires no pre-treatment. In order to boost up germination rates, seeds are soaked in water for three periods of 24 hours before sowing using fresh water each time. Seeds are best sown in shady position, either in individual containers or in a nursery seedbed. Subsequent to sowing, it may take a period of 2.5 - 5 weeks for the germination process to take lead. When they become large enough to handle, it is highly suggested that you prick out the seedlings into individual containers and plant them into permanent positions when they are 12 months old or have at least four true leaves.