Fruits Home

Full List of Fruits

Yuzu Fruit
The fruit was mainly cultivated in China, Korea and Japan. Yuzu fruits are very aromatic and might be yellow or green color depending on the degree of ripeness.
Yuzu fruit is a hybrid variety of mandarin and papeda. The fruit is very similar to grapefruit with an uneven skin. It's one of the most important fruit in Asia that ranges between 5.5 and 7.5 cm in diameter.
Scientific Name
:Citrus ichangensis x Citrus reticulata var. austera

Health facts
Rich in vitamin which contains 150mg vitamin C in 100g of Yuzu.
Rejuvenates maturing skin.
It activates cell and fat burning effect.
It contains vitamin P that promote healthy blood flow.
It aids in relaxation and recovery of muscular aches.

Uses
Yuzu is used for culinary, cosmetics and scientific research.
Used for medicinal properties and number of ancient ceremonies.
The oil from yuzu fruit skin is marketed as an aroma.
The fruits were guard against colds, warm the body, and relax the mind.
Fragrance extracted from yuzu was used to make perfumes, lotions, and soaps.
Yuzu is also used for a special hot bath to prevent cold, flu and healing of chapped skin, provides better circulation on your body and good health.

Yuzu tree
Trees were slow growing reaches 25ft high.


The fruits of yuzu can be eaten when it ripens to yellow.


It forms a small tree that normally contains numerous large thorns.


It is mainly grown for its flowers rather than its fruit.


It will grown at most height in Hawaii and survives extends periods of frostiness in Asia.

Varieties of yuzu
Yuzu Juice was commonly found in Japan. The juice of yuzu may be dry or powdered were some stores carry it in spice section. The juice of yuzu is used to flavor sauces and alcohol


Yuzu vinegar was used for marinades and salad dressings


Yuzu paste is highly salted. It contains chile and it can also be added to noodle dishes or soups. It makes a nice little kick

Recipes
1.Yuzu sauce
How to prepare?

Take a large saucepan and mix the mirin, vinegar, soy sauce, yuzu zest and bonito flakes. Boil it over medium heat and remove from the heat and cool it. Pour the yuzu sauce into a bowl and discard the bonito flakes. Add the yuzu juice, store in a glass jar in the refrigerator for up to 1 week. Serve it.
2.Yuzu jelly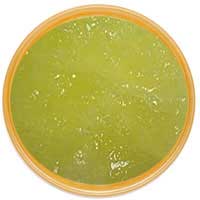 Ingredients
300g water
25g yuzu juice
50g Sugar
2 sheets Gelatin
2 ea Whippets
How to prepare?

Yuzu jelly is a delicious and healthy Japanese dessert made with yuzu, a citrus fruit native to East Asia. It is a refreshingly tart and sweet treat that can be served as a light dessert or as an accompaniment to other dishes. To make yuzu jelly, start by preparing the yuzu. Cut the yuzu in half and remove the seeds. Cut each half into thin slices and then finely mince the slices. Place the minced yuzu in a bowl and set aside. Next, make a simple syrup. In a saucepan, bring 1 cup of water and 1 cup of sugar to a boil, stirring to dissolve the sugar. Reduce the heat and simmer for 10 minutes. Once the syrup is done, allow it to cool for 10 minutes. In a separate bowl, combine 1/4 cup of cold water and 1 envelope of unflavored gelatin. Stir until the gelatin is completely dissolved. Add the cooled simple syrup to the minced yuzu and stir. Then, add the dissolved gelatin and stir to combine. Pour the mixture into a 9x13 inch pan and place in the refrigerator to set, about 4 hours. Once the jelly has set, cut into cubes and serve. Yuzu jelly can be served alone or with ice cream, fruit, or other desserts. Enjoy! apple Medicinal Uses of Velvet apple Nutrition Value for Velvet apple
3.Yuzu jam
How to prepare?

To make Yuzu jam, mix it with hot water. There are two ways to make it, one like jam and the other in the fridge. Yuzu jam is great on a cold day
4.Yuzu juice
Ingredients
6 slices of cucumber peeled
1 oz. of poma pomegranate liqueur
3/4 oz. Hendrick's Gin
1/2 oz. Partida Agave Nectar
1/2 oz. St-Germain Elderflower Liqueur
1/2 oz. Yuzu Juice
How to prepare?

Add ingredients in glass part of a Boston shaker, muddle cucumber. Shake well with ice and strain in a chilled 9oz cocktail glass. Garnish with cucumber slice, edible orchid, and pomegranate seeds dusted with easy leaf edible silver.