Fruits Home

Full List of Fruits

Bolwarra fruit
Introduction of Bolwarra fruit
Scientific name - Eupomatia laurina

The Bolwarra has an internal appearance similar to that of the Guava fruit. The urn shaped fruits bear a green color on the external side and measures about 15 to 20mm in diameter. Once they ripen, the color turns yellow revealing a pale colored jelly like flesh on the inside. The seeds are spread across the flesh giving it that guava like appearance. Bolwarra fruit is a type of native Australian fruit that is found in the Bolwarra rainforests of New South Wales. It is a small, round, and tart fruit that is yellow in color. The fruit has a sweet and sour flavor, making it a popular addition to jams and other desserts. Bolwarra fruit is also high in antioxidants and is known for its anti-inflammatory and digestive properties. Additionally, the fruit is known to be rich in vitamins A, B, and C and is a great source of dietary fiber.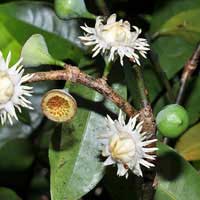 Nutritional Value of Bolwarra fruit
he bolwara fruit is rich in Vitamin C, as well as other vitamins and minerals. It is also a good source of dietary fiber and contains a variety of antioxidants. The bolwara fruit is known for its sweet, tart flavor and has a slightly crunchy texture. It is often used in salads, soups, and curries.
| Principle | Nutrient Value | Percentage of RDA |
| --- | --- | --- |
| Energy | 97 Kcal | 5% |
| Carbohydrates | 23.38 g | 18% |
| Protein | 2.20 g | 4% |
| Total Fat | 0.70 g | 3% |
| Cholesterol | 0 mg | 0% |
| Dietary Fiber | 10.40 g | 27% |
| Vitamins | | |
| Folates | 14g | 3% |
| Niacin | 1.500 mg | 9% |
| Pyridoxine | 0.100 mg | 8% |
| Riboflavin | 0.130 mg | 10% |
| Thiamin | 0.00 mg | 0% |
| Vitamin A | 1274 IU | 43% |
| Vitamin C | 30 mg | 50% |
| Vitamin E | 0.02g | <1% |
| Vitamin K | 0.7 mg | 0.5% |
| Electrolytes | | |
| Sodium | 0 mg | 0% |
| Potassium | 348 mg | 7% |

Bolwarra can be used in many ways in the kitchen. It can be used to make jams, chutneys, sauces, and other condiments. It can also be used to make smoothies, desserts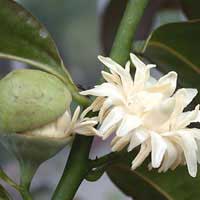 This fruit is mostly used in cooking as a spice. Other uses in the kitchen include jams, jellies, beverages and deserts. Regeneration using cutting is not recommended. Fresh seeds if planted germinate within three weeks and take about five weeks to fully germinate and complete the process.

One of the most impressive benefits of Bolwarra fruit is its high levels of Vitamin C. Vitamin C is an essential nutrient that helps to keep the immune system strong, reduces inflammation, and aids in wound healing. It can also help to reduce the risk of developing chronic diseases such as heart disease and cancer. In addition, Vitamin C is also known to help improve skin health and reduce the appearance of wrinkles.
Bolwarra fruit is also rich in Vitamin A, which is important for healthy vision, skin health, and cell growth. Additionally, it contains a variety of minerals such as calcium, magnesium, and potassium which are essential for strong bones and teeth.

The antioxidants found in Bolwarra fruit have been shown to help reduce the risk of certain types of cancer, as well as reduce inflammation. Antioxidants are also thought to reduce the risk of heart disease and stroke.
Finally, Bolwarra fruit is high in fiber, which can help to promote digestive health and reduce the risk of obesity. Fiber can also help lower cholesterol levels and reduce the risk of Type 2 diabetes.

In conclusion, Bolwarra fruit is a nutrient-rich superfood that can provide numerous health benefits. It is high in vitamins, minerals, and antioxidants, and is a great addition to any diet. Eating Bolwarra fruit regularly can help to improve overall health and reduce the risk of developing certain diseases.