Fruits Home

Full List of Fruits

Kei apple fruit

Introduction of Kei apple fruit
Scientific name - Dovyalis caffra
Indigenous to Southern Africa, Dovyalis caffra is a small to medium sized straggly tree. Similar to a small apple, the ripe fruits are a treat to the taste buds. With no petals, the flowers of the fruit Kei apple are either introverted or clustered and are inconspicuous. Even though some female plants are parthenogenetic, with male and female flowers on separate plants, it has the male and female reproductive organs in separate individuals. Having an extensive distribution from the Kei River in the South, from which the common name originated; northwards down the eastern side of the continent to Tanzania.
The tree is usually found in dry woodland, where it grows upto 6m tall, also prevalent in moist open woodland regions, it reaches at its greatest size of about 8-9 metres. With pointed 3-6 cm elongated shoot spikes in the leaf axils, bunch of alternately arranged simple ovate leaves with 3-6cm long are produced by buds at the base of the spine.
Containing more than a few small seeds, the skin and flesh of the edible fruit has an unvarying color that ranges to yellow or orange globose berry which is of 2.5-4 cm in diameter. They are very acidic, but succulent and tasty. It has a production that's often abundant, weighing down the twigs in the summer.


Nutritional Value of Kei apple fruit
Following is the list of compounds a fresh ripe fruit it is said to have and it includes:
| | |
| --- | --- |
| Vitamins | value |
| Ascorbic acid per 100 g | 83 mg |
| pectin | 3.7% |
Scientists in Egypt have reported 15 amino acids namely:
| | |
| --- | --- |
| Vitamins | value |
| Alanine | 0.41% |
| Arginine | 0.36% |
| Aspartic acid | 0.96% |
| Glutamic acid | 2.00% |
| Glycine | 0.39% |
| Histidine | 0.10% |
| Isoleucine | 0.25% |
| Leucine | 0.75% |
| Lysine | 0.36% |
| Methionine + valine | 0.28% |
| Phenylalanine | 0.40% |
| Proline trace; serine | 0.48% |
| Threonine | 0.34% |

The Kei apple is an important cultural icon for many South African tribes. It is believed to have medicinal properties and is used to treat several conditions. It is also used as a folk remedy for treating stomach ache, fever, colds and flu.

The leaves of the tree are used as fodder for livestock. The edible fruit of Kei apple are used in jam making. In order to have a good enclose, the plant requires a regular trimming and it prefers both full sun and light shade for best results. Apart from being cultivated as a fruit-bearing tree, they are also cultivated as a border i.e. they are both food and fence. Simply put, they can be formed a dense hedge around a garden.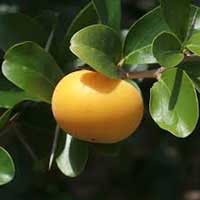 Having a moderate growth rate up to 600 mm per year, this extremely hard species can withstand long periods of drought. In addition, it can also sustain temperatures that are as low as 6 degrees below freezing point. This much-branched small to medium sized tree has no unique growth requirements, however will respond well to adequate amount of water and addition of compost. Best season for the tree is summer. As already mentioned, the kei apple is found from the Kei River in the Eastern Cape all along the eastern parts of the country through Kwa Zulu Natal and all the way up to Tanzania. Effortlessly propagated from the seed, propagation from cuttings is also highly successful.


Health benefits of Kei apple fruit
With regards to health benefits, the roots and thorns of the tree are used to treat amenorrhea and chest pain in the African traditional medicine. The other such species are used by the Zulu to treat pain in rheumatic fever and rheumatism.

The Kei apple is a valuable source of several essential vitamins and minerals. It is high in vitamin C, iron, calcium, magnesium and potassium. Vitamin C is an essential nutrient for proper immune system functioning, while the minerals found in Kei apple can help maintain healthy bones and teeth. The Kei apple also contains a good amount of dietary fiber, which can aid in digestion and help with weight management.