Fruits Home

Full List of Fruits

Marang Fruit

Introduction of Marang Fruit

Nutritional Value of Marang Fruit

Health benefits of Marang Fruit

Cultivation

Culture

Harvesting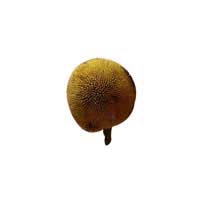 Scientific name - Artocarpus odoratissimus

Having an intimate bond with the jackfruit, cempedak and breadfruit trees, Artocarpus odoratissimus is known by several regional names such as terap, green pedalai, madang, johey oak, timadang or tarap and it is a tree type that is indigenous to Borneo, Palawan and Mindanao Island. This evergreen tree grows upto 25 metres (82 ft) tall. With little less lobed, they share the same features to that of a breadfruit and the leaves are 16–50 cm long and 11–28 cm broad. As soon as it reaches the maturity stage, majority of trees lose the leaf lobing. As already said, the appearance of the fruit will be similar to the breadfruit with some included aspects of the jackfruit. Weighing just about 1kg, they are round to oblong in shape and are 15–20 cm long with 13cm width.

As the fruit matures, it changes color from green to yellow and becomes hard and brittle. Until over-ripe, the fruit does not fall to the ground, coming to the seeds of the fruit, they can be consumed after boiling or roasting. As far as harvesting is concerned, they can be done when full size, but still firm and left to ripen until soft. Soft and broad spines act as an outer protective layer for the thick rind and its cut open when you want to open the ripe fruit. It is good to consume the fruit as it is ripe and opened; else it loses its flavor and oxidizes fast.


Nutritional Value of Marang Fruit
The fruit is a rich source of energy and contains lots of carbohydrates eventually broken into glucose. Packed with protein and fat, it is also known as athlete's fruit and are very much compatible to the banana. Moreover they are also rich in protein, fat, carbohydrates, ash, calcium, phosphorous, iron, crude fiber, retinol, beta-carotene, niacin, thiamine, riboflavin, Vitamin A and C.
| | |
| --- | --- |
| Water | 65.7-84.2 grams |
| Protein | 0.8-1.7 grams |
| Fat | 2-3 grams |
| Carbohydrate | 32.4 grams |
| Calcium | 17 mg |
| Phosphorus | 35 mg |
| Iron | 2.1 mg |
| Vitamin C | 30 mg |


Health benefits of Marang Fruit
Triggering the regular bowel movements, the fruit calms the symptoms of an irritable bowel and can also relieve or prevent constipation.


They are mainly cultivated for its fruit in Indonesia, Malaysia Philippines, and southern Thailand. The short shelf-life of the fruit limits its wider use. Although it shares some features of the breadfruit, it does not have the same tolerance capacity and the tree is not cold tolerant. They are largely grown for local consumption and can grow between latitude 15° north and south, and in coastal regions where temperatures never stay under 7 °C.


The Marang fruit in the Philippines is cultivated commercially and are grown from seed. Seeing that, they are very large trees, it is a must to ensure apt spacing i.e. 7- 14 metres apart.


In view of the fact that, the trees are very tall, it is quite difficult to harvest. In order to cut the stem of the fruit, a long bamboo pole is used with a knife attached to it.