Fruits Home

Full List of Fruits

Nance Fruit
Introduction of Nance Fruit
About Fruit
Nutritional Value of Nance Fruit
Uses of Nance Fruit
Health benefits of Nance Fruit
Scientific name - Byrsonima crassifolia
Byrsonima crassifolia is a flowering plant species that belongs to the family of acerola. The plant is endemic to America and it is valued for its fruit which is small, sweet and strongly scented. The plant grows up to 33 ft and most spotted in open pine forests and grassy savannas.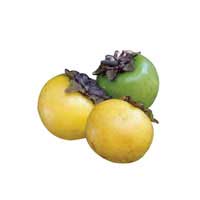 The fruit measures 1 to 2 cm in diameter which appears like a small ball in shape. Nance grows in clusters where matured fruits turn orange from a green tint. It possesses sweet to sour taste based on the kind of species. Some peculiar odor is sensed from the fruit which likely makes it unpleasant to consume. The pulp is juicy, oily and the fruit on the whole contains 2 to 3 seeds.

Nutritional Value of Nance Fruit
Nutritional value per 100 g (3.5 oz)
Energy
306 kJ (73 kcal)
Carbohydrates
16.97 g
Sugars
8.31 g
Dietary fiber
7.5 g
Fat
1.16 g
Protein
0.66 g
Vitamins
Vitamin A equiv. lutein zeaxanthin
(1%) 5 µg 569 µg
Thiamine (B1)
(1%) 0.015 mg
Riboflavin (B2)
(2%) 0.018 mg
Niacin (B3)
(2%) 0.29 mg
Pantothenic acid (B5)
(4%) 0.18 mg
Vitamin B6
(2%) 0.021 mg
Folate (B9)
(2%) 8 µg
Vitamin C
(111%) 92.5 mg
Vitamin E
(8%) 1.25 mg
Vitamin K
(11%) 11.9 µg
Trace metals
Calcium
(5%) 46 mg
Iron
(3%) 0.38 mg
Magnesium
(6%) 20 mg
Manganese
(12%) 0.248 mg
Phosphorus
(1%) 10 mg
Potassium
(5%) 244 mg
Sodium
(0%) 3 mg
Zinc
(1%) 0.09 mg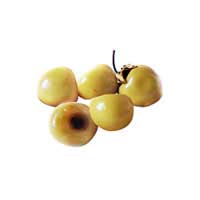 The fruit can be consumed raw or cooked. In some areas of Panama, the fruit is used as a main ingredient along with sugar and flour for making their traditional cuisine pesada de nance. Nance candy is prepared with the fruit cooked in sugar and water.

Due to its mild sweet and sour taste it is largely used in preparing carbonated beverages, ice cream and juice that are most popular in the regions of Mexico and Brazil.

The fruit is used as a supplementary ingredient in preparing jams and jellies and also used as a stuffing for meats.

Health benefits of Nance Fruit

The bark of the Nance tree is used for treating diarrhea, rashes, wounds and pulmonary diseases.



It gives relief from aching bones and common fatigue.



The fruit stimulates formulation of red blood cells and antibodies in humans.



Helps strength the bones and teeth.



Nance improves cardiac function and boosts the memory power.