The generation today has become quite conscious about what to eat and what not to eat. That is why diet foods have become the primary choice. At the same time, everyone likes to taste the delicacies keeping their health in control. What to do? Gourmet diet foods can come to your help. These food ideas are perfect for maintaining a diet and simultaneously enjoy the flavors of gourmet foods. Different food specialists can suggest you variety of tasty gourmet food items.
The gourmet diet foods of reputable catering companies like Charleston catering companies are nutritious foods made with organic ingredients in the most perfect way. The best part of these companies is you can place an order for delivering them right at your doorstep. Hence, you can save energy and time of cooking or shopping according to the right dietary regime.
Now, what kind of gourmet diet food can you have? Since there are plenty of choices in this food variety, it might be a little confusing for me to make the right choice. Let's find out some of the best gourmet diet food that can treat your taste bud in an extravagant way.
BBQ Chicken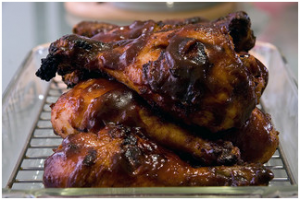 Tender and extreme soft chicken marinated with organic and homemade barbeque sauce – the initial preparation of this gourmet diet food. After that you have to grill it on barbeque oven. This chicken dish can be served with broccolis, freshly steamed and roasted vegetables.
Whole Wheat Penne with Vodka Sauce 
As it pretty evident from the name itself, the whole wheat penne pasta is made with vodka sauce. This delicacy goes very well with a lot of mixed vegetables.
Chicken Cordon Blue


It is tender and soft French chicken stuffed with low fat savory ham and cheese. Prepare brown rice and get lots of mixed vegetables with this specialty.
Poached Salmon Filet
Salmon is undoubtedly is a great source of acquiring nutrition. For preparing this specialty, you have to toss the salmon filet with dried cranberries, sliced and toasted almonds, wild rice medleys and organic leafy spinaches. Garnish this gourmet delicacy with rice wine sauce, fresh lemon and fresh dill. Your dish is ready that will take care of your health and taste.
Chicken Italiano

This Italian delicacy consists of grilled and marinated juicy part of chicken breast with tomato putanesca sauce, freshly prepared, as the topping. This gourmet diet dish is best served with freshly steamed colored vegetables, chick pea and lentil salad. The vibrant colors of the vegetables make the dish very colorful and attractive for the eaters.
Pork Tenderloin in a Fruity Sauce 
This gourmet diet food is prepared with the help of pork tenderloin dressed with fruity sauce prepared by mango and papaya. This soft pork preparation can be served well with a variety of mixed vegetable freshly steamed and organic and fresh garden vegetables.
So many dishes are on offer for you. You can gain nutrition as well as have a wonderful treat with some diet foods. You can know about many other such food items from the renowned catering companies.
Summary: Diet foods are favored by people nowadays and gourmet diet foods are the hot favorites. All these foods have nutritional value and are tasty at the same time.
Author's Bio: Mary is an efficient guest blogger. She writes articles on various topics of which food is her special interest. She is highly impressed by Charleston catering companies.