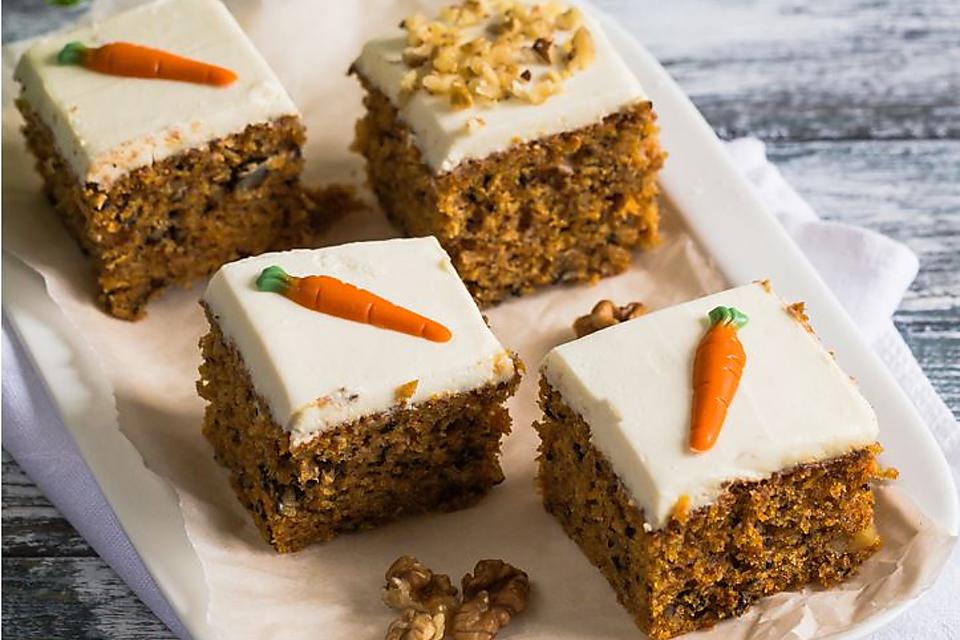 This is the best carrot cake recipe I have ever made! It's so moist and flavorful and makes a large quantity of cake. Since I started making it, I have been hounded to make this cake time and time again. Frost with cream cheese frosting.
Ingredients:
For the Cake:
2 cups all-purpose flour
2 cups granulated sugar
1 teaspoon baking powder
1/2 teaspoon baking soda
1/2 teaspoon salt
1 teaspoon ground cinnamon
1/2 teaspoon ground nutmeg
1 cup vegetable oil
4 large eggs
2 cups finely grated carrots
1 cup crushed pineapple, drained
1 cup chopped walnuts or pecans (optional)
1 teaspoon vanilla extract
For the Cream Cheese Frosting:
8 oz cream cheese, softened
1/2 cup unsalted butter, softened
4 cups powdered sugar
1 teaspoon vanilla extract
procedure:
For the Cake:
1. Preheat your oven to 350°F (175°C). Grease and flour two 9-inch round cake pans.
2. In a large bowl, whisk together the flour, sugar, baking powder, baking soda, salt, ground cinnamon, and ground nutmeg.
3. In a separate bowl, whisk together the vegetable oil and eggs until well combined.
4. Add the wet ingredients to the dry ingredients and mix until just combined.
5. Fold in the grated carrots, crushed pineapple, chopped nuts (if using), and vanilla extract.
6. Divide the batter evenly between the prepared cake pans.
7. Bake in the preheated oven for about 25-30 minutes, or until a toothpick inserted into the center of the cakes comes out clean.
8. Remove the cakes from the oven and let them cool in the pans for about 10 minutes before transferring them to a wire rack to cool completely.
For the Cream Cheese Frosting:
1. In a mixing bowl, beat the softened cream cheese and butter until creamy and smooth.
2. Gradually add the powdered sugar, one cup at a time, and continue to beat until the frosting is smooth and well combined.
3. Mix in the vanilla extract.
Assembling the Cake:
1. Once the cakes are completely cooled, place one cake layer on a serving plate.
2. Spread a layer of cream cheese frosting over the top of the first cake layer.
3. Place the second cake layer on top of the frosting.
4. Frost the top and sides of the cake with the remaining cream cheese frosting.
5. Optionally, garnish the cake with chopped nuts or grated carrots.
6. Refrigerate the cake for at least an hour before serving to allow the flavors to meld.
Serve:
Slice and enjoy this delectable carrot cake that's sure to delight your taste buds!
This recipe yields a moist and flavorful carrot cake with a generous layer of cream cheese frosting, making it a wonderful dessert for any occasion.