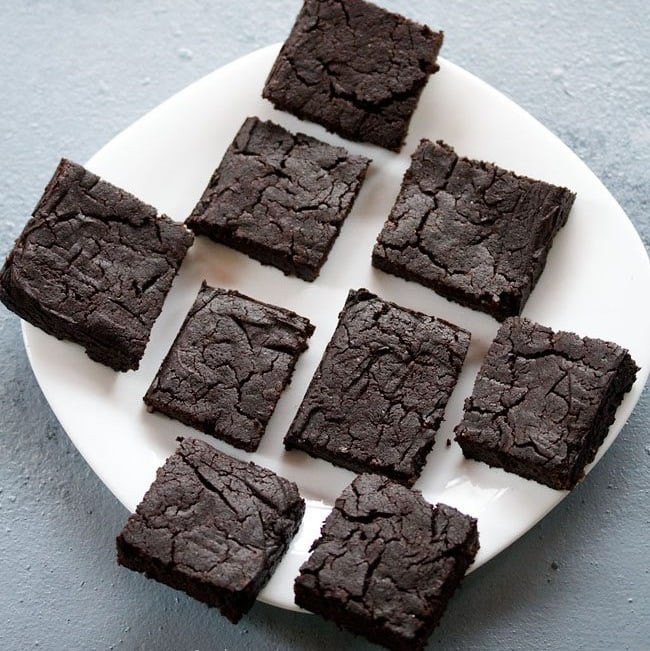 An easy recipe of chocolate brownie made with whole wheat flour (atta used for making chapatis), sugar, cocoa powder, baking powder and oil.
Certainly! Here's a recipe for delicious eggless chocolate brownies:
Ingredients:
1 cup all-purpose flour
1/2 cup unsweetened cocoa powder
1 teaspoon baking powder
1/4 teaspoon salt
1/2 cup unsalted butter, melted
1 cup granulated sugar
1/2 cup plain yogurt or unsweetened applesauce
1 teaspoon vanilla extract
1/2 cup chocolate chips (optional)
1/2 cup chopped nuts (such as walnuts or pecans), optional
procedure:
1. Preheat your oven to 350°F (175°C). Grease and line an 8×8-inch baking pan with parchment paper, leaving an overhang for easy removal.
2. In a bowl, sift together the all-purpose flour, cocoa powder, baking powder, and salt. Set aside.
3. In a separate bowl, whisk together the melted butter and granulated sugar until well combined.
4. Add the plain yogurt (or applesauce) and vanilla extract to the butter-sugar mixture. Mix until smooth and well incorporated.
5. Gradually add the dry ingredient mixture to the wet ingredients, mixing until just combined. Do not overmix.
6. If using, fold in the chocolate chips and chopped nuts.
7. Pour the brownie batter into the prepared baking pan and spread it evenly.
8. Bake in the preheated oven for about 25-30 minutes, or until a toothpick inserted into the center comes out with a few moist crumbs. Be careful not to overbake.
9. Remove the brownies from the oven and let them cool in the pan on a wire rack.
10. Once the brownies are completely cool, use the parchment paper overhang to lift them out of the pan.
11. Cut into squares or rectangles and serve.
Variations:
– You can customize these brownies by adding ingredients like chocolate chips, nuts, or even dried fruit.
– For an extra indulgence, serve warm brownies with a scoop of vanilla ice cream or a drizzle of chocolate sauce.
These eggless chocolate brownies are fudgy, rich, and perfect for satisfying your chocolate cravings. They're great for those who prefer eggless desserts or have dietary restrictions. Enjoy these delicious treats with your favorite beverage or share them with friends and family!