This recipe is one of the delicious recipes and favorites of all times. It can be made on special occasions like birthdays and other outdoor events as they are perfect for celebration days. No one can eat this Black Bottom Banana bars just once as its delicious taste makes one to go for another round. Bananas are available throughout the year and as they are less expensive it is not a difficult task to make this recipe. They are rich in vitamin B6, vitamin C and potassium and they contain high calories which are much needed for growing kids and teenagers. These banana bars can be served as a snack item in the evenings to fill up one's stomach. The ingredient needed to prepare this dish is given below and it is followed by its procedure.
Ingredients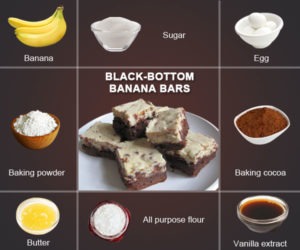 1/2 cup of butter or 1/2 cup of softened  margarine
1 cup of sugar
1 egg
1 teaspoon of vanilla extract
1 1/2 cups of mashed ripe bananas (about 3 medium)
1 1/2 cups of all-purpose flour
1 teaspoon of baking powder
1 teaspoon of baking soda
1/2 teaspoon of salt
1/4 cup of baking cocoa
Procedure
Combine the butter and sugar in a mixing bowl and blend it together nicely.
Add egg and vanilla cream to the above mixture and beat it until it is thoroughly combined.
Blend in the bananas and combine the flour, baking powder, baking soda and salt. Combine this mixture with the creamed mixture and stir it well.
Divide the batter into half and add cocoa to one half. Spread it into a greased13-in x9-in pan.
Spoon the other half of the batter on the top and swirl it with a knife.
Bake at 350 degrees for 25 minutes or until it is baked completely. Use a tooth stick to find out whether it is baked completely.
Finally allow it to cool down for few minutes before serving for a better taste.
It comes up to 32 bars with these quantities and it takes just about 25 minutes to prepare this recipe. For those who do not like to spend a lot of time in kitchen, this recipe will be of a great use in time of hunger. Kids and children love to eat this recipe and definitely it will be a stomach filling one and it can be refrigerated and served cold. One can also add some chocolate toppings or melted cheese on the top of this recipe to make it even more delicious but it is just an option. Instead of trying the same old banana bread experiment something new and try this recipe out.