As this fruit is packed with full of health benefits it is known as "the queen of fruits" and have the highest amount of nutrients compared to fruits like apples, oranges or bananas. It looks very beautiful in its bright red color and its juicy heart shaped design steals everyone's attention. This fruit is rich in vitamin C, potassium and fiber content. It is low in calories and thus it is good for heart ailments. It contains flavonoids which are responsible for the color and flavor of strawberries. Not only that, it lowers the risk for heart diseases. Below you can find the ingredients needed for preparing this delicious recipe.
Ingredients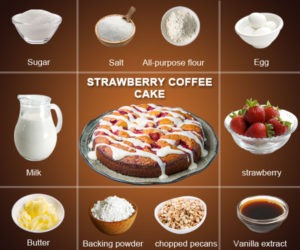 1 cup of all-purpose flour
1/2 cup of sugar
2 teaspoons of  baking powder
1/2 teaspoon of  salt
1 beaten egg
1/2 cup of milk
1 teaspoon of vanilla (optional)
2 tablespoons of melted butter
1 1/2-2 cups of sliced fresh strawberries
Topping
1/2 cup of all-purpose flour
1/2 cup of sugar
1/4 cup of cold butter
1/4 cup of chopped pecans
Procedure
Add flour, sugar, baking powder and salt in a mixing bowl and stir it well to get mixed.
In another bowl, add the egg, milk and butter and mix it up well. Then add dry ingredients and stir it until they are mixed with the other ingredients.
Pour this above mixture into a greased 8-inch square baking dish.
Place the sliced strawberries evenly on the top of the batter and then continue to make the toppings.
Combine the flour and sugar in a bowl and mix them well so that it is perfectly blended.
With the help of a pastry blender, cut in the butter until the expected consistency is acquired.
Stir in pecans and sprinkle this mixture evenly over the strawberries.
Finally bake it at 375 degrees for 30 – 35 minutes or until it is baked completely.
Use a wooden pick to check out whether it is baked perfectly.
This recipe can be used as an evening snack to fill one's stomach and children love to eat strawberries. This serves for about 8 adults and even though it takes about an hour to prepare this recipe it is worth it. As strawberries contain potassium it promotes bone health and also lower the risk of macular degeneration. For those who are worried about their skin tones can eat this recipe as strawberries are good anti aging agents. There are other lots of health benefits of this fruit and this recipe is truly an outstanding recipe which can made during special occasions.